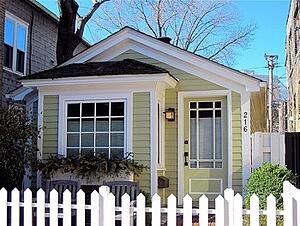 You know what they say. The name of the game in real estate is location, location, location. There is certainly some truth to the importance of location. But even more important in today's buyers market is curb appeal. Whatever type of real estate investment you are interested in - flipping houses, renting out homes, or even investing in certain kinds of real estate funds - you will want to have a few things such as curb appeal in mind to improve the desirability, and the value, of your property for potential renters or buyers. If you have come to a Memphis Invest buying weekend and bus tour, you have seen that we take a radically different approach to the curb appeal and over-all presentation of our rental properties at Premier Property Management. It is a key reason for shorter vacancy periods and longer occupancy per renter at our company. Simply saying you believe in better properties, better renovations and better management, which is what every rental property investor wants, is very different from actually practicing it. But, regardless of location or city or even proximity to services, the condition of an investment property when shown to a prospective renter is one of the top considerations when paying a premium rental rate. Renters imply realize they can expect better service when the product they are looking at is in superior condition to other properties at lower rental rates. that higher rental rate, in turn, leads to a more valuable asset!
How to Increase the Value of Your Real Estate Investment
1. Curb Appeal
With many houses on the market at great prices, you will want to attract potential customers with curb appeal. If they decide to simply drive by the property before even calling a Realtor or rental agent, make sure that the property has a well-groomed lawn and a well-maintained exterior that is inviting and appealing. Attractive paint colors and thoughtful landscaping will do a lot to entice possible renters or buyers. Other, often over-looked touches, you can perform are a new mailbox, new house numbers that are clearly visible from the street, trimming trees above the roof line to expose the whole house to the street and trimming bushes from around windows and doors to allow light into the home, but also to increase the security of the property and it's occupants.
2. Well-Maintained Structure
Once you do show someone the inside of the property, make sure that the interior is in good condition. If you are flipping a home or seeking to rent a home out, then be certain that all necessary repairs and face lifts are complete before you exhibit the space. If you are renting out a home and you live out of town, select a premier property management company that is knowledgeable about both maintenance and the dynamics of the current rental market. Many property management companies simply do the bare minimum when preparing a property for the rental market believing that they are saving an owner money. They are actually costing the owner money by putting a property in a situation where it will remain vacant longer and it cannot command the highest rent possible. Still, other management companies actually believe this is a great philosophy and purposely rent properties under market value.
I can tell you from experience of managing over hundreds of properties or the last few years (currently managing 1,397 properties), an out of area investor should absolutely expect to get the highest rent possible and the best way to achieve that is to have a home that sparkles compared to everything else. We routinely review properties in close proximity to our vacant properties and are amazed at the lack of attention to detail that many property management companies show. There are simple and often extremely affordable steps that can be taken to make a property stand out and command anywhere from 5% to 15% more in rent than other surrounding homes.
3. Timeless Characteristics
If you decide to do any remodels to increase the value of your real estate investment, avoid making changes that take away from the character and time period of the home. Trendy renovations are unlikely to add value, while more classic features such as built-in bookcases, screen porches, or solid kitchen cabinetry make a much bigger bang for your buck.
4. Extra Space
One of the best ways to sell or rent out a real estate investment property is to attract potential customers with ample space. Make sure to eliminate clutter and to capitalize on space. Stage the house and yard to highlight outdoor living spaces such as screened porches or patios. Capitalize on window seats or spacious storage areas.