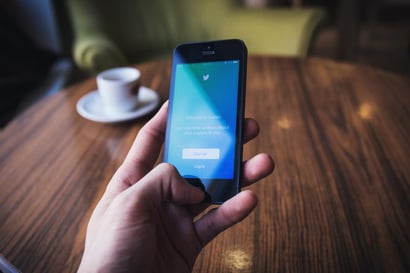 Twitter is still one of the top social media platform out there, alongside the likes of Facebook, Youtube, and Instagram. Twitter hasn't had to do much to mix things up over the year. They're still using 140 characters for users to deliver punchy, quick messages—messages that have sparked movements, delivered news, and created a culture of conversation.
For those that invest in real estate, Twitter can be a valuable tool for connecting with other real estate professionals. Whether you're following for advice, news, or looking to strike up a good rapport, Twitter is a great way to do it.
That said, it can be hard to find good people to follow on Twitter if you don't know where to look. But never fear—we're here to help you out!
15 Great Twitter Feeds for Real Estate Investors to Follow
Ali Boone (@aliboonedotcom)

is the engaging, personable, and on topic founder of

Hipster Investments. She tweets constantly about investing in real estate and is heavily involved in the #reinvestingchat hashtag. Hipster Investments is all about turnkey real estate, too, so her feed is right up your alley if you enjoy earning passive income.
Brandon Turner (@BrandonAtBP)

doesn't

really

need an introduction. He's the VP of Growth at BiggerPockets, co-host of the BiggerPockets podcast, an active real estate investor, and an entrepreneur.
Paula Pant (@AffordAnything)

is living the life many investors dream of. She quit the rat race to invest full time, and now she travels the world and lives life on her own terms. Her Twitter feed is more than just links to

her blog, too—which is also worth checking out! She has great snippets of wisdom that provide inspiration and direction.
Ken McElroy (@kenmcelroy) is a successful real estate investor, author, and a Rich Dad Real Estate Advisor (@RDAdvisors). His personal Twitter feed is more behind-the-scenes and full of motivational, inspiring snippets.
Dennis Fassett (@dennisfassett)

is a Silicon Valley cash flow real estate investor , author, and teacher with a special interest in technology's role in real estate, on top of topics that will interest just about every investor.
Mark Ferguson (@InvestFourMore)

, founder of

InvestFourMore, regularly makes our top lists for real estate blogs. While Mark doesn't interact a lot on his Twitter, following his feed is a great way to keep up with his blog.
Seth Williams (@retipsterseth),

who also makes our top lists with his

REtipster

blog, has a Twitter feed that mixes informative articles with humor and inspiration.
Joe Fairless (@joefairless

) has one of the top podcasts on investing in real estate out there. His Twitter feed is encouraging, motivating, and inspiring—definitely something we could all use in our day.
Danny Johnson (@DannyJSA)

is the

Flipping Junkie, and one of the top real estate investors and house flippers out there. His Twitter is as enjoyable as his blog and podcast, so go follow his feed.
Leon Yang (@HardWPenguin)

is the Las Vegas investor known as

Hardworking Penguin

and a BiggerPockets contributor who went from "failure" as a young adult fresh out of school to finding success and financial freedom in real estate investment.
Mat Piche (@Fruitfulinvestr)

comes from a long line of professional carpenters (and it one himself!), on top of being an author and successful real estate investor. His Twitter feed is targeted to the areas he invests in, but the articles and advice he shares can be applied to just about anyone.
Chris Clothier (@chrisdclothier)

is...well, the guy you hear from every week, right here. This guy! You'll see not only content from the Memphis Invest blog, but a behind-the-scenes look at our team, events, and company culture.
Sharon Vornholt (@svornholt)

of the Louisville Gals Real Estate Blog breaks the mold from what most of us expect when we think

real estate investor.

She's a coach, investor, mom, entrepreneur, and generally savvy.
Tracy Royce (@RoyceofRE)

from Phoenix wears a lot of hats. Investor. Agent. Rehabber. Her experience in a lot of different roles means she has a lot to bring to the table, and her Twitter feed definitely reflects that!
Josh Dorkin (@jrdorkin)

is a guy we all know. The founder of BiggerPockets and host of the BiggerPockets podcast lives and breathes real estate! That said, his Twitter feed has diversity and an inside look into his world that you won't get anywhere else.
Who are some of your favorite real estate professionals to follow on Twitter? Share the voices that make you think (or make you laugh!) in the comments.
Want to really connect with a real estate pro and get started investing in real estate?