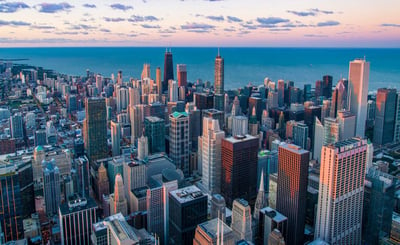 Well, we made it! Hello, 2017! We don't know about you, but we thoroughly enjoyed the wild ride real estate gave us last year. 2016 was thrilling for our markets—Houston, Dallas, and Memphis. We're even more excited about what this year will bring!
We've been taking a peek at what the experts have been saying for months now. What are the trends? What's the outlook? What do we absolutely need to know?
Sure, every investor needs to take predictions with a grain of salt. The market can twist and turn in unexpected ways. But that doesn't mean we need to be ignorant to what expert economists and analysts are saying.
Without further ado, let's dive in and see what the buzz has been.
The Top 7 Real Estate Predictions & Trends for 2017
1) Home prices will hit pre-recession peaks.
2016 saw home prices spiking to record highs in the nation's hotter markets (like Houston and Dallas). Nationwide, there was a shift—secondary markets strengthened while previously hot, prime markets like San Francisco and New York City were a bit weakened. Still, after years of steady post-recession growth and appreciation, 2017 looks to be the year where the market will return to pre-recession levels and we will see things begin to stabilize overall.
2) Send in the drones.
As drones become increasingly accessible to the public, businesses are taking notice—real estate professionals included. Marketers and real estate agents are looking to utilize drones to make a big statement about their properties with creative flyover camerawork. Whether it's video for social media or aerial photography of the property and neighborhood for property listings, drones are going to inevitably become a popular method of marketing this year.
3) Rental affordability will improve.
2016 saw rapidly increasing rental prices, which lead many to question the overall affordability of renting for the vast majority of Americans renters. In the upcoming year, experts expect that to get better. Zillow economists predict rent appreciation to slow in 2017, and for income growth to improve.
4) Millennials will migrate to secondary and tertiary markets.
Millennials still want to buy homes—and many are! But there is an emerging trend that experts suggest will continue into 2017. First-time homebuyers, many of which are millennials, will move away from coastal cities and into the mainland. They're looking to more affordable, secondary and tertiary markets for their homes: perhaps explaining the growth of demand in these markets in recent years.
Due to the burden of debt and the difficulty of the job market in past years, millennials aren't keen on the expensive and out-of-reach primary markets. Instead, they're opting for more affordable markets where their dollar stretches further.
5) Construction may slow down.
With the threat of strengthened immigration law under the next administration, we may see a decrease in home construction overall. This could lead to tighter inventory in some markets, though it's not expected to cause prices to inflate too wildly. Still, it's something to be prepared for.
6) Interest rates will rise; pricing out some homebuyers.
Most experts don't expect the Trump presidency to have a dramatic effect on real estate—however, we can't ignore the increase in interest rates in the days following the election. As a result, some are predicting that this trend will continue in 2017 based on Trump's policies. This could have a negative effect on first-time homebuyers who rely on financing to make their purchases.
7) Price growth will level off.
Though home prices will likely hit their pre-recession peaks, economists and real estate experts don't expect them to rocket too far past them. Price growth, which has been extravagant in some markets in 2016, is expected to level off in 2017. The stabilization of the real estate market as a whole is good news, especially for those of us who were fearing that market appreciation was turning into a runaway train.
Overall, 2017 is expected to be another good year for real estate investment. 2016 was a standout, and most expect 2017 to continue that trend, albeit with more stability. If you haven't yet gotten involved in real estate investment, 2017 could very well be your year.
There's no better time than now to start building your financial future by investing in real estate.