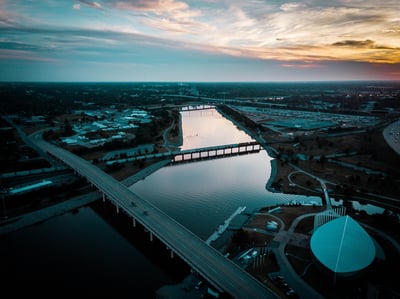 If you're not from the area, Oklahoma City is not likely on your radar. But let us tell you, there are some exciting developments going on in this city. As real estate investors, we believe that there is something valuable and thrilling about really and truly getting to know the cities and markets in which you invest. We're talking about going beyond dry statistics and charts.
As valuable as they can be from an investment standpoint, they don't reveal the full picture. They don't give you the pulse, the heartbeat of a city.
One of the primary advantages of partnering with a turnkey company is that you, as an investor, have a direct connection to our teams who are right here on the ground and in these markets. We get to see firsthand the exciting changes that are happening in the markets that you are invested in.
We want to share some of these developments with you so you can get to know your market that much more! For Memphis Invest, one such market is Oklahoma City.
4 Exciting Facts About Oklahoma City's Economy in 2018
OKC is celebrating a cultural and economic transformation.
Earlier this year in May, an event was held in northeast Oklahoma City called oNE OKC. It was, in essence, a block party designed to usher in a renaissance for Oklahoma City and highlight the vibrant and culturally rich aspects of the city. It was an event meant to draw attention to the dramatic economic transformations the city has experienced in recent years: new businesses, cultural attractions, and a sense of inclusivity and community.
This event is designed to be annual and represents a vision of a future Oklahoma City and a celebration of what it is already becoming.
Their mission statement is "to represent the fun, culturally rich, economically vibrant, and socially inclusive atmosphere that summarizes the future vision of Northeast Oklahoma City while creating positive energy and awareness around the Renaissance, and engaging the youth and young professionals."
It's this sort of pride in the community and energy that we're seeing all over Oklahoma City.
City leadership is dedicated to holistic revival.
One of the most important aspects of Oklahoma City's success in recent years has been the support of the local government and local leadership. They have been dedicated to the revival of the city. Their approach has not been solely in the interest of economics or numbers, either—their approach has largely been holistic, which has led to an effective renaissance not only in terms of attracting new businesses and faces but in restoring existing neighborhoods and landscapes.
The dedication of the leadership trickled down into dedication and trust from residents, who in turn take pride in their community.
Learn more about the Oklahoma City market in our in-depth market overview.
Oklahoma City catches the attention of big-name companies.
Just this year, Oklahoma City got a big boost for two of the biggest companies in the world—Google and Amazon. Google gave a $250,000 grant through their second "Google Impact Challenge," to Oklahoma City in recognition of the innovative spirit here.
The grant will be split between four winning nonprofits within Oklahoma City, each of which will receive $50,000 to further their work. The recipients were the Homeless Alliance, Sunbeam Family Services, the YMCA of Greater Oklahoma City, and ReMerge of Oklahoma City, an organization that helps released inmates rejoin the community and find jobs.
It's not just Google who recognizes the opportunities and innovations that are growing in Oklahoma City. Amazon, however, has more in mind than supporting the businesses and nonprofits that are already in the city. They're looking to get in on the market themselves by planting their own flag. By 2019, they hope to have completed and opened an Amazon Fulfillment Center in OKC, which will create more than 1,700 full-time jobs.
This is a big economic win for the city, as it will place Amazon among the top employers in Oklahoma City in terms of size, among the likes of Boeing and American Fidelity Assurance.
It's better than ever for startups and small businesses.
Voicemail. Parking meter. Shopping cart.
Say a quick thank-you to Oklahoma if you enjoy these innovations. Technology and innovation is no stranger to this city, but the climate now is better than ever for tech startups, entrepreneurs, and small businesses. What truly helps is that the city itself—city leadership included—creates an environment that favors these innovators.
With a lower cost of living, labor, real estate, and simply "starting up" it's just smarter for these entrepreneurs to get their businesses off the ground in a place like Oklahoma City than in Silicon Valley. So they're doing it!
Learn more about turnkey investing in Oklahoma City. Speak with a portfolio adviser today!