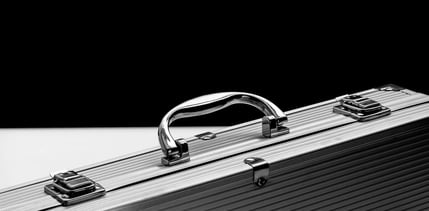 As 2017 comes roaring alive, real estate investors can kick back, relax...and start thinking about what they're going to do to be a lot more awesome at real estate investment this year. Yeah, right!
The job of a real estate investor is never truly done! This upcoming year, why not take advantage of the many tools and resources out there—many of them free?
Real estate investors have so many opportunities at their fingertips to up their game: from communities of professionals and ingenious marketing apps to financing tools and property finders. There are things out there you didn't even know were possible! And there's no time better than a new year to test some of them out.
4 Real Estate Investment Tools to Utilize in 2017
Online Investment Communities
Online communities can be a great resource, and a way to network outside of in-person events. If you live in an area where there aren't many real estate investors or other professionals, they can be even more beneficial for making those much-needed professional connections! Most of us take the time to read things online—blogs, news, and the like—but not everyone takes advantage of forums and online communities.
For example, BiggerPockets.com. BiggerPockets provides great articles and a top-notch podcast, but did you know they also have an active community for real estate professionals? You can start building up a network with other investors and professionals, learn from their real-life experiences, find and seek advice for your unique situations, and browse over a million posts made by users.
These kinds of communities are great for building relationships with people you might otherwise have never met!
Analyst Tools & Apps
So much of our due diligence can be accomplished with the help of technology! There are innovative apps and tools out there that will save you so much in time, energy, and headaches. One such app is the Real Estate Investing Analyst for iOS, released in October of this year. This app allows you to evaluate a property based on various metrics—offer price, financing, cash-on-cash return, expenses, taxes, and more!
There are other apps like this on the market that can help you evaluate and streamline the process of vetting and evaluating any given property before you purchase—and even after the fact. Analyst tools don't stop at property evaluation. There are apps geared towards managing and optimizing your cash flow, too. In fact, there's an app for just about every aspect of real estate investment. Do some hunting around, or check out some of our previous lists!
Related Article: 8 Great Smartphone Productivity Apps for Real Estate Investors
Property Finders
Property finders are probably one of the oldest tools on the market. Everyone has used them before! Trulia, Zillow, Redfin, Realtor.com...there are many platforms out there for real estate investors to find new properties to add to their portfolios. What you may not be using most effectively are their mobile apps! Take advantage of them. While you may not need to surf constantly, you can do things like set up alerts for property price changes (sent directly to your e-mail or through the app) so that you're the first to know when there's an increase or decrease..
I was having lunch recently in a trendy neighborhood and I wanted to know more about the property pricing. I pulled up my Realtor.com app and within a few seconds I could see properties all around me for sale. I could see recent sales and pending contracts. However, what I thought was really cool is that I instantly knew the values of the neighborhood and spent a few minutes researching. It was quick and easy and I never left the table!
Don't neglect the tools and features right in front of you, even if they've been around for awhile!
Property Management Platforms
Real estate investors, as the property owners, aren't the only ones who can benefit from investment tools. Your property managers also have amazing tools that can help make their jobs a lot more efficient—and, in turn, make things a lot better for you!
We've mentioned it before, but Cozy is a totally free property management platform that allows managers to collect rent online, screen tenants, conduct background checks, create and keep rental applications, and even list properties. Renters can also keep profiles and easily pay their rent.
The benefit of these kinds of platforms is that they allow your tenants the ease of paying online safely and securely, and keep all of your managers' processes in a central, organized, easy-to-access location.
BONUS! ~ S.M.A.R.T. System
S.M.A.R.T. is a web-based suite of tools for real estate professionals designed to not only train on effective lead generation, deal acquisition, deal structure, and selling, but also designed to connect you with the best prospects for their business.
The featured product from REWW, Find Motivated Sellers Now, is still one of the best tools in the industry for finding "off-market" deals that simply don't show up anywhere else. FSMN is part of the S.M.A.R.T. system along with several other tools for locating cash investors as well as funding for purchases and operating your real estate business.
Kent, yes, for full disclosure, this is my brother Kent Clothier and his team. I would recommend this program whether he was my brother or not, but knowing him as I do and being intimately familiar with his team, this program will become an indispensible part of your daily program if you are an active real estate investor.
Kent and the team over at REWW have done a great job with the software and it is truly a game-changer if you're looking for those hard to find deals that have no competition. (Be sure to use the feature to locate vacant properties). Also, if you use this link, he will include his National Cash Buyer database and National Private Lender database for free. You'll get all 3 of their systems for the price of one.
------------------------------------------
For real estate investors to truly stay at the top of their game, it means checking into new ways of doing things. Investing in real estate is an age-old, time-tested way to make money. There are proven strategies.
But that doesn't mean there's not innovation happening, especially when it comes to technology! Don't be afraid to check out the apps, software, and platforms out there that are designed to make your life easier...and more profitable.
Want to learn more about Memphis Invest? We'd love to help you get your New Year aligned for fantastic real estate investing!
Want to stay in-the-know into the new year? Make sure to subscribe to our blog!