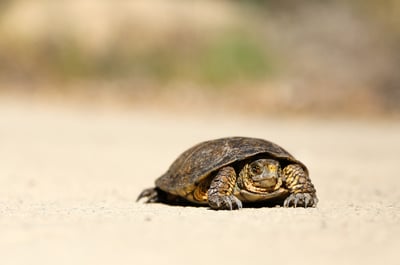 There's been considerable buzz lately in the real estate world about a nationwide housing slowdown. When we see words like this, people no doubt tend to get nervous. But is there anything, really, to worry about for real estate investors? What's behind the slowdown, and who will really be affected by it all?
The best strategy in the face of any sort of crisis is to arm yourself with knowledge. That way, you will be well-equipped the react accordingly.
4 Crucial Things to Understand About the 2018-2019 Housing Slowdown
The markets are rebalancing.
One of the biggest predictions for next year's real estate market on a nationwide scale is the shifting from a seller-centric market to one that heavily favors buyers. The housing slowdown is the result, not the cause. What we see, however, is that the rebalancing of the market comes largely because of steadily increasing inventory across many markets. One of the biggest contributors to the rising home prices in recent years was a distinct lack of inventory.
This created steep competition, which drove up prices. Now that inventory is returning and homebuyers have more to choose from, sellers are having to compensate to attract buyers. Supply is especially increasing in some of the nation's most expensive markets, where undoubtedly this relief was desperately needed. However, this also means that the price drop was more readily noticed.
According to Redfin, inventory was up in San Jose by 12 percent in June from last year, up 24 percent in Portland, and even higher in Seattle at 34 percent. Supply is booming, and that means buyers can be a little more choosy.
Related Article: Why Investing in Turnkey Real Estate is Better Than Getting Rich Quick
The rate of homebuying won't change drastically.
Despite the shifting in real estate supply, the rate of homebuying probably won't see a drastic change in the same way.
After all, homebuying stayed quite high overall even with high prices—that's because even though in the outrageously priced markets, certain areas were so desirable and "hot" that some still bought, while others simply opted for more affordable markets, such as Memphis, Little Rock, and St. Louis.
As buyers who were once discouraged by bidding wars and skyrocketing prices return with hopes of getting their foot in the door, we'll likely see that, even if interest rates put a damper on homebuying, the decline will be slow and gradual rather than reflecting the sharp decline in home prices.
In fact, it is that increase in interest rates that likely will keep homebuying from growing.
Out of investors, it's flippers that need to worry.
As we've discussed, America is growing more and more into a renter nation. Homebuying trends likely won't change that. While it is largely an economic decision, lifestyle also plays a large part in it as well. As Americans increasingly choose to rent not for financial reasons, but for convenience and in order to avoid mortgage debt, it is not buy-and-hold investors who should be concerned about the housing slowdown—it is the fix-and-flip investor.
You see, the renovation boom is going to be affected by the slowdown in a big way. We're already seeing freshly renovated homes going for a fraction of their anticipated resale values. The growth of real estate prices was one of the big driving factors in the renovation and flipping market, and with balance returning, making a flip profitable is about to become a lot more challenging.
Affordability is one of the biggest factors on homebuyer minds.
At the end of the day, the people who are going to be pleased with the housing slowdown are the buyers. There are many markets where prices are so astronomical, as in many California markets, where people just don't buy because aside from the wealthy, they really can't afford to. Other markets, however, fair better when they are affordable.
This is why the slowdown may actually provide us with positive—not negative—indicators. We have long said that some of the most crucial factors in an investment market are its balance and long-term sustainability. Markets are successful when they provide a great environment for the population to thrive in work and life, and that includes a level of affordability.
So when we look at the impending housing slowdown, we don't see doom-and-gloom...we see, largely, the return of balance, along with some other things to keep our eye on.
How do you feel about the real estate slowdown? Share your thoughts in the comments.
Master investing in turnkey real estate through the Turnkey Revolution. Mitigate your risk, plan effectively, and protect your future!