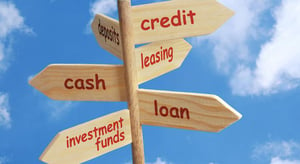 How investors find and fund deals is always a huge question for companies like ours. Of course, we are in the Turnkey real estate business, so much of the hard work as far as finding, renovating, marketing, renting and managing is already done.
The part that the investor has to work on is the financing piece if they want to lever their investments. There are many investors out there today who prefer to own property for cash, while still others choose to place leverage and borrow while rates are low.
That is not always possible for every investor based on many different factors. Credit, time as an investor, number of properties owned and even levels of debt with other obligations all play a role in determining who can get and how easy they can get financing.
We have put together a few ideas of how investors can go about getting financing. We have written a few brief comments about '6 Alternative Sources for Real Estate Financing' and invite all of our readers to leave comments on how they secure financing. Any tips you can share with other readers are going to be very beneficial and we would love for you to share at the bottom of the article.
Cash-Purchase Then Refinance:
This is a great way for investors who have the ability to close quickly to purchase and lock up deals. Cash is always king and allows investors to purchase properties and get to a point of owning and earning quick. Most real estate investors who use a strategy of purchasing out-right and then refinancing have a pre-approval with a lender in place before buying.
They purchase the property for cash and have it occupied at closing or soon there-after. A lender is already in place and ready to finance the property at the earliest time possible. Typically, a new loan is placed against the property for 70-75% of appraised value or contract price, whichever value is lower. This protects the lender from a borrower over-borrowing or having an inflated value. Many investors who go this route simply find it easier than the delays that can occur with traditional financing on the front-end purchase. They prefer to own the property as quickly as possible and then finance their cash back out at the earliest point possible.
Partnering With Other Real Estate Investors:
As for actual financing options form the beginning, we will start with this one right off the bat and get it out of the way. It is probably the hardest for most investors to swallow and yet seems to come to mind right off the bat. Why? Because most of us like to fail as a group rather than take the risk of failing together! Backward thinking if you ask me.
Instead of worrying about failure and having a partnership to drown sorrows with somewhere down the road, we should approach partnerships from the standpoint of benefits. The biggest question to ask ourselves as investors is "does this partnership benefit me"? When buying real estate in partnerships, we should be looking for our partner to provide strength where we may be weak. In this case, we would want a partner to provide the ability to finance property. They should have strong credit and we should bring something to the partnership equally strong. Time, money or expertise are three things that come to mind when talking about how we can team with a financing partner.
Don't ever go into a partnership for the purpose of reducing your risk. Fear should never be part of the motivation to join into a partnership. It should always be for the purpose of finding someone who can bring strength to your ability to invest in real estate.
Tapping Into Home Equity:
There are literally hundreds of thousands of home owners across the country who have millions tied up in the equity of their homes. Banks have been specializing in making loans against the equity of borrowers personal residences for years. These loans are often referred to as home equity lines of credit and they usually require less paperwork than a traditional loan and come with lower fees.
About the two biggest hurdles for borrowers are good credit and plenty of equity. This is a great way to fund the down payment on an investment property. There are a lot of factors such as the price of the investment property, the value and equity in your home and your credit score that are going to determine if you can use a home equity line of credit to purchase an investment property. For some though, this will be a great avenue.
Refinancing Existing Properties:
The more equity you have in your property, the more options that are available to you and a home equity line may not always be the best option. Sometimes, refinancing your original loan and pulling the equity out that way is a more suitable route to take.
These are often called cash-out refinances and they are not simply limited to your primary residence. Often, real estate investors have the ability to refinance not only a personal property, but also investment properties that may have equity as well.
There are many benefits to refinancing that can help you find the dollars to purchase your next property. Lowering your monthly note can have positive effects on your debt to income ratios and make it easier to qualify for a mortgage. Refinancing your personal home or your investment properties...or even both, can be a great way to get in position to finance an additional investment.
Using Private Money Lenders:
There are literally hundreds of people within your circles and within the real estate investment community who are willing to lend to other real estate investors. There are even companies today that specialize in lending to real estate investors. They have created lending companies designed to make it easier for investors and even make it possible for investors with poor credit or those that have more than 10 FNMA loans. They tend to lend on the strength of the investment itself first and the borrower second.
At the same time, there are individuals at local REIA's and even friends and family that are close to you that may be willing to work with you as an investor. Typically, this money is going to cost more, but it is absolutely possible to borrow from individuals and use that money to purchase investment properties. Terms will vary and you may have to be willing to show how your investments are performing, however, private money is a great option for investors who find themselves without a lot of other options for financing.
Using Hard Money Lenders:
This is probably the one route that investors need to consider as a last resort and only in scenarios where they plan to hold the property for short periods of time or plan to refinance quickly. This should only be considered when there are refinancing options already in place before closing.
I am not personally a fan of using Hard Money because it is extremely expensive in most cases and is really only designed for short-term. Most readers on this blog are going to be looking for financing options for long-term buy & hold and this is definitely a riskier option. Yet, it is an option when an investor finds themselves with few financing options and plenty of opportunities to buy!
Financing is not impossible and may take a little work to get creative. However, it can be done and can help investors build their portfolios!
Have you used creative financing to build your portfolio? Let us know in the comments and share your successes with our readers...