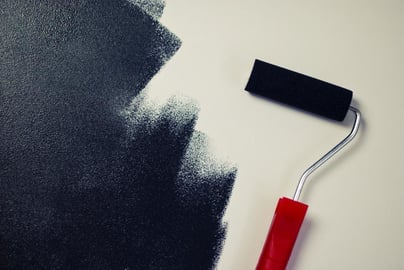 Sometimes, real estate investors neglect to put the right pizzazz in their investment properties. We think to ourselves, well: they're just renting. They don't care as much. It doesn't matter what it looks like. We're telling you: it matters. The rental market is growing and in demand, and there is plenty of competition, even in secondary and tertiary markets.
Renters aren't going to settle anymore. In order to really compete, it's important to keep up with some interior design and home showing trends, especially when you start considering renovations.
These are simple changes that will make you property timeless and appealing to a wide pool of renters. Remember: presentation matters, whether you're showing to buyers or prospective tenants.
5 Easy Property Renovations That Have Big Impact
1. Paint Over Bold Colors
One of the biggest turn offs in a home is bold, crazy colors. Individual tastes are far too varied to accurately gauge what colors will appeal to whom. There is a psychology behind certain colors. Red in a kitchen, for example, is supposed to stimulate hunger. It can work and be appealing. But that lime green paint? Just say no. Hot pink kid's rooms? No.
In fact, if you have a paint color in a room that causes it to be specifically designated as for something or someone in particular, it's a good idea to paint over it.
...But Don't Go Too Bland
The old adage used to say to paint everything in a neutral before you sell or show. Unfortunately, that advice was taken a little too far and everyone started painting their homes entirely in an boring, bland eggshell color. Be more creative than that if you really want to catch someone's attention! A single color (if you can call it color…) through the property is not going to make your property memorable.
Instead, focus on creative neutrals and pleasant, calming colors. Light tones of gray and beige, sea foam, and other light neutrals can give some life to your property without being offensive or dull.
2. Update Fixtures
Brass is making a comeback, but that doesn't mean your outdated fixtures need to stay. Lighting fixtures, faucets, hardware in the kitchen and bathrooms—giving these a refresh makes a big impact for a small cost. Pick out something in a matte or brushed finished over something ultra-shiny for a more modern look.
3. Repaint the Exterior
We focus a lot on the inside of the property, but the outside makes the first impression. A good power washing can do a lot of good, and so can a fresh coat of paint! Think about giving the front door a nice accent color (instead of red, think about teal or orange) and paint any trim to keep the home looking bright and well-kept.
4. Ditch the Carpet
Replacing flooring isn't cheap exactly, but for an investor, it may be worth it to get rid of carpets. Carpet can get so dirty between tenants. You'll have to replace it far more often than you ever will a tile or wood floor, and it'll collect so much dirt and grim that it just won't look very good after one or two lease cycles. If your property has wall-to-wall carpets, consider getting rid of the bulk of it.
Invest instead in a durable, low maintenance flooring option, like a tile, hardwood, or vinyl. Remember: a tile or hardwood may be more expensive, but it's also going to boost your resale and property value over a laminate floor.
5. Invest in Key Updates
Overall, remember that you don't have to update everything at once to have a great investment property. If you want it to show and function well, it just takes good planning and strategy. Prioritize. Key updates that you tenants will really feel? Replacing an outdated stove with a modern, energy-efficient appliance (it'll save you in maintenance and energy costs, too!).
If you're not looking to make major property renovations, there are always small improvements to make at a minimal cost that can have a big impact.
Not sure what what renovations you should be making?
We'll guide you through the renovations process to ensure that it's
short and effective for your value and your tenants.