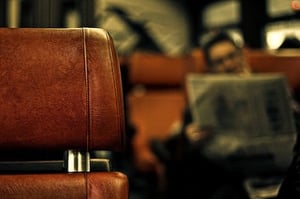 It's time again for your weekly dose of must-read real estate news! For real estate investors, constantly brushing up on current events and expanding your knowledge is a vital part of being the best investor you can be. From big real estate news to advice and little-known facts, we've gathered some of the most recent, relevant real estate articles from around the web.
We hope you learn something new!
5 Real Estate Articles to Read This Week
Ah, all-cash buyers. We're familiar. In the wake of the market crash, all-cash offers from investors, both foreign and domestic, were big. In the past few years, many homebuyers and investors have found themselves outmatched by all-cash offers, much to their frustration. Now, though, it seems like the rate of all-cash sales are finally leveling out to something more normal. For homebuyers, that means the market may finally be easier to compete in. Even with multiple offers for a property on the table, the reduced frequency of all-cash offers means a more even playing field.
Sell, sell, sell! — Or should you? In a seller's market (as we have right now), it can be difficult to resist the urge to capitalize on the trend and sell off a home or investment property at profit. But that might not be the most wise decision. There are points to consider — for instance, in previously distressed areas, recovery (and potential profits) may not have reached their peak just yet. Renting right now is also very lucrative, and even if you're tempted to sell at the sight of dollar signs, the long term investment may reap more rewards.
This article is great for anyone considering investing in real estate. It outlines the distinct benefits of real estate investment and compares it to other types of investments, on top discussing some of the most historically effective ways to invest in real estate.
Ever worry that the recovery of the real estate market was going to leave no room for investors? Never fear. Opportunity is still out there, albeit not at the rock-bottom prices brought on by foreclosures. Smartly, this article points out that a bargain isn't necessary to be a successful real estate investor. As demand for rentals grow nationwide, there's plenty of room to reap positive cash flow. Also included on their list of best rental markets? Dallas and Houston.
Speaking of rental demand, apartments are looking pretty good right now. In fact, new residents rose 5.2% in just 12 months — the biggest hike since 1999-2000! While some feared renting would disappear with recovery, the opposite is proving true. Recovery, particularly in metropolitan areas, is only boosting demand for apartments. Demand, construction delays and economic recovery point to low vacancy rates and tenant retention. It's a good time to own an apartment complex.
What piece of news stood out to you most? Share your thoughts in the comments.