We're all about a continuing education. Now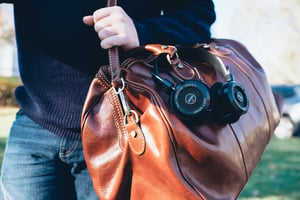 more than ever, there are new ways to learn about just about anything you can imagine. Between college courses, literary resources, blogs, and good old experience, learning comes in just about any format you'd ever want. With technology where it is today, podcasts are just one more great way to learn. Now replacing typical radio talk shows, podcasts lets you listen to experts in your field anywhere, anytime.
Since the holidays are a big time to travel, why not kill some long hours in transit learning something new? Before you get on that plane or start that big road trip, download some podcast episodes to take with you. These top not finance and real estate podcasts are a great place to get started.
6 Highly Rated Podcasts in Finance, Real Estate & Investing
Preston and Stig are all about seeing what makes successful people tick. Through interviews with authors, experts, and yes...billionaires, this duo explores money management, financial strategies, and other observations from a wealth (no pun intended) of successful individuals from across the globe.
"Preston and Stig are intelligent, candid investors who do their research and present their findings in a clear and articulate manner. The podcast is fun, interesting and very educational."

—Daniel Olshansky
Ken Corsini, a 10-year real estate investment veteran and BiggerPockets contributing author, runs the Deal Farm Podcast. His real estate focus is in the Atlanta area, but his podcast is valuable to investors from all over. His approach isn't based on hype: but on regular folks doing real estate, one step at a time. Practical, approachable, and applicable.
"If you want to hear example after example of everyday people with the strong desire to do real estate and really doing it, listen to this podcast. I've known Ken for about seven years and I can tell you he practices what he teaches."

—Jason Johnson
FlipNerd is definitely not just for flippers. This show is multi-faceted: including both interviews with industry experts that cover topics from property management and flipping to financing and investing in real estate remotely. There's bound to be a topic that interests you here: whether in their expert interviews, which brings in real estate and investment professional from all over the country, or their tip series.
"Flip Nerd is a powerful program for anyone working to earn money and create wealth through real estate investment. It's on my 'must watch' list and I make the time to watch every show."

—Aaron Knox
With a title like that, you know you're in for a fun time. The Mo'Money Podcast is run by Jessica Moorhouse, who grew up living frugally—until she realized that to save up for the future and afford the lifestyle you want, you have to be more than frugal. You have to be strategic. Since then, she's blossomed in financial success and wants to share what she's learned with her audience. Jessica's podcast is insightful and genuine, bringing in a host of guests to help listeners on their financial journey.
"I'm seriously digging it. Jessica's conversations feel natural and it's clear she's genuinely interested in helping other with their money."

—Kate Dore
Joshua's podcast is the one to go to if you're looking to go deep into finance. He hits content at the graduate, university course level. His presentation, however, makes it accessible to his audience. Lots of knowledge delivered just right!
"He does a fantastic job of breaking down complex topics and making them understandable. No matter what personal finance topic you might want to learn about, Joshua will give you everything you need to know."

—Scott Alan Turner
------------------------
I know I said 6 great podcasts in the title. And then I only listed five great real estate investing podcasts. Why? You have to email and I'll share the 6th and I can even give you a few more titles to listen to. Real estate podcasts are hard to come by...well, the quality ones anyway. So, I will be happy to share with a few that actual episodes that I actually enjoy!
What's your favorite real estate podcast? Share your recommendations in the comments.