How long has it been since you last picked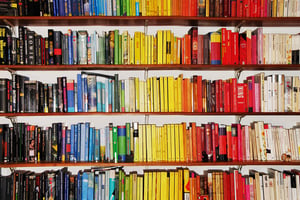 up a good book? What about any good real estate books? Reading gets shoved by the wayside more often than not. It's a shame, since it means you're probably missing out! Whether you're dusting off an old favorite full of good reminders or challenging yourself with new material, reading is a great way to rejuvenate yourself—whether in reorienting your goals, learning something new about yourself, or giving you fresh ideas to prep for the new year.
For real estate investors, learning from those before us—in business and entrepreneurship as well as specifically in real estate—is a valuable piece of the puzzle.
From now until the end of the year, pick up a book or two. You never know what ideas will spur you onward to greater success in real estate investment.
6 Inspiring Books for Real Estate Investors to Pick Up This Fall
An oldie but definitely a goodie. If you missed this gem when it was first released in 1990, never fear—this one's stood the test of time and continues to offer relevant, valuable information to new generations over and over again. 7 Habits is all about finding success through a balance of personal and professional effectiveness. As a guide for personal, revolutionary change, this is one you'll want to study, study well, and revisit, time and time again.
Select Amazon Review
"Seven Habits of Highly Effective People has stood the test of time, still relevant! Easy reading and I still refer to it and give it as a gift. If you only own a handful of books, this definitely should be one of them." —Fred
Brown's Daring Greatly certainly falls more in the "inspirational" camp of titles, but that doesn't mean it's any less impactful for it. This book looks at the core meaning of what it means to be vulnerable, and how to value it. This book won't teach you how to win, but it will teach you to have courage, whether it's taking professional risks or in our personal lives.
Select Amazon Review
"If your desire is to know yourself better and get free from the lies you've believed about yourself, the limits you've placed on yourself, and your abilities, this is the book for you. It is leading me to better connections with others, less worry, and less performing and perfecting. Making progress and feeling great. It is totally worth the price of admission and a book I will be keeping on my shelf and returning to time and again I'm sure." —Jules
So many real estate investors turn to their investments for financial freedom. They don't want to be caught up in a rat race or stuck in a dead-end cubicle for their entire working lives. Altucher's book is about breaking free from the temperamental market of today and forging new paths to success, all based on his personal experience in a time where a lot is uncertain, but there are more paths than ever.
Select Amazon Review
"If you work in a cubicle all day and have a feeling deep in your gut that something ain't right, that the college degree and the corporate gig that you'd been told would set you free just isn't what it was cracked up to be, then this book is for you. Inside James provides a practical, real constructive, strategy for breaking free from the grind. To Choose Yourself." —MN Gordon
From Nobel Prize-winning economist Robert Shiller comes a book that transcends the current market conditions in any given field and instead delves into what moves them up and down, and how investors make an impact for better or for worse, both through euphoria that drives markets to unsustainable highs to widespread discouragement causing markets to bottom out.
Select Amazon Review
"A very readable exposition regarding how markets do or don't work by one of the foremost thinkers/researchers in economics. This issue provides an important expansion of Shiller's argument/findings to the real estate market. As what he has to say runs counter to most of what passes for wisdom regarding the selling and buying of homes it's important for most households to consider what he has to say." —David B. Thomas
A great book for new real estate investors, Edwards goes through what one would expect from a beginner's guide with well-researched detail. Here, you'll find overviews of scams and bad advice, how to handle yourself in both good and bad markets, and, in general, is real estate investment is for you.
Select Amazon Review
"Real estate is a lucrative business and hence very competitive and high risk. You will burn your fingers if you jump in without any prior knowledge. This book seems to be well researched product by the author George Edwards and put forward in a very easy to understand chapters....This book would be a good start for any person who wants to start this business." —Jewel
Like the book above, Elements is great for new investors. But it's also good for seasoned veterans to revisit from time to time. The information here is for any kind of investor, imparting universal financial principles and laying a solid foundation of knowledge for future success. This one is an easy read, keeping things short and to-the-point.
Select Amazon Review
"I really enjoyed reading this book. It's short and to the point, explaining key points of investing; just like the title of the book says. I would recommend this book for new investors, like myself. I will reread this book in the future to stay grounded in my financial path for retirement." —James
So, there are no Amazon reviews because we give this book away for free. That is right. We wrote this e-book to help investors make good decisions and learn the factors they need to focus on when buying Turnkey real estate far from home.
What books are you reading right now? Share your other recommendations in the comments.