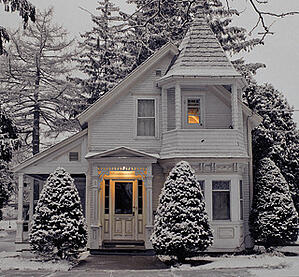 Winter. It can be a magical wonderland that conjures up images of chestnuts roasting on an open fire and Jack Frost nipping at one's nose, but more often than not, winter can get downright dreary. Whether it's slushy, dirty snow, brown winter grass or bare tree branches, winter can hit your curb appeal hard.
I came up with a list to help turn the dreary winter look into a tidy and well-kept property. These ideas can help properties rent quicker and at a higher rate. Just because winter is dreary does not mean our real estate investing properties have to be!
Property maintenance is key in winter, not only for preventing damages from nasty winter storms, but for keeping your investment property on the top of the curb appeal pack. If you're trying to attract buyers or tenants in winter, you can't afford to neglect property maintenance. There's plenty of work to be done if you want to stand out among other properties.
Even if you're not trying to attract new buyers or tenants, make sure your property management keeps on top of the all-important winter property maintenance tasks.
7 Keys to Stand Out Winter Curb Appeal
Keep Walkways Clear
Nothing says "stay away" more than slipping and falling on a patch of ice. Before you worry about aesthetics, make sure safety issues are taken care of. Keep walkways, sidewalks and driveways clear of snow, ice, standing water and storm debris. Not only are obstructions unsightly, but they're a liability if someone is hurt on your property.
Keep the Yard Tidy
Whether or not you're dealing with snow and ice, keeping the yard clean and neat during winter is vital to curb appeal. Leaves need to be raked and flower beds should be free of sticks and leaves. Add mulch and edge your grass around pathways. It'll give your yard just that little bit of refinement that's uncharacteristic for winter. The detail is small, but it can have great impact.
Invest in Proper Lighting
With shorter days and earlier evenings, proper lighting is a must in the middle of winter. Use warm lights on the exterior of your property to illuminate walkways and any exterior entrances. You want to maximize visibility and create an inviting aesthetic. Year round, ample lighting should be a property maintenance priority, but it's especially important for winter curb appeal.
Decorate Tastefully
When you have an empty investment property in the dead of winter, you should make every effort to make it look warm, inviting and lived in for any passersby and interested parties. That means adding a little decorative flair for the holidays — but with a discerning eye. You don't want any tacky inflatables or kitschy Santa Clauses making people cringe. Opt for something simple and elegant — a nice holiday wreath on the front door or garage, for example. Even a bit of festive garland wouldn't go amiss.
Repaint the Front Door
Winter get very, very gray. To avoid the blandness of the season and spruce of your investment property, put a new coat of paint on the front door in an eye-catching color. Don't limit yourself to red, either — any bright color can make a statement! Lime, orange, bright blue and even purple can help your property stand out and kill some of the winter blahs.
Have questions? Want to Schedule a Call With Our Team?
We would love to answer your questions on real estate investing in
Memphis, Dallas or Houston?
Stay on Top of Winter Weather Cleanup
While many of these winter maintenance tasks are things you'd only do once at the beginning of the season, there are ongoing tasks that shouldn't be neglected. Make sure your property manager is paying close attention to the condition of the property throughout the winter. Storms can cause roof damage and ruin an otherwise tidy yard. Be on the lookout for icicles, too, as you don't want an ice dam forming and causing water damage. When a winter storm is on the way, have a plan to deal with it. Cover flower beds, take potted plants indoors and be ready to clean up once it blows over.
Get a Splash of Green
Nothing helps the bland doldrums of winter like a refreshing dash of vibrant color. We always think that spring and summer lets our flowerbeds shine, but truth be told, you can create a beautiful winterscape for your investment property. Potted cabbage, ornamental kale and hardy grasses made for great front porch additions and there are plenty of varieties of flowers and shrubs that bloom during winter months. A neat, beautiful flower bed in the dead of winter is highly attractive and adds value to your curb appeal.
Consistent property maintenance is necessary if you want to keep your property alluring in winter. Cultivating curb appeal for all seasons is too important for investors to overlook — an attractive and pleasing property is nothing to discount.