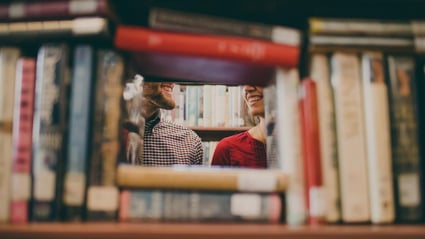 What makes a real estate blog worth reading?
That's a pretty subjective question on the surface. It can be pretty subjective, true, but we'd like to believe there's some sturdy criteria that you can follow when it comes to real estate blogs so you can know what's worth reading.
How do you avoid getting suckered in by a bad blog? Whether it's a dead blog, an empty sales pitch, or just plain bad advice, knowing where the good stuff is will save you some precious time and energy, and maybe some costly mistakes.
Here are a few things to keep in mind.
4 Things to Look for in a Real Estate Blog
Reader-Oriented Content
When reading a blog, you should get a sense that the articles are written with you in mind, and not in a "they're trying to sell me something" kind of why. Is this blog trying to focus on legitimately imparting good advice to their readers and helping them in some way, either through spreading good information, news, or insight? Or is their blog just a way to plug their products or services?
Blogs can combine the two, and do it well. As long as you feel they're still offering you something for free that's genuinely helpful, they're doing something right.
Proven Strategies
Does the content on the blog line up with what you already know about real estate? If you're new to the business, this might be trickier to check. Remember, you need to corroborate the information you get online with proven strategies and the advice of experts in the field.
Use common sense and what you know works and time-tested principles. If something doesn't sound right, it's probably not. Keep an open mind, absolutely, but it's okay to be skeptical too, and to disregard bad advice as just being bad.
Substance
Is there real meat to their content, or are you just being fed fluff? Substance can take many different forms: from entertaining anecdotes and actionable advice to step-by-step instructions and free down loadable resources. Substance just means you get something from it that's relevant to real estate! Do you finish articles feeling like you learned something new or gained new perspective, or do you feel like you wasted your time? Do they talk around the subject, or do they actually talk about the subject?
Focus
The best blogs have focus. Bad blogs write about anything and everything. You shouldn't have to wade through a real estate blog's articles about cats and working out to get to actual articles on real estate. Look for blog that stay on topic!
With those criteria in mind, we've selected eight real estate investment blogs that stand out to us as quality blogs: worth your time for their excellence!
8 Great Real Estate Investment Blogs
Mark Ferguson runs the Invest Four More blog almost entirely by himself, and he does a great job providing practical, real advice from a lens of over a decade of real estate experience. He also runs a podcast, so be sure to check that out, too!
Want to invest in real estate on the side, without quitting your day job? Seth William is the go-to guy for part-time investors, and he has the top blog out there for specifically dedicated to them.
The tone of Clever Investor is just fun. There are plenty of great free resources here, especially for new investors, on top of great advice wrapped in personal, charming anecdotes. The most fun you'll have on a real estate blog.
While we're not flippers, we can't help but love FlippingJunkie. Danny Johnson's experience with flipping (over a decade!) is remarkable, and watching him detail the process is fascinating. His posts aren't just helpful for flippers, though—he writes on exit strategies and wholesaling on top of other tips and tricks that any investors can get something out of.
Want a financially-minded blog? Follow Do Hard Money! They specialized in short-term lending for real estate investors, and their blog is all about tips on buying and selling, plus financial advice for real estate investments.
Hipster Investments is a company after our own heart—they're into turnkey real estate investments! In fact, their goal is to connect investors to reputable turnkey companies from all over. Their blog provides a lot of education on real estate investing with a lot of good energy.
Scott Costello's journey into real estate investment feels a lot like many of ours—because it's real! We like his blog because the journey is there, with all of the difficulties and challenges he had to overcome on the way to successfully investing in real estate.
We talk about BiggerPockets a lot here on the Memphis Invest blog, and it's not just because we constantly post there and publish articles on their blog. No, BiggerPockets truly is the best of the best when it comes to real estate investing blogs, not just for content: it's also a network and a community. We encourage not just reading articles, but sign up! Join the discussion! You can learn a ton from the other investors here.
What real estate blog do you enjoy following (besides ours, of course)? Share your favorites in the comments.
Speaking of free down loadable content, why not enjoy this free In-Depth research article?