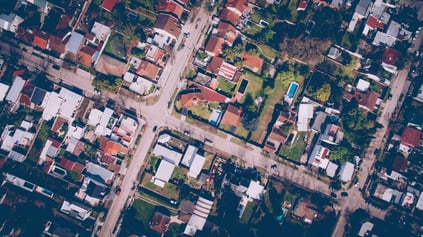 For those involved in real estate in any form or fashion, we've all noticed how home prices have shifted over the past few years. During the recession, home prices were at an all-time low. Real estate investors jumped on the opportunity to grab at cheap properties and make big profits.
It was honestly easy to invest and succeed.
But now, in markets across the country, prices have heated back up. The inventory of homes in foreclosure have decreased.
It's not so easy to find those deals and make easy money.
What Do Higher Home Prices Mean for Real Estate Investors?
Despite being in a situation where we need more demand in many areas, apart from places like Houston and other hot markets where local economies are strong and experiencing growth, home prices are being driven up primarily by tight inventory.
A lack of new home builds but the growing population means that homes that end up on the market tend to go quickly. It's almost universally a seller's market.
Are There Still Deals Out There for Real Estate Investors?
In short, yes. There will always been deals out there for investors willing to do the work. Here's the thing to remember, though:
You should never rely on deals for your success in real estate investment.
Many investors jumped ship when things got tougher during recession recovery. You're more tenacious than that! You have strategy, smarts, and the investor savvy to make profit out of a tougher market.
Finding Deals In a Pricier Market
1. Fixer Uppers
If you're not a flipper, no, you don't want to step into a full rehab situation. But if a property is a little dated and just doesn't show well, it can impact the list price in your favor. A slight fixer-upper that you can update over time (but is still suitable as a rental) makes for a great deal. Rentals don't have to have all the bells and whistles of a move-in ready home to make a profit for you now.
2. Tenant-Occupied Properties
Would you buy a property that already has a tenant in it? It seems like a good deal! These properties are typically priced lower than average. While they come with their own complications (like the fact that you're inheriting the tenant and their lease), it's still potentially a good deal on a good property. Everything else may be secondary to you.
3. Sellers That Want to MOVE
Sometimes sellers just want to move their properties as quickly as possible. They might price their homes to reflect that, rather than trying to make as much money as possible off of it. They just want that money fast. When you find these sellers, it's crucial to have your financing in order, or, better yet, be prepared to pay in cash. They'll going to take the cleanest deal.
4. Luck
Sometimes you just get lucky. There will always be anomalies and foreclosures and crazy deals that you'll stumble upon and be able to brag about for years to come. What's crucial to getting these deals is to be vigilant. You have to always be on the lookout. If you want deals, you have to take a proactive approach.
You need:
To move quick when you find a deal. Don't hesitate when you know.

A good agent working and looking on your behalf.

To protect your reputation.

Always have your finances in order. Be ready to move.
The Turnkey Alternative
Finding real estate deals is one of the most challenging, time-consuming parts of being a real estate investor—but it doesn't have to be that way. In turnkey real estate investment, your turnkey real estate company partners with you to track down the properties that will best suit your portfolio and your needs.
While they may not be a "deal" in the sense of those low, low prices, you find value in saved time and stress. You also can have the peace of mind in knowing that your partners know their market and have your success at top-of-mind.
Turnkey real estate investment saves you the hassle of the house hunt and moves you straight to making a profit as quickly as possible. And that's priceless.
Get started in turnkey real estate investment today in some of the country's hottest markets with Memphis Invest: