If you talk to enough real estate investors, then you are bound to hear the following phrase:
Great property management CANNOT make a losing property investment into a winner. But, bad property management CAN make a winning property investment into a loser!
With that being said, Memphis property management company, Premier Property Management of Memphis, is releasing and publishing their August numbers today with an update on year to date performance. With two-thirds of the year completed, these numbers represent a good chance to evaluate progress and improvement and see where the property management company is headed for 2014. Property Management is the single most important factor when a real estate investor buys an investment property after considering its location and income potential. Without quality property management, a passive real estate investor is at a real disadvantage and faces real potential losses.
Property Management Continues To Be 'Difference Maker'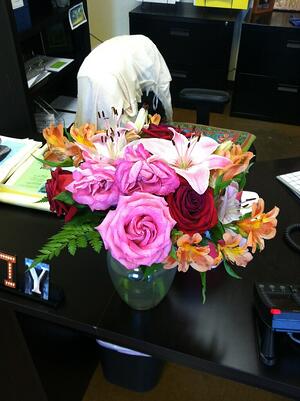 Just a quick note before the performance graphs. It is not often that tenants take the time to say thank you. However, contrary to popular belief, some tenants DO just that! When you provide great service, care and respect, people will surprise you. These flowers were received last week in our property management offices from a tenant who wanted to say thank you for the help they received from the time they applied to the time they closed and move into their rental home. The note was short and to the point and was really, really appreciated!
Premier Property Management of Memphis
For the month of August, this is how Premier Property Management of Memphis performed:
86 Rental Closings
81 2-Year Leases
42 Leases Above Zip code Average
29 Leases were renewed
43 Properties went vacant during the month of August
That last number is an important number for us. It represents the highest monthly move-out and is something we expected as we track the number of properties we rented in August of 2011. However, the 43 properties that had tenants move out in August represents just 2.4% of our total portfolio under management. If we can keep out move-outs each month to under 2.4 percent, then we can extend our average length of stay closer to 3 years. This is a metric we are monitoring closely each month to see how we improve.
In Dallas, PPMG of Texas continues to operate at an excellent level. We have 169 properties that we are managing and currently have 78 owners whose portfolios in our company. PPMG of Texas rented 18 properties in the month of August. The Dallas Ft. Worth market is growing very quickly for us and is on pace to be annualized at over 250 properties a year. The market continues to grow in population and job opportunities and the properties are renting very quickly. We really like Texas!
Investment Property Renovations And Deferred Maintenance
I wanted to hit on one more topic very quickly and that is property renovations in both Memphis and Dallas. There is a difference in philosophy with some investors in how much renovation work to do on a property before its' first rental contract. We believe that limiting deferred maintenance for an owner has to be our most important job during renovation. This philosophy drives up initial purchase costs, yet holds down capex numbers for the investor year over year. It is essentially a trade-off but with a huge upside. This helps a property stay occupied longer and perform on a more consistent level. Longer occupancy leads to fewer months of lost rent, lower move-out costs during transitions and faster rentals each time a property goes vacant.
Here are some quick numbers from our renovation departments in Memphis and Dallas year to date through August. These numbers represent completed renovations with a tenant. This number does not include active renovation jobs or jobs where the renovation is completed and the tenant has not moved in.
Memphis
Number of renovations completed: 208
Average total renovation cost: $18,762
Number of days to complete: 24
Average move-out cost year to date: $1,179
Dallas
Number of renovations completed: 72
Average total renovation cost: $25,089
Number of days to complete: 38
We publish this data, including the graphs below, as a way to hold our companies publicly accountable and as way to measure openly our performance and progress. With the addition of new technology and information systems, we have been able to automate and improve every department and every process in our investment company. The performance and improvement of each of these departments is vital for the success of our clients and their investment property portfolios.
Historical Graphs For Memphis Property Management
Both Memphis and Dallas property management companies are on a clear and steady growth line. We are cautiously growing both companies and adding and training staff as needed to insure that we continue to provide the best Customer Service in the industry.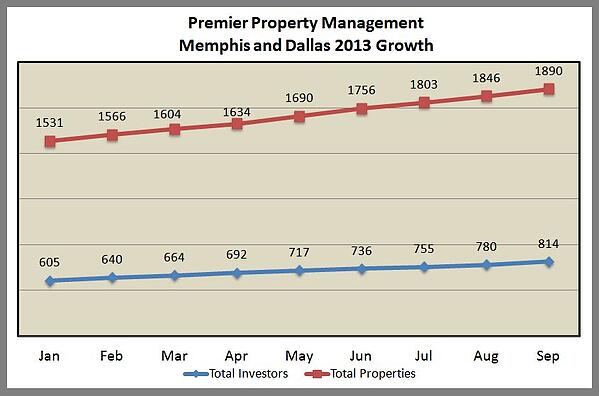 We expect to see the number of move-outs drop down this month with school having started. Even though this was out strongest month for lease renewals since January, we expect to see that number improve through the fall as well.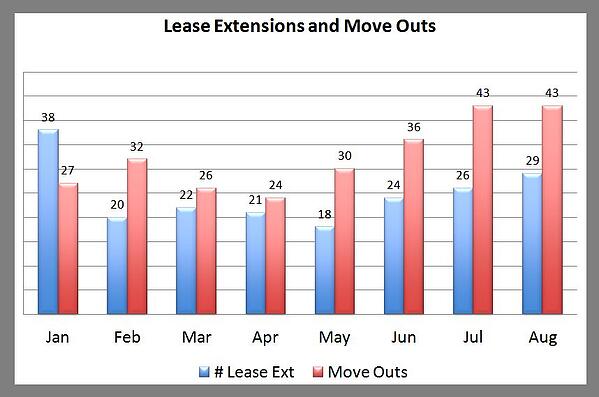 This pattern has held true for the past 4 years, but we do expect and are working hard to keep our vacancy rate below 7%. In each of the previous years there is a spike in vacancy rate during the late fall and into January and then a drop in vacancy rate. With other Memphis property management companies running vacancy rates in the double digits and some as high as 15%, we look at the 6.04% as a blessing and testament to solid hard work from our staff.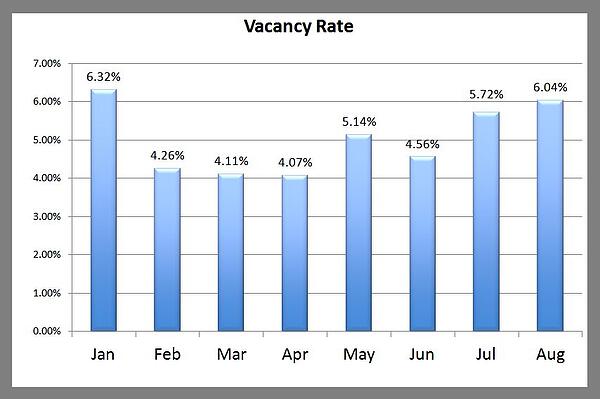 This was the second highest month of the year in terms of closed leases. This was also the second highest month for leases closed above zip code average, which accounts for the slight up-tick in average rental rates. We expect to see these numbers stay fairly high as the rental property market is very active right now.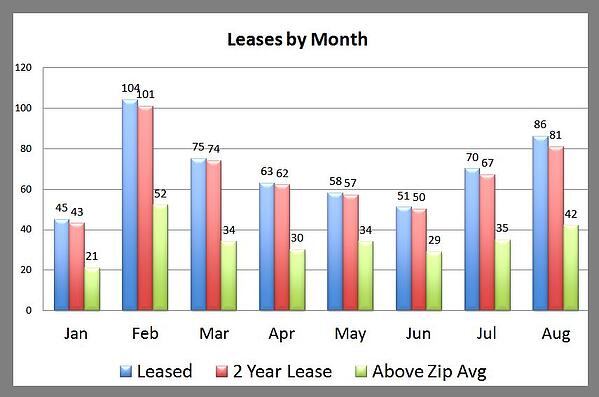 Would you like to learn more about investing in Memphis or Dallas real estate? We have a jump start package filled with information to help you get the answers you need! Just Click Below...