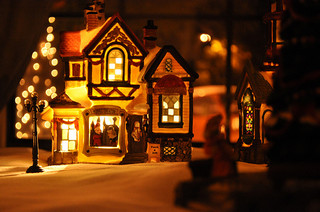 While spring and summer are ideal for showing properties with neat, beautiful green lawns, shady trees and happy bright flowers, your prospective tenants might show up in the dead of winter looking for a rental home. It's not your fault the grass is brown and that there are mountains of leaves on the ground. That's just the cycle of life! They'll just have to imagine what the place look like when it's pretty, right? There's nothing you can do about it.
Wrong!
Your investment properties' curb appeal doesn't have to die like a neglected house plant just because it's winter. Improving an investment properties' curb appeal during the winter isn't the easiest thing you can do, but you'll be grateful when those prospective renters come a-calling. We have found at Premier Property Management, that our Memphis investment properties ~ and even our Dallas investment properties ~ will rent faster, at a higher rental rate and for a longer period of time than other similar properties in the neighborhood because of outstanding curb appeal. That first impression is so important! So what can you do to boost your curb appeal and turn your investment property into a winter wonderland?
Curb Appeal Ideas for Winter
Add a Splash of Color
Winter is the perfect time to paint the front door a stand-out color. Against brown (or white, if you're in an area with a lot of snow), a colorful hue will be both welcoming and attractive. Reds and burgundies are great go-to's, but keep in mind the palette of the rest of the house. You could spring for blues and violets, too. Make it modern. The same goes for the mailbox! It's a great time to make it pop with a new, festive color.
Keep It Safe
This is always number one. Make sure driveways and sidewalks are clear of ice and debris that could make people slip or trip. In the winter, it's especially important to have good lighting. If the driveway is dark, install new outdoor lighting. The area around the front door is important to keep well-lit as well — think about new sconces or lanterns to make the most attractive entrance.
Give it a Light, Elegant Decorating Touch
Pass on the giant inflatables, okay? Save Frosty the Snowman for your lawn. Instead, go for tasteful seasonal decorations for your property. Add a pretty wreath to the front door, get a festive doormat and string some white lights on the shrubs out front. If you don't have shrubs per-say, consider potted evergreens to set near the door. You can even decorate the mailbox with some greenery and lights. Remember to use LED lights to save on that winter energy bill. Keep your decorating light and classic.
Plant Seasonal Shrubs
No, you can't plant flowers in the middle of winter (unless they're pansies). I know, it's sad. But the winter palette is beautiful, too! Consider planting holly bushes (they have those beautiful red berries!) or other evergreen plants — jasmine, juniper, boxwood and so on. You can even set out some potted poinsettias! Just because it's cold doesn't mean you have to have a dead flower bed. Embrace winter!
Keep Maintenance in Check
Remember to check that gutters are cleaned out and that your property has been given a once-over for chips in the paint. Those spots will be extra noticeable in the winter, so make sure you give things a fresh coat of paint. Keep leaves raked and hedges trimmed back as always.
Your curb appeal doesn't have to suffer this season! There are plenty of steps you can take and fun, winter-themed curb appeal ideas out there. Keep your property looking beautiful all year long.
What do you do to make your property look great during the winter? Tell us in the comments!