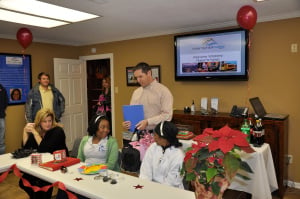 Memphis Invest, GP, a local Memphis real estate investing firm, has always been proud to serve the greater Memphis community with causes that directly effect the affordable housing situation in Memphis and the restoration of neighborhoods that have been decimated by the falling economy. In the past we have supported Habitat for Humanity as well as local food pantries, meal kitchens and over-night support centers. After having had such a blessed year, we decided to add one more charitable organization to our donation list.
This past week, we had a chance to give back in another way to a teenage girl and her family who were in need of a Christmas season pick me up! By working through the Memphis chapter of Make-A-Wish Foundation, Memphis Invest granted a wish of a 17-year old girl to take here family to Walt Disney World in Orlando, FL.They will enjoy a week in Orlando and an opportunity to put the hospitals, school and the brave fight behind them for a few days while they enjoy time with her favorite character Mickey Mouse.
The staff at Memphis Invest want to thank Make-A-Wish Foundation for their wonderful guidance and support as we prepared for unveiling of her wish and for making it a special afternoon for our company as well as the young recipient and her family. Assisting other has been a focus of Memphis Invest for several years and we are grateful to have found another way to give back to those in need.
We look forward to granting another wish next year!