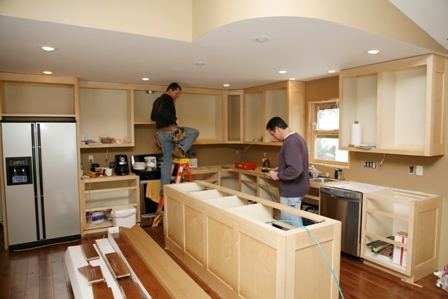 Property renovations can get very expensive very quickly.Real estate investors need to prioritize their renovations to get the most for their time and money. Research shows that the most bang for your buck can be found in the overhauling of two rooms in particular — the kitchen and the bathroom. There are two unfortunate points connected to that little bit of research.
Bathroom remodels and kitchen remodels, just by the nature of what goes into them, can cost a lot of money to renovate.
Both of these rooms in the house involve plumbing. Any work that involves tampering with plumbing is going to drain your money.
How do you prevent your investment property's bathroom renovations from turning into a money sink? Here are a few points to consider as you get started renovating kitchens and bathrooms.
Being Smart About Bathroom Renovations
Deep Clean First
When you're staring at a dingy old bathroom, you're going to want to rip the fixtures out with your bare hands and start from scratch. Truthfully, your investment property's bathroom probably isn't that bad. You certainly don't want to bring in the sledgehammers if you don't have to. That's why you should always start with a good, deep cleaning.
Pay close attention to cleaning fixtures, especially the toilet. Toilets, bathtubs and showers should be pristine. Don't leave any traces of rust, mildew or mold. No matter how you slice it, cleaning an existing fixture (even if it involves re-grouting) is less expensive than installing something entirely new.
Once you've cleaned, you'll be able to have a better picture of what really does need remodeling.
Make a Plan
Having a good plan of action will keep you from getting carried away. Identify your priorities for renovation and spread them out over time if need be, particularly if your improvements will outclass the rest of the property. Keep renovations evenly distributed in value across your property. Unbalanced value within the property itself or within the neighborhood as a whole can actually hurt your investments.
Remember that if you're looking for a total overhaul, it's best to work with the existing plumbing. Moving plumbing even a fraction can cost a thousands upon thousands of dollars.
Start Small
If you don't have the money or need for a total overhaul, start small. New fixtures, such as faucets, towel racks, cabinet knobs and shower heads are relatively inexpensive and easy to install. They can go a long way to getting an updated look without breaking the bank.
Keep it Light
Also important is the lighting of your bathroom. Among property renovations, new light fixtures — or even just new bulbs — can create one of the most drastic improvements for little cost. Bright lights are your best bet here. It could be as simple as upping your wattage! While you're at it, spring for energy-efficient bulbs to save money on the electric bill at the same time.
Remember that tenants aren't typically looking for perfection. Little tweaks and updates here and there, over time, can have a long-term positive effect on your investment property's value. You don't have to break the bank to increase value.
What bathroom renovation do you find most effective for value? Let us know in the comments.
----------------------------------------------