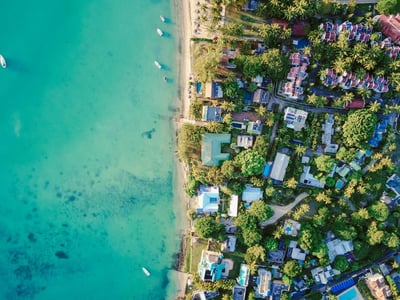 The seasons play a huge role in ebb and flow of the real estate market. It varies depending on where you are in the country, but it's still true wherever you go: the seasons mean business.
For the most part, we see that spring and summer are the busiest times for the real estate market, with a flurry of activity as buyers buy and sellers sell.
That said, fall and winter are far from dead months, and come with their own pros. Winter sellers usually mean business: they're usually motivated, and investors can take advantage of a lack of competition.
But we're here to talk about summertime...May is here and the summer home buying season is right around the corner. How can real estate investors best take advantage of the season?
Whether you're looking to score a good deal in the middle of a hot market or you want to sell an investment property, here's everything you need to know about jumping into a summer real estate market:
An Investor's Top Tips for Navigating the Summer Seasonal Real Estate
Pay attention to how long the property's been on the market.
Spring is when the home buying season really picks up—there are a lot of new homes that get put on the market, and competition really begins to grow. As a real estate investor who may be looking to acquire a new investment property, you may have a tougher time finding a good deal—sellers are more fresh to the market and there are typically more interested buyers around as spring and summer are the most trafficked periods for real estate websites.
What you can do is pay attention to what properties have been on the market for awhile going into summer. Properties that have been on the market for longer may give you more opportunities to negotiate with a more flexible seller with less competition.
Give your marketing an extra push.
One of the big reasons summertime is so busy for real estate is because it's a good time for families to move. Schools are out, life is a little less hectic, and moving a just a little bit easier to pull off. Most families don't want to uproot their children in the middle of a school year, so they wait until summer to move.
If you're not buying or selling as a real estate investor, you can still take advantage of the season by marketing your investment properties to the many people who are moving. They aren't necessarily buying homes, after all—there are plenty of renters out there who need rental properties to move into. So now is the time to make your properties visible and to put some extra money into your marketing.
Get some good summer property photos even if your properties are occupied, and push the marketing for any vacant or soon-to-be-vacant properties.
Learn the seasonality of your specific markets.
We mentioned earlier that the seasonal cycle of real estate isn't the same for every market. As real estate investors, we often have our hands in different markets all across the country, so it's important that you know and study the different markets you're involved in and how they affect you and your prospecting of buying, selling, and marketing.
For example, a town like Phoenix or Miami will have the snowbird effect and see a strong home buying season in the winter. Colder climate cities, on the flipside, will likely stick to a more traditional pattern and slow during the winter. You just have to be aware of the patterns in your investment markets.
Add extra attention to your curb appeal.
Spring and summer are the best time to put some extra oomph in your curb appeal. Gardens, shrubs, flowers: you name it. Presentation can really be amped up here and, as we mentioned earlier, it's a great time to update your photos for future listings, even if your property isn't vacant right now.
Remember: during the summer, there tends to be a lot of inventory on the market. It also tends to be very busy. There's a lot of information to process, but investors often have to act quickly! It may be in your best interests to wait for the market to cool in Fall and Winter, where there is less competition and when the sellers are more motivated.
And, if you want to skip the hectic pace of it all? There's always turnkey real estate investment, where investment properties are curated for you by turnkey real estate providers who are experts in their markets.