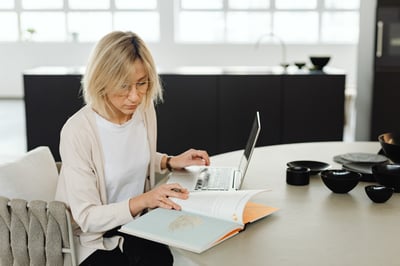 The question of location is the biggest in real estate. We know just how important the "where" is in purchasing properties! While you want to invest in a robust and growing market, you also want to be wary of overhyped areas. Finding that sweet spot is tricky.
It's not enough to avoid bad markets and pursue hot spots. Investors must know how to read the market, understand the goals for their portfolio, and recognize their limitations and risk tolerance. With that in mind, we have a few tips to help you weed out real estate markets that aren't worth your time.
Indicators of an Underperforming Market
Price growth undercuts the national average
There are plenty of reasons why an individual market isn't keeping up with the average growth rate, and not all are red flags. However, seeing this trend is worth your investigation. Lagging price growth may indicate excess supply or a failing, unhealthy, or unattractive economic climate. More marginal price growth can be a good thing if it's consistent. This can prevent a market from becoming overvalued.
Either way, mind the national average and market trends. They'll help you see if something is amiss.
Listings linger on the market
While you can't tell much about the market as a whole from individual real estate listings, patterns among them are telling. For example, if you see a significant number of properties sticking around past the average days on the market, there likely isn't the demand there needs to be. Lingering listings may also see price cuts…and still not move. This indicates that people don't have a solid incentive to live in and stay in this market.
There's an overabundance of properties on the market
Low inventory is the defining feature of the U.S. real estate market in 2023. If there are a ton of properties on the market – especially if they're the same properties – beware. A glut of inventory brings prices down. While this can benefit an investor looking for a deal, it can also point to a lack of rental demand. Remember, they're tied together.
As always, you'll want to measure homebuying trends and statistics against the local rental market. An underperforming isn't a worthless market, but you've got to know what you're getting into.
Indicators of an Overvalued Real Estate Market
Many real estate markets are overvalued right now. This doesn't mean you shouldn't invest in them. What it means is that you must be much more careful and diligent about your property acquisitions.
Relentless competition
There's nothing more frustrating than finding a great property and getting caught up in an endless bidding war. Some competition is good. Unyielding competition, though, can lead investors to compromise – waiving necessary contingencies, increasing their risk exposure, and blowing their budget. If this is your market, try not to get discouraged. Competition can drive prices to heights that make them untenable.
Wait for the right properties at the right price without compromise. You'll regret overpaying.
Your price-to-income potential doesn't add up
How do property prices measure up with the median rent in the area? A disparity between the two indicates a problem. If both rent and property prices grow, that's fine. However, property prices that don't add up against housing demand – both from renter and owner households – are a red flag. Investors need a favorable price-to-income ratio.
Line up the metrics you value most and draw your lines in the sand.
New construction outpaces demand
An overvalued or overhyped market will attract new construction. Builders see and seize demand. You know the other shoe is about to drop when new properties – whether single-family, condominiums, townhouses, or apartments – sit empty. Once new construction outpaces demand, a supply glut will cause prices to drop.
This also may depend on the price point at which you invest. There were significant vacancies in the luxury housing market in many cases (particularly throughout the pandemic), while affordable housing was exceedingly rare.


Ultimately, real estate investors must find the market that matches their ability, risk tolerance, and long-term portfolio goals. We won't pretend it's an easy decision – but that's why you have an REI Nation advisor waiting to help!
Join the hundreds of investors we've helped build portfolios they can rely on for years to come.