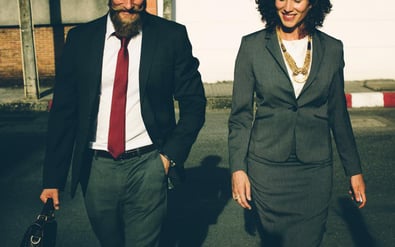 Should real estate investors get a real estate license?
It's a common question in the biz. The answer is a bit fuzzy, if only because it really comes down to an individual real estate investor's personal goals and strategy. There are many factors that make it more or less useful to a particular investor over another.
While no investor needs a real estate license to be successful, there are certainly advantages to having a license that can't be ignored.
If you've ever wondered about getting your real estate license, here are a few factors worth your consideration.
Why Should a Real Estate Investor Get a Real Estate License?
Insider Access
One of the biggest benefits to having a real estate license is that it truly expands your world beyond that of the average person. You have access to so many new contacts, first of all. While some might raise a brow at someone playing the dual role of investor and Realtor, you'll have the distinct opportunity to make connections at banks and open houses.
Perhaps more important is the access you can have to properties. As an investor without a license, you either have to wait at the mercy of the MLS or rely on a Realtor connection to find deals for you. As someone with a license, you'll be the first to know when new properties hit the market: and thus, have the first opportunity to investigate and make an offer.
Additional Income
Naturally, playing the role of Realtor comes with additional income-earning opportunities. You will be able to buy and sell homes, broker deals, and supplement your income on the side as needed. It's a low-pressure way to add-on you're in real estate anyway. On top of being able to broker deals for others, you'll be able to keep the commission when you list your own properties. That can be savings of $10,000 or more each year!
The additional income that you can earn on the side as a Realtor makes having a license attractive, even if you don't want to pursue it as a full-time job.
Educational Benefits
For real estate investors, education is one of the key components to success. If you want to do well, you have to really know what you're doing. To obtain a license you have to go through rigorous courses and pass a tough exam—so there's no getting around the educational element. While going through that process is extremely challenging, it certainly gives you an advantage over other investors.
You have to know more than most when it comes to negotiating and closing real estate deals—and that's valuable knowledge that can significantly help you out as an investor. Plus, it can save you the step of having to hire a Realtor to negotiate for you.
What about passive income?
So, all that said, why wouldn't you want to have a real estate license? Well, there are some disadvantages to going down that path. Without getting too far into it, getting a real estate license isn't simple nor cheap.
There's a considerable amount of coursework and studying involved, not to mention the exam, subsequent background checks, expenses, and costs. Then there's the fact that you'll be beholden to a lot of disclosure obligations, have to answer to your brokerage firm. There are limitations on you on what you can and can't buy as long as you are with the firm, and you have to notify them when you acquire properties.
Being a Realtor (or applying to be one) also comes with mountains of paperwork. Then there's the fact that to get that coveted MLS access, you'll have to be a member of your local board...and pay their fees.
It can all be very expensive, limiting, and time-consuming, particularly for a real estate investor who just wants to earn passive income.
There are advantages—but getting a real estate license isn't for everyone. You don't need it, and you would do just as well, if not better, partnering up with a turnkey company like Memphis Invest and making good connections with the right people.
Instead of going through the headache and expense of earning your real estate license, why not leverage the combined decades of real estate experience that Memphis Invest has to offer? With excellent customer service at top-of-mind and your success at the forefront, you can secure your financial future through passive real estate investing.