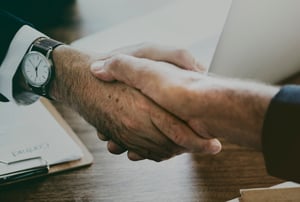 What does it really take for a turnkey investor to succeed? There are a lot of factors that go into one's investment success, and while you can argue that many are beyond your control: market conditions, happenstance, even dumb luck...there are so many factors that are in your hands as owner and investor.
So what elements really matter?
Part of what we at Memphis Invest pride ourselves in is total commitment. But what does that mean? What should it mean in the context of real estate investment?
---
You can pre-order your copy of The Turnkey Revolution, the first book release from Memphis Invest chronicling the best advice on how to safely build a passive portfolio from real investor experiences!
---
We live in a world where commitments are easy to make and even easier to break. In this business, however, success is contingent on real commitment, not just from the investor, but from your turnkey provider.
This is not only what you need to do, but what you need to look for.
What Total Commitment Looks Like in Turnkey Real Estate Investment
For the turnkey investor: Be all in!
For new real estate investors, the first thing you must consider is whether or not you're totally committed to investing in real estate. You have to understand from the outset that every investment comes with risk and go in knowing that you may not be stepping onto a primrose path. There may be trials, frustrations, and losses.
Investments all carry risks, and turnkey investments are no different. We point to this example often—the "fair weather" real estate investors who jumped on board just after the real estate bubble burst around 2009 enjoyed the benefits of investing when cheap, foreclosed properties were abundant. They weren't, however, prepared to hold on to their investments once it got tougher. Once they actually had to work and strategize and think about the markets and properties they were investing in, many said sayonara.
If you want to find success as a turnkey real estate investor, it can't be a "fair weather" commitment. It must be a commitment to do things to the best of your ability, to learn from mistakes, and to see it through so you can reap the rewards of your dedication.
Is your turnkey provider truly committed?
In a recent episode of the Experience Matters podcast, I sat down with my dad, Kent Clothier Sr., and we discussed what makes a good turnkey company. One of the first qualities we discussed is commitment and how so many inexperienced turnkey companies lack true commitment.
As an investor seeking out a turnkey company to partner with, one of the top criteria to consider is their total commitment to providing you not only with quality properties but services throughout your investing career.
Your turnkey provider should be your point of contact for anything and everything. They should be the ones taking responsibility for your investments—the renovations, the management team, the experience you have. Your turnkey provider should ultimately be the one at the head of it all, taking charge, taking responsibility, and giving you not only a great experience but taking the initiative to provide you with the best opportunities and advice they possibly can.
If you find a provider that is only offering you the bare minimum—they're just a go-between who has properties and a deal with a management company—they're likely not the sort of company you want to hitch your wagon to.
Remember, as a turnkey investor, your success is far less dependent on your personal knowledge and expertise than it is your provider's. So why not pick a provider who has that total commitment and willingness to take responsibility?
Commit to quality.
As investors, we can easily make the mistake of committing to profit over committing to quality. In this business, it's crucial that we don't make that mistake. When we focus on things like due diligence, providing quality services, not cutting corners, and being the very best owners we can be, success and profit will follow naturally.
If profits are the chief concern, important details will slip through the cracks and it will come back to haunt you in the end.
Ultimately, for the real estate investor, success comes when you're willing to commit yourself to not only doing what it takes to invest in real estate for the long haul but to do so with integrity. You have to expect the same commitment from the provider you chose, if not more.
If you keep this priority top-of-mind from the very beginning, you'll find it hard to go wrong in turnkey real estate investment.