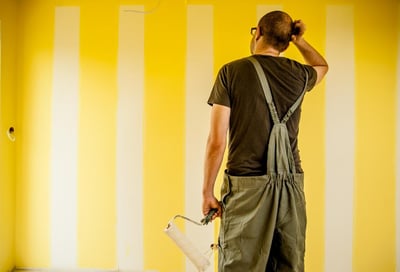 When buying an investment property, there are a lot of factors that go into the decisionmaking process. As real estate investors, you're dedicated to optimizing your passive income—and that means weighing not only the cost of the property from the outset, but weighing its long-term potential.
So that brings us to a pretty big question: is it better for investors to buy older properties, or invest in newer construction?
There's some nuance in the discussion, so, for your benefit, we're weighing the pros and cons.
Why Go with an Older Investment Property?
It's cheaper upfront.
When you're solely comparing prices, older properties are going to win against new constructions when you're looking for a deal. They just are. Whether or not you're going to get quality out of that price is a different story. The trick with older properties is to not let the price be your deciding factor. It still comes down to the quality. There's always a balance between finding a deal and finding a property worthy of your time and effort. As always, due diligence is key.
Mold it to your vision.
When it comes to older properties, there's a lot of room for renovations and updates, which means you can truly transform it into something new. You can breathe new life (and value) into a property over time, increasing its worth in the long-term and making it attractive to tenants and even future buyers.
Vintage charm.
Older homes have an undeniable charm that just can't be replicated by new construction. There's just something about old finishes and hardwood floors that hold a lot of appeal to modern customers, whether they're renters or buyers. There's a big market for renovated and updated homes from times gone by, and investors can capitalize on that interest.
Location.
Land is a commodity. Older homes had "dibs" on ideal locations, whereas newer construction tends to be more spread out and growing in suburban areas and newer neighborhoods. Older homes, by contrast, are more likely to be in those convenient and prime locations—growing downtowns, close to popular economic hubs, or even in historic neighborhoods. It's a bonus that you won't often get from new construction.
Well-established.
A less-considered advantage is that of records. An older home that is established in the community will have more information readily available about it. You'll be able to dig back and see how its value has fluctuated, how the neighborhood has changed, and what you can expect for renting in the area. Simply by having more years under its belt, you'll be able to leverage more knowledge for your advantage.
Why not?
Maintenance & updates needed.
Obviously, older homes are more likely to come with their fair share of maintenance issues. They may need repairs right from the outset: new roof, new HVAC, updated kitchens or appliances. You can expect some kind of renovations to be in order before you can move any tenants in. The age of the home will demand some extra TLC as time will have taken its toll.
Outdated annoyances.
As housing priorities have shifted over the years, it's created some annoying issues that can create problems when you're trying to secure and retain tenants. For example, older homes often didn't value closet space. You'll have to come up with some other storage solution or risk quickly frustrated tenants. Other aesthetic issues like wood paneling, vinyl floors, and terrible strange layouts can create challenges.
Why Buy New Construction?
Clean and modern.
Over time, dirt, dust and age can make older homes seem dingy without the very deepest of cleanings. New construction is clean, sleek, and modern. You don't have to worry about dirt and grime—everything is presentable and ready to show to potential tenants. New construction is in great condition from the get-go, and that's always a plus.
Energy efficiency.
You can trust that modern homes are built with energy efficiency in mind, from the windows and plumbing to your electricity and appliances. It will save you in costs every month, which can either increase your profit margins or give your tenants some extra savings and, in turn, increase retention.
Earning potential.
New construction typically has higher earning potential than that of older homes—especially those that haven't been renovated. Renters are willing to pay a premium for something nice and new, and that's something real estate investors can capitalize on.
Why not?
Higher initial price point.
If you're going to buy new construction, you're going to have to be prepared to pay more on the frontend. You're not likely to find any incredible deals buying something brand new. That said, it might be worth it to you if you don't have to deal with renovations.
Location complication.
New construction might not have the best choice of location. You're more likely to get stuck in the suburbs in no remarkable place at all, without much to go on around the area or neighborhood. In fact, if it's new construction, you're also going to have to deal with some eyesores—other homes in construction in the area (and the noise that comes with it), trees that haven't grown in yet, and other less attractive, less personal aspects of newness.
Potential "cookie cutter" syndrome.
Today, homes are built fasters than ever. Plenty of neighborhoods are punched out in a "cookie cutter" style that only uses a few variations in blueprints. While this isn't necessarily a bad thing, you still need to be diligent about checking for quality. Not all modern homes are created equal. Be sure to appraise any home you look to buy for quality of materials and construction: you want your investment to be a good one.
When looking for an investment property, sometimes you just need someone else to worry about the details for you. That's where Memphis Invest comes in. Curated investment properties that are portfolio-ready and just waiting generate cash flow for you.