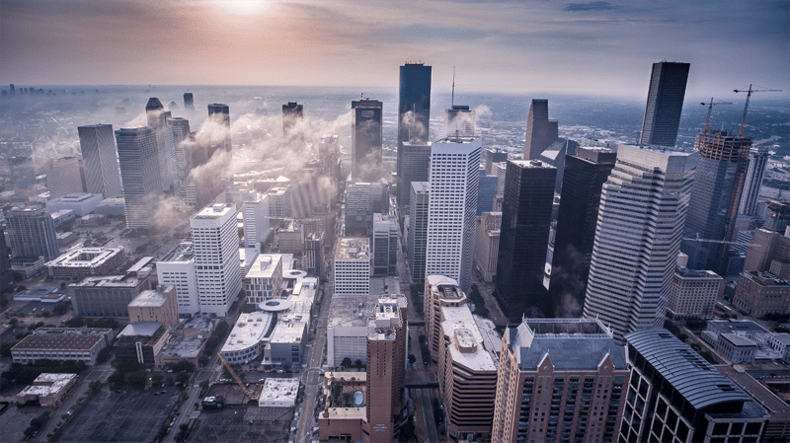 We all know what they say about Texas. And if it's true anywhere, it's true in Houston. Houston is the Lone Star state's most populated city and the fourth largest city in the United States with a census-estimated population of over 2.2 million as of 2014.
Space City is a rich in art, culture, and innovation. It's a technological hub, budding with industry. It has the largest concentration of healthcare and research institutions in the world. It's home to NASA's Johnson Space Center and Mission Control Center. It's a hub for the energy, manufacturing, aeronautics, and transportation industries.
Constantly attracting millennials, bringing in bright talent and business, Houston is truly a remarkable city.
And it's no less true when it comes to real estate!
The Tenacity of Houston Real Estate
Houston's real estate market has been a wild roller coaster for real estate investors and real estate professionals over the past few years. In the wake of the recession, Houston has proven itself to have the hottest market in the country—it was at the forefront of recovery, with high demand, low supply, and eager investors putting up all-cash offers for properties with skyrocketing prices.
Even Houston didn't flinch much when the recession hit—a testament to the strength of its local economy.
More recently, an oil crash that devastated Houston's energy industry caused experts to fear for the real estate market—but after years of waiting for the aftershocks to weaken the real estate market, Houston is still trucking along and experiencing month after month of great real estate news and a strong market.
Even if it's not breaking its own records each month, the market certainly tops much of the nation in home sales, values, and overall strength.
Houston for Real Estate Investors
Real estate investors have quite the history with Houston. We flocked there after the recession. We warred over properties with all-cash offers. We watched prices soar as demand skyrocketed. We made predictions with the oil crash, biting our nails and crossing our fingers. We're wondering now, what's in store for the city, and for us?
Houston has proved itself time and time again to be a great place to invest, but is it really worth it when it comes with so much unpredictability?
To better understand Houston, we have to dive deep into what exactly has gone on with the market: both in its local economy and with real estate specifically. Knowing the history of the market allows us to more clearly see where things are headed and make more informed evaluations of a market's health: and to know if it's where we want to be!
Houston, Do We Have a Problem?
Naturally, the biggest question surrounding Houston for real estate investors is pretty simple: should we invest there? Given the oil situation, given the unpredictability, given this, given that...It can be a difficult question to answer.
The best way to evaluate it, however, might be to dive into the past and see how Houston has fared against other challenges, what it's currently up against, and examine why what's happening is happening.
How Houston Fared When Recession Hit
When the housing bubble burst, Texas was long regarded as the last economic bastion in the country. Houston in particular lasted the longest before it really saw any effects of the recession, and even then, the city, and Texas as a whole wasn't hit nearly as hard as the rest of the country.
In 2007, job growth in Houston was at 3.5%. 2008 saw it dip down to 0.7% at a low point, but much of the pains of the recession were avoided—largely because Houston's housing market wasn't out-of-control. Where California and Florida markets were, at the time, experiencing unprecedented price heights, on top of great mortgage distress.
Houston, on the other hand, experienced very small housing price gains. It was still very affordable. California, on the other hand, had prices that grew 16 times that of Texas. Florida's were 7 times that of Texas's.
When the housing bubble burst and prices fell, they didn't have much room to fall in Texas, and the impact was small, if nonexistent, for most. This poised Texas, particularly Houston, to be at the forefront of recession recovery.
Houston's Real Estate Activity During Recovery
As the rest of the country struggled to find their footing after the biggest blows of the recession, Houston rose from the ashes to become one of the hottest real estate markets in the nation. The market, though not immune to the recession, bounced back more quickly than the rest. Naturally, real estate investors took notice.
Real Estate Investment Primetime
In 2013, Houston's real estate market was in its prime. At the time, it ranked the fourth best city in the U.S. and just fifth globally in terms of real estate investment dollars. Investment dollars in 2012 were up 32%, up to an astonishing $8.8 billion.
Houston saw gains in the job market, too—adding 100,000 jobs, a 4% gain from October 2011 to 2012. In fact, Houston, according to the New York Times, was the first city to regain all of the jobs it lost during the recession.
Oddly enough, it was the energy sector, which is currently the looming question mark in Houston's future, that was championed as the reason for Houston's speedy recovery.
Naturally, the vibrancy of Houston's local economy at the time was a big draw for real estate investors. Houston was the perfect storm: a strong, growing local economy, combined with affordable, high-demand real estate.
The Price Spikes
Between 2013 and 2014, the demand for Houston's real estate from both investors and homebuyers created and incredibly strong seller's market. Combined with an unbelievably tight inventory and a slowed construction sector, it's no surprise the prices started to climb.
Did anyone expect them to climb as much as they did, or as quick? Unlikely. In July 2011 the median price for a single family home in Houston was only $160,000. The next year, they hit $170,000, a historic high at the time.
As of July 2016, the median price of a single-family home in Houston, according to the Houston Association of Realtors, is $230,000. That's a second all-time high, next to June 2016's $233,000. Prices have only gone up, despite market uncertainty.

The most significant leap year-over-year was between 2014 and 2015 with a rise of $18,000, but the real spike clearly happened sooner, back in 2012 with a $17,000 leap. Granted, the summer home-buying season is going to see higher prices, and there will be fluctuation throughout the rest of the year, but the stark differences are telling.
What exactly was contributing to the craziness of the market in Houston? We know, of course, the the strength in the their local economy was bringing in people through the allure and promise of jobs, but what else was there?
International Interest
Texas real estate, particularly in Houston, is widely regarded is a secure and profitable investment for many foreign investors. Despite the price hikes, Houston was still considered affordable to much of the international scene in 2014, in the middle of some of it's biggest price gains in history.
International investors are highly attracted to Houston real estate, and Houston itself has a broad, international economy that makes it perfectly appealing to a global audience. In 2014, Texas accounted for 11% of all foreign real estate buyers—only outmatched by Florida and California, unsurprisingly.
The affordability, again, has remained one of the bigger reasons for Texas' place on international investor's radar, but it's also cultural. Many investors end up actually spending time in Texas: it's just plain livable. There are opportunities for work, education, and life that they may not have elsewhere, which is appealing for their families.
Going up against a pool of international buyers can create a whole new challenge for domestic investors, of course, and the demand it creates no doubt helped contribute to the rise of housing prices.
Houston as a Millennial Hot Spot
For college graduates, there's no better combination that job and affordable housing. While Houston increasingly struggles to match that second descriptor, it certainly had it in the years after the recession. For millennials fresh out of college, Houston was a place that not only had jobs, but real career opportunities.
In 2013, Houston was named the best city for college graduates to find work. Fellow Texas city Austin also made the list at number three. At the time, Houston was also featured on a Forbes list for America's Coolest City (ranking number one) and ranked as one of Career Bliss' 10 Happiest Cities for Young Professionals.
Point being, Houston's status as a millennial hot spot and job-hunter haven served its real estate market well. Job growth, skilled workers, population growth, new businesses, new families. All of these things brought demand for real estate to the city. And that pushed prices up.
Construction Lag
Between international investors and young professionals, the last thing to bring home prices up isn't so positive. One of the biggest problems plaguing Houston's real estate market for years since the recession has been an incredibly slow construction sector. Not only has the lag hurt the market, but it's lag that can't begin to match the intensity of the real estate market's demands.
Houston hasn't nearly had the month's supply of homes that most housing markets have on average in a healthy market. 4 to 5 months is average—and at the peak of Houston's booming breakneck pace, it had an insane 3-month supply.
That was even with more new home construction in Houston than the entire state of California during 2014. 50,000 new homes were in construction, despite a short supply of labor and a limited quantity of quality lots.
The construction sector, despite extravagant demand, has struggled throughout Houston's heights and, more recently, their lows...
Enter the Houston Oil Crash
In August 2014, oil cost around $100 a barrel. By January 2016, it was down to $29. The drop was one of the most, if not the most drastic in history, even compared to the catastrophe of the late 80's/early 90's oil crash that sent Houston's economy into a nosedive.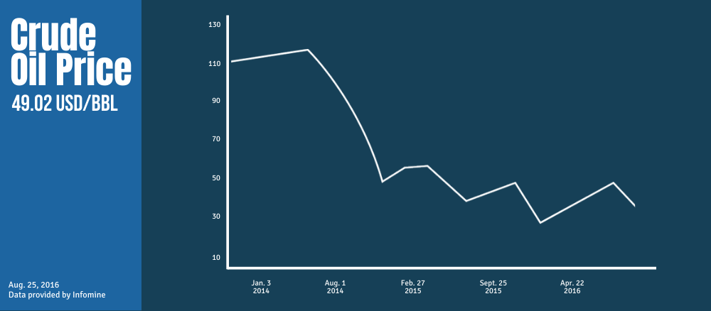 Thankfully, that hasn't been the case this time around. The big question, of course, is
why.
Why did it happen and
why
has Houston been to resilient in face of impossible odds? Why has the city defied all expectations?
And then, what does this all mean for the future? What are the implications for the housing market moving forward.
Hopefully, we can shed some light on those questions and throw out a few speculations that may prove helpful.
Why Did it Happen?
Simply put, it was supply and demand in action. Between 2009 and 2014, oil prices tripled. The crash came largely due to a global oil glut. Foreign oil producers drove prices down and European markets simply don't have the same demand Americans do—thanks to both a culture that is less reliant on driving and increasingly energy-efficient vehicles.
In an economy of supply and demand, there grew to be too much supply and not nearly enough demand.
So prices bottomed out, and they bottomed out hard.
How It Affected Houston as a Whole
The most immediate and obvious effect on Houston was in the oil and gas industry itself: businesses laid off workers, relocated their offices, and in some cases had to close their doors. New jobs dropped off: from over 100,000 in 2014 to only 15,000 in 2015.
Houston was still gaining jobs in 2015, but that significant 85,000 jobs that were no longer there shows just how instrumental the oil industry is to Houston.
What Were the Predictions?
When the oil crash happened, many went into panic mode—they were fearing a repeat of the oil crisis of the late 80's and early 90's that effectively destroyed the local economy. A 67% dip in the value of oil over four months caused banks to close, mass foreclosures, emptied malls, failed businesses, and economic chaos.
It's no surprise that people were scared. When oil prices plummeted, perhaps some people thought that maybe Houston hadn't really dodged the bullet from the recession after all. Maybe this was it.
But it wasn't.
What Was the Reality?
All things considered, Houston has fared remarkably well. Yes, a lot of jobs were lost and the oil and gas industry—a staple in Houston—has suffered tremendously. But the other areas in Houston haven't been dragged down in the same way that they were thirty years ago in a similar crisis.
Houston now enjoys a much more diverse economy. That means that unlike the previous oil crash, the economy wasn't so dependent on the energy sector that it wasn't able to support itself without it. Did it hurt? Absolutely. It hurt Houston in a major way. But chaos didn't erupt and, in many way, Houston has withstood such a powerful blow much better than anyone ever really anticipated.
Defying Expectations
Even before the disastrous oil crash thirty years ago, Houston lost 210,000 people who moved away between 1981 and 1984. One investor recalls how their occupancy dropped from 95% to 65% overnight, and it had nothing to do with the quality of their properties or rental prices.
People simply moved away.
When those are the memories fresh in people's minds, it's no wonder that the onslaught of negative press surrounding Houston's economy—specifically the oil and gas industry—has caused real estate investors to get a little skittish and skeptical. The local economy of a city is intrinsically linked to the health of its real estate market. Healthy economies bring in people. They bring jobs. And money.
They create environments that create strong real estate markets, and strong rental markets. When a local economy is put into jeopardy, it's not a surprise that real estate professionals started to worry.
What's strange is that Houston's real estate market refused to sink with the oil industry, as did much of Houston's economy. With a diversified hand, having learned from past mistakes, Houston's real estate market barely flinched when the oil crash hit—or in the aftermath.
As we've seen, median home prices has still continued to rise, even into 2016. Home sales started to slow this summer, but even then, it was slow compared to all-time highs.
"We never like to see a decline in home sales, but it's helpful to remember that our comparisons each month are to a record year in 2015," said Houston Association of Realtors Chairman Mario Arriaga, "July was the first time in several months when even mid-range housing saw declines. It's hard to identify a single cause for the drop in sales, whether it's a possible trickle-down effect of falling oil prices or prospective buyers holding out, but Houston's housing market is still healthy overall."
That said, the oil slump is undoubtedly having an effect on real estate in Houston.
Effects of the Slump on Houston Real Estate
Some sellers are lamenting that they missed the "sweet spot" to sell as the effects of the oil crash finally came down on the Houston real estate market. But make no mistake: it's still a seller's market. Inventory is still tight, home prices are still rising or relatively high, and the demand is still there, even if it's taking a soft blow.
The impact of the crash has been more of a slow, trickle-down effect than a sudden, devastating hit, which means (hopefully) that the market will have a better time adjusting to whatever comes its way.
Time will tell how large the effects will be—but for now, they just may be a good thing.
Blessings in Disguise?
Though the layoffs in the energy sector are bad all the way through, there are some unexpected benefits that are coming to the real estate market thanks to the oil crisis in Houston. Houston real estate was so hot, so in demand, that it was honestly getting out of control. Now that things are cooling, it allows for balance.
For Houston, that means:
Out-of-control price growth is slowed down and brought into balance.

Demand cooled and room is made for buyers who were pushed out of the market.

Inventory is increased due to slowed home sales and construction can being to catch up to demand.
Stability is Better than Sizzle
As exciting as a hot, thrilling real estate market is, the crazy uncertainty of it all—on both sides of the spectrum, whether that's good or bad predictions—can be overwhelming. Hype doesn't always lead to the best decisions. At the end of the day, a stable real estate market is better than an unpredictable one in the long-term.
We'll enjoy the sizzling markets while they last, but we can't hinge our entire strategies on their temporary highs. Slow, steady, and reliable markets might be the better bet—so if Houston is returning to a more reliable, stable pace, that might not be such a bad thing.
What's in Houston's Future?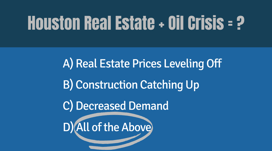 Time will tell what's in Houston's future. Because the effects of the energy industry crisis have been so unpredictable, we have to take predictions with a grain of salt. The real estate industry might find itself in a great, healthy state at the end of it, or there might be cause for alarm. We think it's safe to say we aren't going to see deja vu of the 1980's.
Houston's economy has grown and diversified, and proven itself to be vibrant and tenacious. If anything, it's a market that has been constantly full of surprises and opportunities.
Do you want to see real results in some of the nation's best turnkey real estate markets—Houston included?