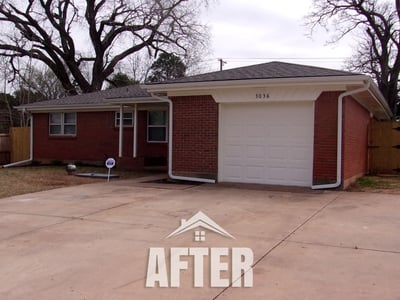 This week's Transformation Tuesday comes from Oklahoma City. After years of neglect, this once comforting home regressed into a dumping ground of wood, scrap, and litter. Nobody deserves to live in a home with gutted appliances, stains, and severely outdated fixtures. Before this home welcomed a new family, it needed some TLC. Enter our expert team of capable contractors.
Maximizing a budget of $55,000, we got to work. First thing's first—we needed to turn this junkyard into a backyard. So that's exactly what we did. Next, we installed shining floors, fixtures, and appliances. Turns out, a tub needs to be properly installed before a nice, warm bath. Everything from the dishwasher to the garage door is brand new and ready to go. The final product? A beautiful property perfect for a single-family residence.
Oklahoma City is one of the best markets in the US for millennials and turnkey investors alike, thanks to strong job opportunities and a low cost of living. We won't be surprised when this burgeoning town becomes America's newest beacon of prosperity.
Related Article: How Oklahoma City Attracts Millennials with Affordability & Opportunity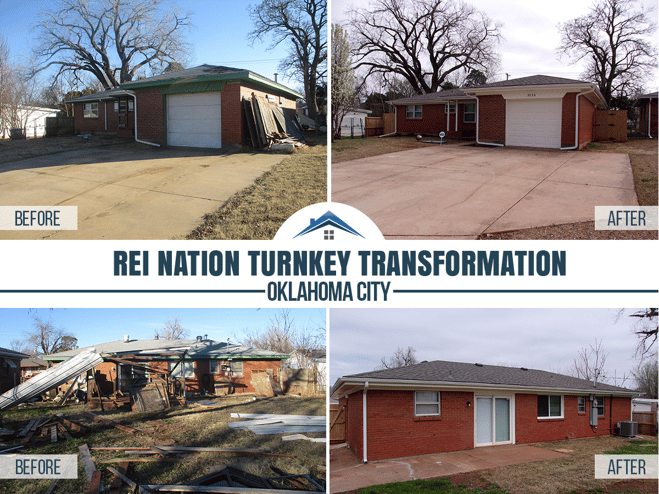 About this Transformation:
The owner of this Turnkey Transformation is located in Georgia. This is their 2nd property that they have invested in and had managed by us. Here is additional info about the home:

- Built in 1959
- 985 sq. ft.
- 3 bedrooms, 2 bathrooms
- Lot size of .22 acres
- Installed New Roof
- Installed New AC
- Installed New Water Heater
- Installed New Dishwasher
- Installed New Blinds Throughout
- Installed New Light Fixtures
- Installed New Carpet
- Installed New Vinyl Plank Flooring
- Replaced all Damaged and Rotten Wood, Trim, and Siding Around the House
- Painted all Walls, Trims, Doors, Closets, Ceilings, and Cabinets
- HVAC, Electrical and Plumbing Inspected and Repaired by a Licensed Professional


Let REI Nation transform your financial future!