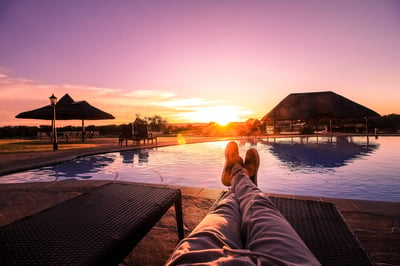 Who doesn't want to retire early?
Most of us feel like early retirement is out of reach, but that just simply isn't the case. It is only beyond reach if we allow it to be. With the right financial strategy, preparing for early retirement doesn't have to be difficult or intimidating.
There are no shortcuts or get-rich-quick-schemes. Retiring early demands sacrifices to reap the rewards, and there is work involved...but financial freedom is worth all that and more.
We don't want to make preparing for early retirement needlessly complicated. That's why we've put together a quickstart guide that you can use as a launching pad as you map out your path to living life by your terms.
However you plan your retirement, it is always in your best interest to discuss your finances and retirement accounts with a CPA, advisor, or other asset manager. With that said, let's jump into the guide.
The Foolproof Plan for an Early Retirement
Save, save, save.
If you want to retire early, you have to be prepared for some level of frugality. The people who retire early through frugality alone save somewhere around 70 percent of their income. The ones who don't still aim for about half of their pay to hit their savings account. Savings aren't important just for the obvious reasons—it's also so their money can go to work. When you rapidly accumulate savings, you can begin to invest more quickly, scale more quickly, and multiply your wealth.
Retiring early depends, on a very basic level, on your ability to cut costs and pay yourself first. If this principle is missed, you will not be able to retire early.
Avoid the lifestyle upgrades.
As you go throughout your life, you will inevitably climb the career ladder, earn more money, and have more money to spend. One of the best things you can do for your early retirement plan is to act as though you are not making more money. Stick with your modest car and your modest house and your eat-out-once-per-week rule. If you begin to spend just because you can and push your means to their limit, you will be missing out the opportunity to maximize your retirement.
Sacrifice the luxury of your lifestyle upgrades now (chances are, things are fine) for future pleasures later.
Related Article: Passive Investment for Your Retirement: Turnkey Real Estate 101
Invest aggressively.
Anyone will tell you that investments are critical to the success of any retirement, not just an early retirement. Today, we are told that for a 20 to 30-year retirement, to plan for a minimum of $1 million dollars in savings. If we're retiring at 40 instead of 60, what would that look like instead?
Savings, 401ks, and IRAs alone won't tide you over in an early retirement. What you need are excellent assets and cash flow. When you combine assets, like real estate, stocks, and other investments together into a diversified portfolio, you have a combined wealth that can sustain a 50 or 60-year retirement. For many investments, the earlier you start, the better—more time to grow and compound over the years.
Hedge against inflation.
One of the issues with say, stock investments, which is what most retirees aim for, is that they must account for inflation. This is why real estate is often the best option for those looking to retire early. That's because in say, turnkey real estate investment, a buy-and-hold strategy, you not only benefit from the real estate asset (which you hold and can later sell for profit), but you benefit from monthly cash flow. As you own more properties, this cash flow is also compounded.
Real estate, of course, is typically a hedge against inflation because during periods of inflation they tend to increase in value. Stocks typically are bad short-term hedges against inflation, though long-term investors have less to worry about.
Have a backup plan.
It is always good for early retirees to arm themselves with a backup plan. This isn't to say go back to your old job, but it does mean to look for and pursue ways to earn cash flow through your retirement. It is never a good idea to live solely off of savings or a finite cache of money. Instead, whether by cash flow from investments or by having a "back up" plan, such as a license to practice a profession, an AirBnB, a part-time job that you love— whatever it may be—have a plan both active and passive.
Know what you want out of your retirement.
Lastly, know why you want to retire early and what you want to be doing with your time. We all likely have images of lounging on a remote island beach, but this isn't a realistic image of retirement for most of us. Retirement isn't a decades-long vacation, and it's critical that you have a plan and a reason for your early retirement.
What do you want to pursue with your time? Is it a lifelong passion? A focus on family relationships? A job that you do simply for the love of it? Whatever it is you do, you need to know why you're doing it. Don't let your retirement be aimless. Remember, it's not just about the financial planning: it's about what you want out of it on a personal level, too.
Ready to plan for your best financial future? Start on the right path with Memphis Invest.