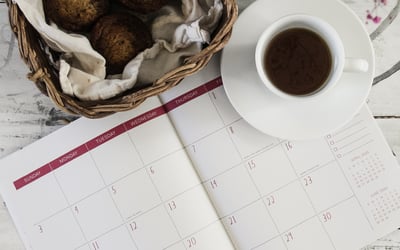 What a strange year it's been for the real estate market! Nothing about the Spring buying season worked, interest rates put a damper on everything, and investors felt the market squeeze. Thankfully, the trends and data we're seeing point to the beginning of the end of this real estate slump.
Characterized by unaffordability, tight inventory, and low activity, the 2023 real estate market seems ready to turn around.
Here's what we know:
2 Things to Know About the Real Estate Market as We Approach Q2
1. Inventory is much higher than last year
A severe inventory shortage has been a sticking point for the real estate market for quite a while now. While on the one hand, tight inventory kept prices from collapsing under rising interest rates; on the other, it slowed market activity with prohibitive pricing.
HousingWire is finally reporting a notable increase in active listings. The week of April 16 saw active listings increase by 8,546. Mortgage rates were also relatively stable, only rising from 6.61% to 6.66%.
That puts inventory at 414,010. During the same week last year, inventory was only 271,510. While listings haven't doubled, they've certainly grown. The peak so far this year is 472,680. The bottom in 2022? Just 240,194.
It's no wonder rising interest rates had a marginal impact on housing prices. Low inventory is a classic source of price hikes – simply the law of supply and demand. And demand, we know, has been out-of-control throughout the pandemic era.
Of course, we're far from healthy, normal levels of inventory. In 2015, active listings for the same week in April were 1,059,330. We have a ways to go. With that said, there are clear signs of recovery! Months' supply has steadily declined since at least 2014, hitting a low of under 2 months of inventory in 2022. This year, however, months' supply is finally increasing.
2. The state of the market paves the way for economic relief
The housing market isn't an island. Its challenges impact the U.S. economy at large. After all, burdensome housing costs put pressure on American households. Already facing unprecedented inflation rates, they're penny-pinching to survive. This naturally leads to less economic participation, which in turn hurts businesses.
According to Business Insider, though, the real estate market has bottomed out. There's no doubt that the market took a beating from high interest rates: slowing activity and sales transactions, a reduction of new building permits and construction, and mild price correction. All signs say that things are no longer on the decline. Affordability remains questionable, but improving other metrics – namely inventory – should result in more reasonable, stable prices in the future.
The way things are moving now, we're looking at a soft landing and a reasonable rebound. The market may not reflect the ideals of yesteryear, but investors and homebuyers alike may see relief, and the U.S. economy may avoid a nasty recession.
The Takeaway for Real Estate Investors
Investors shouldn't pretend that we're on the cusp of ideal conditions. Though increasing inventory will give investors more options, prices will be their Achilles' heel. Due diligence is critical. Investors should be cautious in picking suitable properties and mindful of timing as they scale their portfolios.
Remember, too, that the real estate market is not a monolith. We're talking about nationwide trends that may or may not be reflected in individual investment markets. As an investor, it's your job to research and consult with a portfolio advisor.
You want to target key markets known for consistency in performance – from rental demand and rates to property prices and median income. Some markets will be more stable than others. Others will be more volatile.
To sum up:
Increasing inventory relieves pressure on the market and offers investors a wider variety of opportunities.
While the Fed may not be finished with interest rate increases, the housing market seems to have hit its low.
Because this low it's too drastic, the rebound will be pretty soft.
As a result, we're hopeful that a recession will be soft, too.
The performance of the U.S. real estate market isn't necessarily true for individual areas. Investors must be wise in the selection of properties and investment markets.
Forge ahead towards investing success in 2023 with REI Nation as your partner!