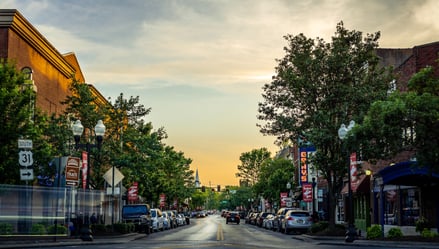 According to Bankrate and Market Watch, the Sunbelt – specifically the Southeast – is the hottest region for real estate. West Coast and Rust Belt markets have grown cold due to massive price spikes and stagnant job growth, respectively. Meanwhile, 18 of the top 20 markets in the Bankrate Housing Heat Index are in the Sunbelt region.
As you may remember, the Sunbelt was extremely popular throughout the pandemic as Americans shifted priorities in favor of lower population densities, greater square footage, outdoor spaces, and lower costs of living. The fact that this area continues to see real estate demand despite interest rates and the challenges of inflation should come as no surprise.
We'll tell you why.
3 Reasons for Steady Real Estate Value & Demand in the South
1. Relative Affordability
Perhaps the biggest reason for the undeniable magnetism of Sunbelt markets is the price tag. While there are exceptions, properties in this region tend to come in below the U.S. median home price (currently $388,800).
We see this clearly by looking at numbers from Realtor for the median single-family home prices across U.S. metro areas. Regionally, 2023 Q1 median sales prices were as follows:
| | |
| --- | --- |
| U.S. Region | 2023 Q1 Median Sales Prices (Single-Family) |
| U.S. Overall | $371,200 |
| Northeast | $394,100 |
| Midwest | $264,100 |
| South | $346,000 |
| West | $559,300 |

The most affordable median prices were in the Midwest. Like the Rust Belt, this area struggles to provide quality job opportunities. Their key industries, agriculture and manufacturing, have declined and resulted in the loss of many mid-wage and mid-skill jobs.
The South is cheaper without sacrificing economic stability. This relative affordability creates demand, especially from outside areas, as buyers search for ways to alleviate the pains of higher interest rates.
2. Land Availability
Land is a significant contributing factor to the value of properties. In the South, acreage is more abundant and affordable. This allows ample space for new construction, whereas, in other cities, zoning and limited land availability pose a significant obstacle to increasing inventory.
Tight inventory is the most significant factor behind rising home prices. Many markets can't keep up with demand, which drives prices up. Southern markets are less densely populated and come with more rural areas. This land is a valuable asset on its own, but it also positions the South to uniquely tackle the problem of short inventory. This keeps prices steady despite surging demand.
3. Cost of Living
The South isn't just more affordable for homebuying but living, too. The Cost of Living Index reflects that truth. It accounts for groceries, housing, utilities, transportation, healthcare, and other miscellaneous living costs. Not only are Southern states easier on the wallet, but they also tend to carry lower tax burdens.
When buying real estate, these taxes are worth your consideration. Tennessee and Alabama, in particular, have a lower overall tax burden. When these tax rates are contextualized with lower overall income, property prices, and cost of living, they look even better for buyers.
You benefit from the overall economic climate even if you're an investor who doesn't live there yourself. As the economy becomes increasingly challenging and living expenses rise, people search for more affordable options. Because those options are often found in the Sunbelt, investors will have no trouble finding sustainable demand for their rental properties.
A Word for Investors
When considering where to invest, real estate investors need to look beyond the here and now. Trends are in favor of the South right now. That alone isn't enough. It's the fact that the South consistently presents affordable, reliable real estate markets that should seal the deal. We look for slow-but-steady growth, solid and diverse economies, and favorable environments that encourage consistent population growth.
The price tag of your properties only plays a marginal role in your success. The relative affordability of the Sunbelt region is attractive, but it's far from the only compelling reason to invest here. Investors must do their due diligence to ensure that the market suits not just a solid investment strategy but your individual, personal investment goals.
Obviously, we believe in the power of the South to build world-class real estate portfolios. We've been expanding all across the South for twenty years. We don't just believe in it – we have the results to back it up!
With REI Nation, invest in the right property, in the right market, with the right team.