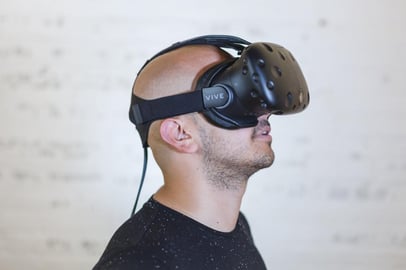 Virtual reality is here. It's long been the subject of science fiction, cartoons, and comic books, but VR is the hottest tech trend that just about every sector of industry is trying to find an application for. Medical professionals are using it to train and prep for surgeries. Museums are using it for tours and education. And, more obviously, entertainers are using it as a platform for games and interactive experiences.
But does virtual reality have a place in real estate investment?
Would you believe us if we said it already does—and has for quite some time? No, the type of virtual reality we're talking about doesn't involve bulky headsets and high-tech devices. In fact, these virtual reality tech tools have been right at your fingertips for years.
Google Earth Street View for Real Estate Investors
Google Earth has been around for a long time—18 years a long time—and it really pioneered and charted territory that no one else had before. While not virtual reality in the strictest sense of the word, Google Earth has an under-utilized feature that has many potentially useful applications for real estate investors: street view. Two applications in particular are quite practical, and once you're aware of them, you'll find yourself using them all the time!
Application #1: Scoping Out the Market
In Google Street View, you can select a location with a physical address virtually anywhere in the world. You'll get a 360-degree view of the location: and not only that, you'll be able to travel with a click! Down streets, around cities and towns. You can "take a drive" without ever going to the location. It's a great way to get acquainted with a market without going there in person. If you're interested in a market, especially a particular neighborhood or property, this is an excellent way to scope out the surroundings.
While no substitute for having someone on the ground, every real estate investor can benefit from getting a preliminary picture of things through Google Street View.
Application #2: Investigating Area Growth
Another thing to keep in mind is that while Google Street View offers a very complete view of most streets around the world, the service was launched in 2005. That means that most images you see are 5 to 10 years old, sometimes older! While this might initially seem like a drawback, rest assured—you can use it to your advantage.
One of the best indicators of market health (and investment success) is growth. Be it economic, population, construction, etc. Google Street View is basically a time capsule for real estate investors to look back and compare the current market to the past to see growth through the years. By that, you can get an idea of market health and take note of some potential red flags or good potential.
AR, Real Estate Applications, & More
There are so many pieces of technology emerging in the realm of virtual reality and augmented reality that it's incredibly hard to keep up with it all. There are a lot of companies looking to throw their hats into the ring. It's a lot less important to know specific tools, and more important to know how they can be applied to your real estate investments.
Virtual Reality in Real Estate Marketing
While we might picture giving virtual property tour over high-tech VR headsets, the reality isn't quite there yet. It's possible, but not practical. What we're much more likely to see is the use of tools like virtual tours and 360 views over traditional property photography.
In addition, there are tools out there that help real estate investors map, measure, and evaluate their properties—things like changing blueprints, capturing precise square footage, and creating compelling photography and video will become easier than ever.
Augmented Reality in Property Renovations
Companies like IKEA are exploring the possibility of developing an app that would allow customers to experience augmented reality—introducing virtual elements into the real world—by allowing them to see virtual representations of their furniture in their homes, effectively allowing them to envision would products would look like in context.
For real estate investors, augmented reality technology has the potential to allow investors to see renovations before they happen.
Augmented Reality in Property Hunting
Realtor.com has apps in development to help house hunters gather data on the properties they encounter in the real world. Street Peek, for example, allows you to point your phone at a home and see details about it—even if it's not for sale. Things like recently sold price, rental price, estimated value, the number of bedrooms and bathrooms, and more. Sign Snap specifically targets home for sale or rent—allowing you to take a picture of the "For Sale" sign and immediately get access to the listing and Realtor contact information.
Even if virtual reality and augmented reality don't replace our traditional methods of searching for and marketing real estate, real estate investors have a great opportunity in emerging technology. We live in exciting times!
Want to learn about the latest in real estate investment?
Join us at our upcoming event in Grapevine, Tx!