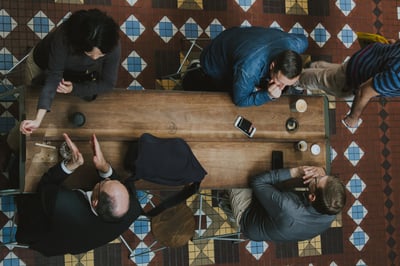 Forbes recently published an article from their Real Estate Council, detailing eleven predictions about the future of the real estate market for the remainder of 2021 and through 2022. In the tumultuous real estate market we've experienced, a lot of us are looking for clues as to what's next.
It's understandable – the unknown is terrifying, particularly when your hard-earned money is on the line.
With that said, investors must go to reliable, reputable sources to get their information. Predictions are never concrete, but they should be based on observable trends. With that in mind, Forbes is certainly credible. But how much do we agree with their expert assessments?
There are 11 predictions total in the original article, but we want to tackle a few of them in particular.
Our Take on 5 Forbes Real Estate Market Predictions


Prediction #1: Less Urgency To Buy Residential Real Estate
Our Verdict: Somewhat Likely
The rationale behind this prediction is that, as the economy reopens and "normal" activities return to society, people will turn their attention back to spending on restaurants, entertainment, and other activities that the pandemic put on hold. As a result, homebuying will shift in priority and return to the backburner. The logic here is solid, but there's one problem: the Delta variant. While some regions of the country have continued to keep the pandemic under control, others have not.
Mask mandates and other pandemic restrictions have returned in many markets. While it's unlikely that we'll see a full shutdown again, there are regional disparities in COVID-19 safety and control. As a result, the urgency to buy real estate is likely to vary between markets, depending on local mandates and the number of COVID cases.
Prediction #2: The Market Will Appreciate Significantly
Our Verdict: Very Likely
If you search for anything real estate-related, you're going to see plenty of headlines predicting a real estate market crash. Doomsaying brings in the clicks, so we can't fault anyone for that – but it doesn't mean it's going to happen. We tend to agree with Forbes on this one. The shortage of homes on the market combined with rising demand – even if it has tempered in the past few months – point to continuously appreciating real estate prices.
Prediction #3: Demand For Multifamily Homes Will Increase
Our Verdict: Somewhat Likely
Again, this is a prediction that is going to be truer in some areas than others. The multifamily market slumped early on in the pandemic and has struggled to keep pace with the single-family rental market. The pandemic drove plenty of residents away from cramped apartments in dense urban areas. That's reflected in the fact that markets like NYC shrunk during the pandemic while more suburban and rural markets flourished.
Demand will likely return to the multifamily market, but it, again, depends on regional COVID-19 severity as well as unit availability. The degree to which demand will increase will vary here, so keep your eye on your specific markets.
Prediction #4: Housing Prices Will Become Unaffordable
Our Verdict: Very Likely
Housing is already unaffordable for most working-class Americans. Honestly, this one feels less like a prediction and more just reality! Appreciation will continue to put homeownership out of reach. It will force many homebuyers to overleverage – that is, if they can get mortgage approval in the first place. Stiff lending standards are a hurdle, too. Even if a family can technically "afford" to buy a home, their financial history may prevent them from obtaining lender approval.
Prediction #5: Rental Market Will Keep Growing
Our Verdict: Extremely Likely
This prediction is undeniable. With a housing shortage lacking several million properties to meet demand, affordability is only part of the problem. There just aren't enough homes to go around! The U.S. has increasingly grown to be a renter nation, and the pandemic only accelerated that trend. As homeownership remains unobtainable for many average American families, the next best thing – renting – will take center stage.
While multifamily demand will likely return, it is the single-family rental that will hold the most allure in the future. With the feeling and benefits of homeownership without the biggest headaches – like mortgages and maintenance responsibilities – there's no doubt that more and more Americans will look to SFRs as their long-term housing solution.
Build passive wealth through single-family rental investing with REI Nation!