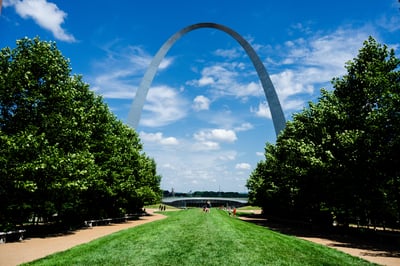 If you drive up Interstate 55 from Memphis, you'll reach St. Louis, Missouri in no time at all. The "Gateway to the West" has been part of the REI Nation family of real estate markets for a few years now. As you know, our markets are hand-selected for their long-term wealth-building potential in real estate investment.
St. Louis is no different.
If you want to determine the potential of any investment market, you must dive into all the details – from economic performance, population growth, and local policy to the nitty-gritty of real estate market statistics.
We know your time is valuable. That's why we've compiled the key details every investor needs to know when considering the St. Louis real estate market!
An Overview of St. Louis, Missouri
St. Louis was first founded by the French in 1764. After the Seven Years' War, the territory belonged to Spain up until 1800, when it changed hands back to France and then to the United States as part of the Louisiana Purchase in 1803.
During the 19th century, St. Louis was an instrumental port city along the Mississippi River and the fourth largest city in the nation until 1920. St. Louis' population peaked in 1950 at 865,800 residents. Currently, it is the second-largest city in Missouri, only dwarfed by the up-and-coming Kansas City.
Economic Background
Initially, St. Louis was established as a French fur-trading hub. Its proximity to the mighty Mississippi River made it ideal for inland trading – a reputation that persists in the modern era. In 2004, St. Louis was the third-largest inland port by tonnage in the United States, primarily moving commodities like grain, coal, salt, and petroleum products in bulk. St. Louis is also the third-largest railroad hub in the country.
Of course, St. Louis has long experienced economic diversification. Although transportation and trade are key industries in the city, other emerging industries have taken their fair share of the market. Tourism, healthcare, higher education, retail, manufacturing, agritech, scientific, and tech-based industries shine the brightest in St. Louis' $152.4 billion GDP.
Immigration Destination
Immigrants have a long history of moving to St. Louis starting in the 17th century with a surge of German immigrants. East coast arrivals could easily take the rail to St. Louis, while those arriving by boat in New Orleans rode riverboats upstream to reach their destination. As of the 1860s, over half of St. Louis residents were not native-born Americans.
After the Civil War, St. Louis also saw a surge of African Americans relocating to the region.
This reputation persists today, as St. Louis has the third-fastest growing foreign-born population among major U.S. metropolitan areas. St. Louis is also one of the only U.S. cities where the U.S. government places refugees. This may explain why the largest Bosnian population outside of Bosnia lives in St. Louis.
Immigrants are a key part of the American story and their presence in St. Louis has resulted in a diverse and colorful scene for culture, food, and industry.
Key Features of Present-Day St. Louis
Economy
Overall, St. Louis boasts the highest GDP in Missouri at $173.5 billion in 2019. Despite having a smaller city population than Kansas City, St. Louis is the economic heavy hitter of the state. For context, the entire state of Missouri had an estimated GDP of $328.4 billion in 2019. That means that St. Louis alone accounted for 52.83% of the state's GDP.
St. Louis benefits from increased economic diversity and modernization, with its largest industries spanning aviation, biotechnology, chemicals, electrical utilities, food and beverage manufacturing, refining, research, telecommunications, and transportation. Healthcare, education, and tourism also play significant roles in the local economy.
Unemployment Rate
Over the past several decades, local St. Louis lawmakers made significant efforts to reduce the unemployment rate in the city. Statistics demonstrate that these efforts have been effective. Although the unemployment rate in St. Louis has spiked with each U.S. economic recession – and understandably so – the unemployment rate has often been lower than the overall unemployment rate in the United States.
At the height of the COVID-19 recession, St. Louis had an unemployment rate of 13.8% (April 2020) compared to the U.S. unemployment rate of 14.8% in the same month. Overall, with some exceptions, St. Louis has an unemployment rate under or in step with overall U.S. rates. Today, the unemployment rate is nearing pre-pandemic levels.
Revitalization Efforts
St. Louis peaked in population in the 1950s and faced a dwindling population in the decades since. As a predominantly industrial city, U.S. deindustrialization and suburban expansion are largely to blame for the decline. In the 1990s, the moving and merging of businesses also contributed to population loss and higher unemployment.
With that said, St. Louis has a long and storied history of targeted, intentional revitalization and redevelopment efforts.
These are just some of the current projects in progress:
Armory District - A mixed-use redevelopment of Midtown designed to create 250,000 square feet of office space, greenways, and a restaurant in the historic Art Deco Armory building.

Ballpark Village Phase 2 - This stadium-adjacent project spans 700,000 square feet. Plans include a hotel, office and retail space, restaurants, and a luxury high-rise residential building. Ultimately, the plan should create at least 1,000 permanent jobs in downtown St. Louis.

Chouteau Greenway - The greenway project plans to connect some twenty St. Louis neighborhoods and landmarks with free, accessible walking trails for commuting, exercise, and exploration.

City Foundry - Another Midtown project, City Foundry will span 15 acres of mixed-use space including a food hall, event venue, office space, shops and restaurants, and cinema.
Major League Soccer Stadium - Sports have long been a St. Louis institution. Major league soccer is slated to return to St. Louis with its own stadium with seating for over 22,000 fans.
NGA West Campus - Slated for completion in 2023, this $1.7 billion project will create a new 97-acre campus for National Geospatial-Intelligence as the largest federal investment project in the city's history. Plans also include improvements to nearby roads and sidewalks.
Louis Aquarium - The recently opened St. Louis Aquarium occupies Union Station, a historic train station with a host of attractions. With multiple eateries, rock climbing, zip lines, mini-golf, and other activities, Union Station and the aquarium offer fun adventures for St. Louis families and tourists alike.
Square - Square Inc., founded by Twitter CEO and St. Louis native Jack Dorsey and Jim McKelvey, the titan of mobile payments and merchant services plans to move downtown to expand operations and capacity. With a 15-year lease in place, Square expects to hire hundreds of new employees.
39 North - Another mixed-use development spanning 600 acres, 39 North is slated to bring mixed office, residential, and retail spaces together along with generous greenspace and biking paths. In addition, $5 million in grants will allow the project to improve traffic infrastructure, alleviating congestion and increasing access.
Hyperloop -
Although still in development, this project would bring high-speed public transportation to St. Louis. Users could go between St. Louis and Kansas City in as little as 30 minutes – ultimately saving the state $500 million and serving some 5 million residents with a cheap travel option.


Top Employers in St. Louis
The top employers in St. Louis today (as of June 2021) include:
BJC HealthCare (29,669 local employees)
Washington University in St. Louis (18,488)
Mercy (15,587)
Boeing Defense, Space & Security (15,418)
Scott Air Force Base (13,000)
Other notable employers are:
Pfizer
Bayer
S. Air Force
Square, Inc.
Mastercard
Daugherty Business Solutions


Fortune 1000 Companies
As of 2020, St. Louis is home to 14 Fortune 1000 companies (several of which are Fortune 500 companies).
Centene
Emerson Electric
Reinsurance Group of America
Edward Jones
Graybar Electric
Olin
Ameren
Post Holdings
Peabody Energy
Stifel Financial
Caleres
Energizer Holdings
Belden
Arch Resources


Arts & Culture
St. Louis' melting pot has fostered an environment with a rich culture and arts scene. The city is home to its own symphony (the second oldest in the United States), a renowned opera theatre, and significant cultural and architectural landmarks spanning from the Gateway Arch to dozens of historic churches.
The vibrant and diverse demographics are reflected in St. Louis cuisine, too – including the often-overlooked St. Louis-style pizza (a thin crust pizza topped with provel cheese and cut into squares), toasted ravioli, gooey butter cake, provel cheese (a white cheese combining cheddar, swiss, and provolone), "concrete" frozen custard, and several iconic sandwich styles.
St. Louis is also home to America's oldest continuously run botanical garden, the Missouri Botanical Gardens. The St. Louis Zoo is one of the best in the nation with some 18,000 animals on display. The zoo is situated within Forest Park, which is larger than New York City's Central Park.
Professional Sports
The St. Louis Cardinals are one of the best-known teams and most successful franchises in the MLB. They have won 11 World Series titles, only second to the New York Yankees. The Cardinals aren't the only notable sports team in the city, either. The St. Louis Blues of the NHL won the Stanley Cup in 2019, making St. Louis the 9th U.S. city to win titles in the MLB, NHL, NBA, and NFL. With their own major league soccer team slated to play in 2023, the rich sports history (and sports tourism) of the city is only to increase in the years to come.


The Population Equation
Real estate investors know that one of the best indicators of market health and investment potential is population growth. Knowing this, some of the trends seen in St. Louis may appear alarming. As we mentioned earlier, St. Louis' population peaked in 1950 with 856,800 residents. Since then, the population has declined to 284,900 as of 2021.
Of course, these numbers only reflect the city of St. Louis and not Greater St. Louis (the metropolitan area). Data shows that Greater St. Louis has experienced steady population growth since 1950 – starting with 1,407,000 and growing to 2,216,000 residents as of 2021. While there have been a few periods of negative annual change over the decades, the population in the St. Louis metropolitan area has a pattern of past and projected growth.
The city experienced its biggest population boom after the Civil War, with industrialization and immigration the largest catalysts. After WWII, the city proper lost more residents to the suburbs. Deindustrialization in the United States also contributed to waning economic opportunity and population growth in the 20th century. The renewed revitalization efforts in the city seemed to have helped reverse negative trends, but St. Louis growth has been slow-and-steady at best.
This in itself is not cause for alarm considering the economic diversity and potential in St. Louis, particularly when combined with determined local governing bodies and residents invested in the city's success.
St. Louis During the COVID-19 Pandemic
No city escaped the impact of the COVID-19 pandemic and St. Louis was no exception. Unemployment spiked in Spring 2020, though not as high as the U.S. average. Despite reports of slow and uneven recovery, St. Louis is nearing pre-pandemic unemployment rates.
While Sunbelt cities experienced the most explosive growth throughout the pandemic, Rust Belt and other post-industrial cities like St. Louis continued to see declines. However, the declines were less. It was primary markets like New York City, San Jose, and San Francisco that saw the greatest out-migration rates.
As society shifts to accommodate more permanent work-from-home arrangements and a more health-conscious attitude, cities like St. Louis will likely see renewal. Population projections are positive, no doubt tied to St. Louis' history of affordability, growing amenities, and a lower population density of 4,776 per square mile.
The St. Louis Real Estate Market
One of St. Louis' greatest advantages is its market affordability. The cost of living in St. Louis is significantly lower than that of the United States – coming in at 81.3 overall, compared to the U.S. average of 100. The biggest gap in the cost of living is in housing, with St. Louis scoring a 50 on the cost-of-living index versus the U.S. average of 100. The city scores as more affordable in every category, but the bulk of that affordability is seen in housing costs, both for buyers and renters.
Of course, that affordability doesn't mean that St. Louis property prices are stagnant. Far from it. When we look at the numbers, we see significant real estate market appreciation over the years.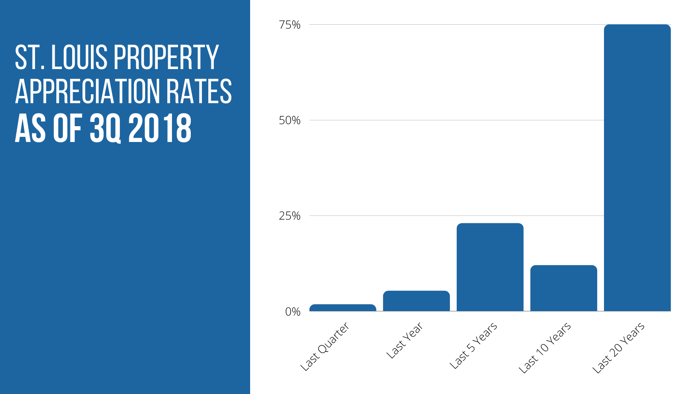 ( Source: LittleBigHomes )
St. Louis appreciation rates have continued to gain momentum over the years and the pandemic did little to slow the frenzy.
Modern Real Estate Statistics
St. Louis experienced many of the same pandemic trends and challenges of other real estate markets across the nation. In March 2020, when the pandemic was officially declared, sellers pulled their listings and the construction industry slowed due to shelter-in-place orders and lagging supply chains. In the beginning, no one was quite sure what the real estate market was going to do.
Ultimately, demand built like a pressure cooker and eventually released – flooding the St. Louis market with would-be homebuyers competing for limited inventory.
As a result, median home prices rose. When we compare 2020 and 2021 to the pre-pandemic 2019, we see much more steady fluctuations in median sales prices.
2019 prices peaked in June at $178,688 with median sales prices yo-yoing throughout the rest of the year. In 2020, growth was steadier, peaking in July at $192,750. Prices continued to rise into 2021 and peaked in June at $212,125. As the real estate market tends to do, sales prices decreased after the summer and into the fourth quarter. As of October 2021, median home sales prices in St. Louis were $186,750.
The U.S. median home price as of the second quarter of 2021 was $374,900 with a 16.2% increase year-over-year, according to The Motley Fool. While in some regards this appreciation has been exciting and welcome, it has also created challenges for homebuyers and investors alike.
The big draw in investing in St. Louis is that owners benefit both from steady year-over-year appreciation and relatively affordable prices compared to other U.S. cities. Like many Sunbelt markets, this is what attracts both investors and a growing local population. The demand is clear in that selling prices have largely exceeded list prices in St. Louis over the past year.
Unlike some markets, too, St. Louis has seen an uptick in inventory that will keep prices from running amok. Listings in St. Louis were up by 1.8% in September 2021 year-over-year. National newly listed homes were down by 3.9% in the same timeframe.
Simply put, there's more breathing room in St. Louis for buyers and relatively affordable prices make it ideal against the backdrop of U.S. inflation and housing affordability woes. Even if you seek out a "luxury" home in St. Louis, you're likely to pay under $500,000. In a market like NYC or Los Angeles, that half a million dollars is gone in no time and it certainly won't buy luxury.
The St. Louis Rental Market
The homebuying market is only part of the equation. A 54% share of the St. Louis population rents. The market's affordability doesn't end with homebuying – rents are largely affordable, too, with median annual rent only taking 15.95% of annual median household income in St. Louis. That's compared to the U.S. share of 20.03% and knowing that the median household income in St. Louis is lower than that of the national median ($42,000 in St. Louis City, $67,420 in St. Louis County, and $67,521 nationwide in 2020).
For the investor, lower rental rates may seem like a detriment, but in an every-inflating national economy in an already-existing housing crisis, this indicates a more sustainable market for residents in the long-term.
Over the past year, rental rates in St. Louis have dipped slightly or remained steady, with the exception of the 63110 zip code, where rates dipped significantly. This is the King's Oak neighborhood, a more affluent area of the city (median home prices are $319,900 here). Overall, the greatest demand seems to be for 3-bedroom units and properties.


Summing Up St. Louis for Real Estate Investors
At the end of the day, St. Louis is a city facing its fair share of challenges. Pointed efforts for redevelopment and revitalization indicate a brighter future for the city and its greater metropolitan area. For real estate investors, the city's affordability and accessibility compared to other, more highly competitive and over-heating markets, provide a few big advantages.
Some investors have been tempted to sit the market out for now, not wanting to deal with intense market competition and outrageously high prices.
St. Louis is a market with a more even-handed approach to growth that makes the market more predictable, reliable, and realistic for real estate investors. A diverse and growing economy paves the way for investors. Overall, the lower cost of living in an increasingly unaffordable climate is likely to draw more people back to St. Louis and cities like it.
The city's rather temperate growth and appreciation rates reduce the chance of nasty surprises. An investor should be comfortable buying affordable mid-to-high range properties without having to worry about any bursting bubbles down the line. Plus, the relative affordability found here means that investors are better equipped to scale their portfolio, diversify their income, and mitigate overall portfolio risk.
At the end of the day, St. Louis is a stable choice of investment market well worth your consideration.