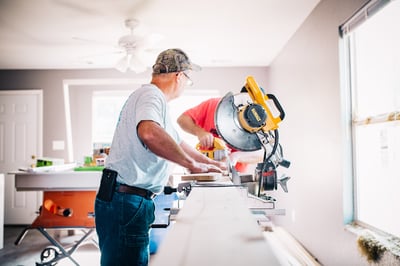 Differentiating between the overhyped fads and the trends with promise and staying power isn't always easy. Because technology progresses alongside human ingenuity, new investing methods crop up all the time.
Not all of them are worth your attention (and some we'd recommend not touching with a ten-foot pole!) – but we've got one real estate trend that's worth your while.
The build-to-rent model is revolutionizing residential real estate investment.
This isn't just speculation on our part, either – our team has been hard at work completing nearly 100 built-to-rent properties across five cities in three states. Here's why we know BTRs will play a big part in the real estate market as we know it:
5 Reasons the BTR Model is Here to Stay
Reason #1 – New Construction is in Short Supply
We all know by now that real estate has been struggling in the inventory department for at least a decade. Between cautious post-Great Recession building efforts and the short supply of the COVID-era, finding properties to buy has been nearly as big a challenge as affording them.
We believe investors should have a positive impact on their communities. While responsible and attentive investors (and their partners) can and certainly do this, a big criticism of real estate investment is that it "takes" inventory from buyers.
The BTR model addresses this critique head-on by simply creating new inventory rather than taking over pre-owned homes. This both creates new opportunities for renter households and eases the inventory crisis that has been driving home prices up.
Reason #2 – First-Time Buyers Can't Afford Today's Market
Millennials are in a tough spot. The youngest of this generation is just shy of thirty and many have delayed buying a home to compensate for the burden of student debt and paltry wages. Of course, that doesn't stop millennials from wanting to move on from apartment living and into a "real" home – one with a yard, a garage, and space!
This desire was particularly evident throughout the pandemic when hordes of cramped city-dwellers flocked to the spacious suburbs. Of course, buying became a challenge not only for the lack of inventory and rising prices but because entry-level homes were particularly scarce.
BTRs address this by providing this huge share of households with an experience very similar to homeownership in the suburbs minus the unpalatable price tag – not to mention the benefit of professional management!
Reason #3 – Investors Know Exactly What They're Getting
When investors buy distressed or discounted properties, they don't really know what they could be getting into. After all, older properties can come with a host of expensive and unexpected problems. You might have a team adept at handling these deficiencies, but that doesn't mean it will be a cheap and easy fix.
With BTRs, investors know what they're dealing with. There's a level of security in new construction, in knowing that everything is new and done right. Plus, builders often cover new construction through warranties!
Reason #4 – Greater Profit Potential
Generally speaking, rental rates for single-family properties increase at a higher annual rate than for multi-family housing (4.5% versus 3%). On top of this, new construction fetches a higher price than other rental properties – not only because they are new, but because they're often located in desirable, up-and-coming communities. When investors target investment markets with ample available land (thus, cheaper to buy), they have the potential to enjoy great profit margins.
Reason #5 – Intentional Design
Not every home is suitable to rent. While renovations can go a long way, it's not always cost-effective to fix everything. BTRs, however, are designed for renter households from the ground up. That means you not only benefit from durable, build-to-withstand-wear-and-tear materials but from layouts and aesthetics that appeal to rental residents.
BTRs target these households from the outset, meaning that they are optimized for resident retention and maintenance. For investors, these qualities convert into money saved and earned – offering highly desirable properties to residents who won't want to leave!
And REI Nation Is Not the Only One Interested in BTR Investing...
As it stands, Wall Street is expected to put some $40 million into the BTR industry over the next eighteen months. We see the BTR model as an innovation on an already successful model of real estate investment – SFRs – that we know works. And that's why we're excited to join the BTR revolution!
Join thousands of REI Nation investors in building wealth through turnkey SFRs and BTRs!