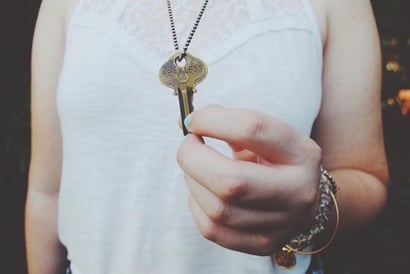 The real estate market landscape has been changing dramatically in the near-decade since the biggest recession in recent history. You'd be hard-pressed to find someone who wasn't affected by the crash of the housing market in those years.
Even if they weren't directly affected, they knew someone who was. They had foreclosure signs in their neighborhoods, they knew who was underwater on their mortgages. They had neighbors and friends and family who were affected.
While the nation licked their collection wounds, home buying confidence was obviously not stellar. People were afraid, and understandably so.
For years after the peak of the recession, foreclosures were still far too common, continuing to discourage homebuyers from taking the leap, thus further slowing recovery. But finally, according to a report from Realtor.com, U.S. foreclosure are down to pre-housing crisis levels.
That's big! Just between 2014 and 2015, foreclosure rates dropped 27% to just 476,000. Compare that to the 2.2 million-something foreclosure filing in 2007.
So with foreclosure rates back down, we can expect the national real estate market to really get back on it's feet now, right? Well...not necessarily.
Foreclosure Reductions Aren't Boosting Homebuyer Confidence
Realtor.com also reports that the return to normal for foreclosure rates isn't doing all that much to boost consumer confidence. Why? To put it short, homebuyers have more important things to worry about right now.
The recession was always more than just a housing crisis. It played a major role, we all know that. It's just that unemployment and job shortages have also been a big part of it, too. Right now, wage stagnation is a big talking point. Raising the minimum wage is a hotly debated topic. Housing affordability is in question. Student debt is widely discussed.
It's not the homebuyers are immediately afraid that they're going to be foreclosed on. That fear has largely faded to the background at this point. It's that would-be homebuyers don't feel capable and comfortable buying in the first place.
While there are more people jumping on the home buying scene in good markets (like in Dallas and Seattle, for instance, where supply is tight and demand is high) it's not true for a lot of other markets.
Ballooning Home Prices
With prices recovering on the whole, our initial response is to celebrate. It's good to see values return. Both home prices and rental prices have been increasing. That would be good if more people could afford it. The issue is that a lot of people can't because wages aren't keeping pace.
Wage Stagnation
The issue remains that a lot of first-time homebuyers just don't have the resources to buy. We have more jobs, but not enough of them have high enough wages to reasonably save up for a down payment. Wages aren't keeping up with the acceleration of home prices or adjusting properly to inflation, and it's just throwing things off.
Because these would-be homebuyers are watching homes grow increasingly out-of-reach while they pay more and more in rent and struggle to save, it's no wonder they aren't feeling optimistic.
We're in an odd time where both home prices and rent prices are on the rise while wages are not rising with them. It's working out in markets that do have strong local economies, but in others, where they don't have that kind of advantage? It could have devastating effects if something doesn't give.
The balance seems out-of-whack and a lot of people are feeling it.
Right now, in most places, it would be far cheaper to pay a mortgage than to rent, but the barrier to entry (in this case, both having the resources to save for a down payment and get through tighter mortgage approval standards) is too high for too many.
So What's Going to Give?
We're not big on putting too much stock in predictions. But what we do know is that the idea of "real estate" and picture we've had in our head for a lifetime of equating being successful with owning a home is changing. The next generation is redefining real estate. Investors are redefining investment. Technology is changing the landscape.
It might look bleak and at odds with itself, but we truly think this is an exciting time to be a part of it all. We're at a pivotal point for real estate, and watching and taking part in how it all unfolds will be an adventure we wouldn't miss for the world.
Despite the ups and and downs, now's a great time to be an involved, engaged real estate investor.