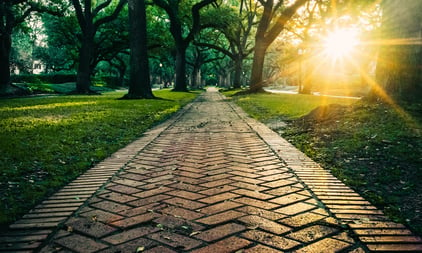 If there's one thing we've learned over the past year about Houston, it's that this city knows how to keep going. While many predicted that this year's ongoing oil slump would cause a cooling in Houston's real estate market, it just hasn't happened. Despite layoffs in the energy sector and dropping oil prices, Houston, on the whole, has barely flinched.
Despite a somewhat flat August (by Houston's standards, anyway), Houston home prices jumped to a record September high with 4.5% year-over-year growth: hitting a $208,000 median and defying predictions that Houston's real estate prosperity was coming to an end. (You can see the full September report from the Houston Association of Realtors here.)
What's keeping things going strong in the face of so many negative predictions? With so much attention on their market—one of the hottest in the country, along with fellow Texas city, Dallas—how has Houston managed to succeed time and time again, even with big oil in question? The answer dips deep into economic history...and how a city once dependent on energy is holding its own in every way.
2 Reasons Houston is Still Going Strong
1. A Diversified Economy
As we discussed in our overview of the Memphis, Dallas, and Houston real estate markets, Houston's historic ties to the energy industry is what caused a majority of the concern around this year's oil slump. In the 1980s, an oil crash brought Houston's entire economy to its knees. Oil prices dropped 67% and, at the time, 87% of Houston's workforce was in the oil industry. Naturally, the impact was big. It only makes sense that economists and real estate professionals would worry about the significant 2015 oil slump.
The difference is that now, fewer than half of Houston's jobs are tied to the oil and energy business. The impact is there, but it's softer and largely contained to the industry rather than the economic whole. With a large number of millennials and growing, diverse industries taking over Houston, the city is far less dependent on oil than it used to be.
2. Houston Real Estate Can Stand to Slow Down
While the breakneck pace of Houston's real estate market was no doubt exciting, a little slow down wasn't going to hurt all that much. In fact, it might help. There's always a balance to be found between wages and housing affordability. One issue that cropped up in Houston was that many homebuyers were being priced out of the housing market as home prices accelerated at unprecedented rates.
Despite one of the more prolific home-building markets in the country, new construction in Houston just hasn't been able to keep up with demand, and housing inventory has remained extremely tight. If anything, putting the brakes on things is good for maintaining balance in Houston's housing market.
Takeaways for Real Estate Investors
So what exactly do real estate investors need to know about Houston real estate right now? A few things:
A Less Frenzied Market Means More Opportunity
As expected, a little slowing in the market means investors have a little more time. Buyers aren't buying as quickly; all-cash offers aren't as troublesome, and in general, more people have more of a chance when things aren't so crazy. Naturally, this craziness can also be avoided through turnkey real estate investing (as with Houston Invest!), wherein investors don't have to worry about throwing elbows to snag a property.
Income is Still Keeping Pace with Rising Houston Rent
Apart from the oil slump, one of the biggest concerns that doesn't just apply to Houston, but the whole country, is the issue of rising rental costs. Wage stagnation in the United States is hurting many and making renting (which is, in theory, meant to be an affordable option for those not ready or able to purchase a home) unaffordable.
While this impact is being felt in Houston and some are finding rising rents unmanageable, the city has fared better than some. In fact, Houston and Dallas are the only two of 11 major U.S. metropolitan areas in which the average renter was still able to afford the majority of rental units.
The reason? Job growth is still strong in Houston, and income has in most cases kept pace where it hasn't in other parts of the country.
While wage stagnation and rental prices still demand a watchful eye in Houston, the crisis is not as pronounced as it is in other parts of the country.
For real estate investors, there's still plenty of opportunity to get involved in Houston's real estate: without having to worry about oil prices.
image credit: Mitchel Jones