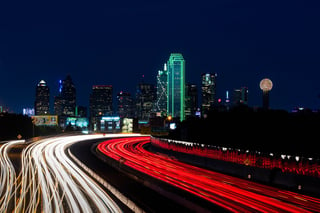 Houston has been the top dog in real estate investing for awhile now...but could that title be usurped by its sister Texas city, Dallas? Signs are pointing to big things for Dallas real estate and real estate investors are taking note. A survey of 1,500 real estate professionals said they wouldn't be as likely to put their money in those big cities that are slowly losing their luster—New York City, San Francisco, and the like. No, the survey ranked the Dallas-Fort Worth area number one overall, and just second for investors.
So what's making Dallas real estate so hot? As one of the strongest markets out there right now, it's important for investors to understand the why.
4 Reasons Dallas Real Estate is Rising to the Top
The Job Market is Strong & Growing
One of the biggest single contributing factors to the strength of a real estate market lies in the strength of its local economy. The job market in Dallas is one of the strongest in the nation. In 2014, they added 140,000 jobs and over 120,000 more as of May 2015. In Dallas and the rest of North Texas, jobs are even less tied to the energy industry than they are in Houston and other cities in southern Texas. While Dallas may see a small dip in the future, it would a dip from an all-time high of unprecedented growth.
Revitalization is on the Upswing
Along with job growth and rising demand has been a surge of revitalization efforts across downtown Dallas. These redevelopment efforts will only supercharge the city as it continues to draw in new business and young professionals. Revitalization means that home values go up, too—and former "bad neighborhoods" can be transformed into valuable real estate for those looking to get close to a booming, bustling downtown cityscape.
These efforts are also spreading to South Dallas, including neighborhoods in much need of improvement.
Inventory is Tight
As we mentioned: job growth plus tight inventory equals high demand...and rising home prices. Inventory in Dallas hasn't been this tight since veterans returned from WWII. Even so, it's not as if builders aren't building. Like Houston, Dallas has prolific homebuilders. There are a quarter of a million new single-family homes on the Dallas drawing board and even more apartment units planned. Still, they haven't managed to ease up on demand that just keeps driving prices up. In a good year, markets can expect a price growth of 5%, but Dallas has seen 10-12%, and as much as 20%! That can be both good and bad (when factoring in affordability and market access), but it does speak clearly: this is a desirable market.
Population is Surging
With job opportunities opening up, millennials and young professionals are naturally making Dallas their pick. Population has been increasing in Dallas for years, of course, but now they're seeing upwards of 130,000 new residents each year. That means demand goes up and the local economy reaps the benefits of a growing professional population.
What About Investor Concerns?
As we know, hot markets come with their fair share of snags. The rising home prices (as well as rent prices) throws a question of affordability into the mix. With its strong job market, wage stagnation is less of an issue in Dallas than it is in other areas—but it's still a point to be considered. If left unchecked, this explosive growth could theoretically backfire.
Like we saw in Houston before the oil slump cooled things off, when there's high demand and a tight inventory, many first-time homebuyers (and even investors) can be pushed out of the market. A seller's market is always tough, but even more so when that market is this explosive in growth. Everything moves at a breakneck pace and demands the very best offers. Everyone has to bring their A game, and even that might not be enough to crack the market.
It can be difficult and frustrating to deal with such sought-after real estate, no matter how good it is when you get in. How can investors solve that problem? Well, turn to turnkey investments! These companies (like yours truly at Dallas Invest) already have properties purchased and available to investors in this coveted market. You don't have to worry so much about throwing elbows to snag a property when there are companies out there who want to work with investors and partner in your success.
If you've always wanted to get in on a hot market but don't know where to start—especially as an out-of-state investor—here's your chance.