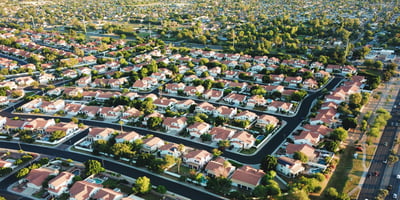 As the pandemic impact stretches into the summer, we gain more clarity on the ripple effects shaking employment, healthcare, and real estate — among other areas of life. From the very beginning, we knew this was something big. Everything has been thrown into the chaos of anxiety and uncertainty. It was tough to tell how exactly it would all come out in the wash.
What we did know, however, is that we would make it through to the other side. Things would change. We would have to learn on our feet! And while pandemic fears are not yet over, we can look ahead to the future and glean a bit of hope from the real estate market and, by extension, our potential as real estate investors.
Let's be clear: we still don't know how things will pan out. We do know that we will come out stronger, better equipped, and with more wisdom to make the best possible decisions for our investors and residents. While we struggle with the stress and worry of the pandemic itself, don't allow the state of the real estate market to add to the burden.
If anything, we can look to the future with hope and anticipation. Here's why.
3 Promising Predictions for the U.S. Real Estate Market
Before we begin, we have to make something clear: these are predictions, not sure-things. However, based on market performance and trends, we can make a few educated guesses on how the market will move in the coming months and years.
Suburban Migration
We discussed this point recently. With the rise of remote working, we are likely to see a shift from the urban to the suburban. In truth, this has been a trend for some time. According to Pew Research, the suburban population grew by 16 percent from 150 million to 195 million between 2000 and 2016. The urban population in that same span grew by 13 percent from 87 million to 98 million.
The suburbs have seen more growth in the past few decades than either rural or urban sectors (though rural growth trails far behind them both).
In recent years, inventory has posed a problem alongside a growing affordability crisis — particularly in primary markets. Because the pandemic has made the option of working from home more accessible and possible for workers across nearly every industry, we are likely to see an increased shift from urban to suburban living.
This isn't only a result of more flexible career options, but because reducing population density allows for more effective and consistent social distancing. If people aren't moving for work-related reasons, we will likely still see migration based on health concerns.
Zillow makes this prediction. Suburban living offers the best of urban and rural lifestyles. Residents will still have access to entertainment, restaurants, and places of work, while a suburban footprint allows for more square footage and distance between neighbors. It will be easier to set up a home office when you can afford more space. Affordability is another key that can't be ignored!
Be sure to check out: What to Watch in Real Estate Investment: Renter Migration
What prevents this predicted surge from being rural? Access. Not only does rural living limit access to amenities, but it can limit access to high-speed internet — a must when working remotely.
Remarkable Stability
One of the surprises to come out of the past few months — between economic shutdowns, overwhelmed healthcare systems, and empty store shelves — has been how unchanged the real estate market has really been. Don't be mistaken; activity on the market has seen a drastic dip.
Expected home closures dropped by 40 percent from the previous year in mid-April. Similar statistics were recorded for new home listings. However, these statistics do not reflect a lack of wanting. In April, Zillow saw an 18 percent year-over-year growth in views for for-sale home listings. At the very least, people are looking at all of their options.
We've also seen that, by and large, home prices have remained remarkably stable. Even though there was a significant dip in real estate transactions, the prices of properties have not significantly changed from their expected growth trajectories. Naturally, this is good news. With expectations of a recession (and the reality of one, now), there were fears that we would see the drastic drops in value that we saw during the Great Recession. So far, by and large, this has not been the case.
The stability of the market can largely be attributed to a consistently tight inventory and low interest rates.
Strength in Secondary Markets
While a suburban surge is expected, we also anticipate growth for secondary and tertiary markets. Primary markets will no doubt struggle — dense populations and high costs of living will deter growth in the coming year. Secondary markets, however, will continue to attract populations looking for greater affordability, particularly as employment concerns grow.
In addition to a likely shift towards more affordable cities, we're likely to see an increase in single-family renters. With population density and neighbor proximity bringing about health concerns, renters will be looking for the distance that can be afforded in single-family rentals in secondary and tertiary markets, where their money will buy more square footage and space between neighbors.
All-in-all, the real estate market in the United States is not failing. Far from it. Things will change — we will see the market shift and adapt. There will be expected consequences and unexpected. As real estate investors, we must make decisions based on fact and faith alike. We have faith that the market will recover and that we have selected markets and investments that will reap long-term rewards even through short-term hardship.
Even now, investors are building financial security for the future with REI Nation. You can, too.