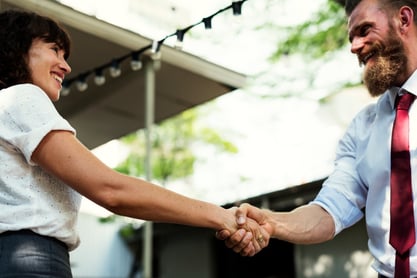 New to passive real estate investment? You've probably realized that it's quite a bit different from other forms of investing. You're not expected to be an expert. You're not making this your full-time or even a part-time job. As a real estate investor, you likely just want real estate investment to be an avenue to earn passive income to help secure a solid financial future.
That's awesome.
Investing in real estate, passive or active, is exciting and rewarding if only because you get to see it grow, help it grow, and take part in charting the path to your financial freedom. This isn't the uncertainty of stocks. You're not throwing money into funds or a huge conglomerate. Even as a passive investor, you own this.
It's yours. You are in charge of your investment future.
And if we're honest, that's exciting. It's also a little bit scary. If you want to win big from the very beginning as a new passive real estate investor, we have some advice for you.
-------------------------------------------------------------------
You can pre-order your copy of The Turnkey Revolution, the first book release from Memphis Invest chronicling the best advice on how to safely build a passive portfolio from real investor experiences!
-------------------------------------------------------------------
4 Rules of Success for New Passive Real Estate Investors
Listen to experience.
It's okay to admit that you're not an expert. One of the best things you can do for your investment future is rely on experience. Resting your investments in the hands of a turnkey real estate provider like Memphis Invest allows you to earn passive income while leaving the details to a team with decades of combined experience in real estate investment.
Experience doesn't come from just allowing a turnkey provider to handle the day-to-day details of your investment properties. It means that when you do come to a crossroads—whether you're looking to buy a property, sell an old one, take the leap into a new market, or try something new—you're seeking out the wisdom of experienced individuals that you trust. That can come from your provider, experts in the field, or other investors that you've networked with.
Be okay with uncertainty.
Risk is an inherent and unavoidable part of any investment. None of us can totally eliminate risk. Some people are really uncomfortable with that! For new real estate investors, it can be nerve-wracking to not know what's going on or to go through an eviction, a natural disaster, a bad tenant, or just the chance that these things might happen.
Knowing that things might go wrong is just part of it. There's uncertainty in every deal and in every investment. There are always risks at play. If you can mitigate risk, do it. If you can't, accept it. There's no sense agonizing over what you can't change. The best we can do is anticipate it and plan for it.
Know where you're going.
Do you know what you want out of your investment experience?
There are plenty of investors who just invest with the goal of drawing in passive income: they don't have a clear financial goal beyond that! Flying by the seat of your pants only works for so long. As an investor, you need a plan: how many investment properties do you want to own? What kind of passive cash flow do you want to see coming in every month? How much do you want to have saved for your retirement?
Every investor needs long-term and short-term plans for their investments. It will allow you to plan for the important decisions you will inevitably need to make as an investor.
Engage with the process.
Wait—isn't this thing supposed to be passive? Passive real estate investment doesn't mean hands off. For real estate investors to be truly successful, they can't just collect a check at the end of the month and do nothing else. It takes engagement, too. The most successful passive real estate investors are engaged and involved with their portfolios.
They ask their providers questions. They learn about the process. They are interested and invested in the monthly check-ins. While they may not deal in the day-to-day details, they do take ownership of their investments.
When you take care to engage, you'll find yourself with a closer relationship with those you've partnered with in your investment pursuits, more motivated to pursue your goals, and better in tune with the investment world: and that is hugely beneficial to your financial future.
Start with a win: Learn more today!