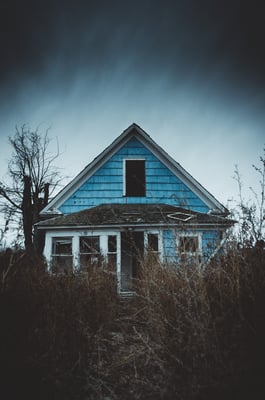 "Expectation vs reality" is a popular form of internet listicle, often sharing the stories of duped customers expecting an amazing product for a cheap price. When that's the set up, the reality is never short of disappointing.
All homebuyers, including real estate investors, are susceptible to this kind of disappointment. While you're not likely to get outright scammed on a property, you can still end up stuck with a property with hidden problems and high overhead, leaving you with a heap of regret — not to mention lost capital.
The highly competitive housing market is experiencing backlash in the form of mass buyer's remorse. NBC News reports that 66% of millennials, 45% of Gen X, and 33% of baby boomers regret their home purchases.
The reasons are varied, but it most often comes down to:
Overpaying
High Maintenance Costs
Wrong Neighborhood
Wrong House Size
For those regretting their 2020 or 2021 home purchase, it's usually because they opted to buy sight unseen and waived contingencies to win the bid.
Real estate investors are in this same highly competitive housing market. Your standards may differ from the typical homebuyer, but you're not less prone to buyer's remorse. If you want to secure investment properties that meet your expectations, follow these key strategies.
4 Strategies that Prevent Buyer's Remorse
Due Diligence
We emphasize due diligence frequently here at REI Nation. There's no excuse for cutting corners, whether you're the owner, the manager, the contractor, or someone in between. Preserving and growing your wealth demands an active effort to mitigate risk. Some risks can be outright eliminated when managed properly.
Due diligence is an ongoing process rather than a one-time checklist. When it comes to your property, however, there are specific action steps investors need to take:
Crunch the Numbers — Your investment property needs to make financial sense. That takes into account your buying capacity and comfort as well as cash flow analysis. There's nothing worse than an investment property that has you in the red.
Set Contingencies — One of the biggest sources of regret for homebuyers in today's market is forgoing contingencies. In most cases, this means skipping the property inspection to win out over other bids. Never ever skip a property inspection. We're more prone to be dazzled when a property "looks good," on the outside, forgetting that it could be hiding major issues. Even if you're dealing with a newly renovated or built home, you need that inspection.
See It — Not every investor can visit their investment property in person, particularly if you invest out-of-state. However, we can't judge a book by its cover, either. A property can look and sound good, but you don't know what the space is like until you see it. These days, it's not uncommon to take a virtual tour. Allow technology to help you see a fuller scope of the properties you intend to buy.
Investigate the Market — Where you invest matters from top to bottom. Investors must familiarize themselves with their markets: the economy, performance history, and future projections.
Patience
Patience is a virtue, particularly for real estate investors. In this market, frustration is common. It's typical for buyers to lose out on bids over and over again. For the investor, you might be so eager to get started that you'll take the first opportunity that comes your way.
Be careful.
Real estate investors are guided by specific criteria and investment goals, and these goals influence whether or not a property is a good fit for your portfolio. Sometimes it just takes time. Don't get frustrated with the losses and the waiting game. Keep your head level and looking for the property that clicks with your vision.
Long-Term Vision
Real estate investors are the masters of the long-term plan. While you have immediate goals and milestones to meet, these benchmarks are informed by your overall, big-picture goals. This long-term vision creates a cohesive portfolio in which every piece complements the others.
This vision allows investors to better determine whether or not a property is a good fit — not just based on the present opportunity but its future potential.
Attentive Investing
We hear a lot about "hands-off" real estate investing, especially when we're talking about turnkey real estate. While certain investment methods can ease the owner's labor burden by being more passive, every real estate investor must be engaged.
You only know something is off with your property if you're paying attention. Value communication with your management team. Pay attention to their reports. You'll be able to readily see whether or not a property is working for — or against —your goals.


Invest with the partner that strives for your investment success. Talk to your REI Nation advisor today!