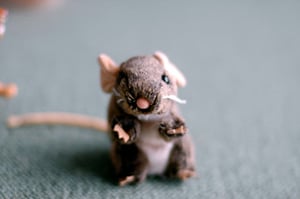 While no season is guaranteed to be free of pests, we sure seem to notice them more in warmer months. All manners of creepy-crawlies show up to the horror of many. When they show up at rental properties...they can cause financial horrors too.
Between bugs and warm-blooded pests (namely mice), unwanted intruders in a home can not only cause damage to your investment properties, but cause great discontent in the hearts and minds and their residents.
Handling pest control on your investment properties is important. Neglecting to do so is bad for your reputation and your properties — after all, no one wants to share their space with unwanted vermin.
4 Tips to Dealing with Investment Property Pests
1. Keep things clean!
First of all, ensure that there are provisions in place to make sure that tenants are taking care of the property while they live there. We've all heard hoarder horror stories, but even messy, run-of-the-mill tenants can pose a big problem. If they don't take out garbage regularly or keep things clean (like dishes, for instance), pests can swoop in quickly. Make sure your property manager is paying attention and performing periodic inspections. When tenants move in for the first time, you may want to go so far as to provide a bucket of basic cleaning supplies.
2. Seal holes, gaps and cracks.
There are usually tell-tale signs of a pest presence, even if the pests themselves go unseen. Droppings, webs and so on. When you do locate the pest but are unsure on what it is, save the remains (or capture a specimen) to take to pest control for identification. After all, some pests are harmless while others can be life-threatening to your residents, such as brown recluse spiders and certain snakes.
As in winter when property maintenance checks for cracks that let hot air escape, be on the lookout for problems that can let pests in: holes in siding, burrows around the foundation and various cracks and gaps. While it's impossible to catch them all, ensure that when they're noticed or reported, they get taken care of.
3. Remove common infestation spots.
Ensure that your investment properties are well-maintained on the outside to keep vermin as far away as possible. Unruly vegetation, woodpiles, standing water and mulch can all house all sorts of critters, including termites. Indoors, set traps discreetly to catch mice and roaches.
4. Call pest control sooner rather than later.
If a tenant brings up a pest problem to property management, it's in the best interests of your investments not to ignore the complaint. Pests are best nipped in the bud. Call pest control once a problem is confirmed. It's also a good idea to include regularly pest control sprays (usually on the outside perimeter of the building) as part of maintenance.
Remember, too, that you or your property manager (or even your tenants) should not try to deal with a serious infestation or dangerous creature without professional help. The cost of calling in an expert is far, far better than ending up with stings, bites or hospital trips.
BONUS: Mind the bees.
If you discover a beehive on your property, do not call an exterminator. Call a profession that will relocate the bees safely — there's been an alarming drop in the number of bees in recent years. They're important members of our ecosystem and are best protected through safe relocation.
What pests are most common in your area and how do you handle them? Share your tips in the comments.