For those of us thinking towards retirement planning,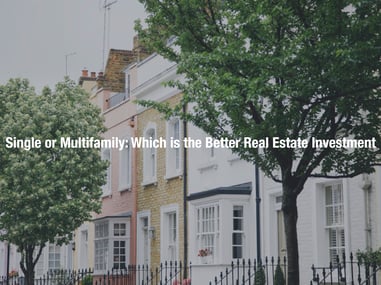 there are a lot of options put in front of us. While historically, many have relied on career retirement plans—do they really cut it anymore?

Those who are serious about having a solid retirement fund will want to look into investment options well before their golden years. Some might just settle for IRAs, stocks, and bonds, while others will look into more ambitious options. And those options can be hit-or-miss!
There are bad investment options out there. You know the ones. Gold. Gemstones. Tax shelters. Collectibles. Even stocks, except for the most experienced and savvy investors. For the average American, you're going to want an investment that really pays off. Not one that you spend time hoping and praying works out.
The best investments can be a little subjective, depending on one's personality and what you are looking for. Some people prefer something with low risk and high security—willing to sacrifice some of the yield. These kinds of people may prefer something like government-backed securities.
But what investment is accessible, time-tested, and customizable to the investor?
It's real estate investment.
You probably saw that answer coming. But real estate investment really does have it all! What is it about real estate investment that keeps it going strong? It lasts through passing investment fads, stands through changes of time and technology, and bounces back after fluctuations in the market.
It's provided investors a financial foundation and a future for generations. Despite market crashes, uncertainty, and more than a few rough patches, people keep returning to real estate investment.
But why? What makes investing in real estate so good? We'll tell you!
5 Compelling Reasons to Rely on Real Estate Investment
You Can Control It
Unlike other investments where you have to throw your proverbial hat into the ring and essentially gamble with your investment—hoping for a payout based on statistics, projections, and the weight of risk versus reward—you can actually control your real estate investments from top to bottom. You buy, sell, improve, and rent your properties wherever you want. Invest in a company or stocks, and that's just not the case! No one's going to be calling you for suggestions any time soon unless you're a shareholder.
But with real estate, you're the owner, and you're calling the shots. It's a bigger responsibility, but it means that you and you alone are the maker of your money and you can adjust your strategies and properties as you see fit.
It's Tenacious
If there's one thing real estate does, it lasts. Some investments go out of vogue. Real estate? Never. Sure, the market will go through ups and downs. There will be times of uncertainty, and times where investing might be a little more challenging than usual. But no matter what highs and lows the market experiences, it has always endured. Investors have always been able to find opportunities and have always been able to build their retirement through investing.
It Has Leverage
Unlike other investments, you don't necessarily have to use your own money to invest. Whether through a bank mortgage or private-money lenders, with only a fraction of property cost, you can purchase properties without using your own money—at least, not entirely. The ability to leverage these resources creates an ideal environment to scale. There's no other investment that has so much leverage with a comparable level of risk.
It's Charted Territory
Every day, there are new technologies, startups, and industries launching. There are also investors chomping at the bit to get on board with them! But investing in real estate still has a big advantage: it's known. It's understood. It's studied! There are decades of experts, studies, and footsteps for us to follow in when it comes to real estate investment. You don't have to do any guesswork. It's all there for you: worked out and ready.
Your risk is massively reduced simply by the fact that real estate investment has been done for so long by so many and most of the kinks have already been worked out. You can learn from everyone else's mistakes without making too many of your own!
It's Scalable
With real estate, we also have the opportunity to scale. You can grow on your own terms, when you have the resources to do so. You can diversify in different markets and types of real estate, or stick to a favorite niche. Regardless, scaling is one of the best parts about real estate investing. It allows you to snowball your positive cash flow as you go, and, if you're working with a turnkey investment company, the sky is the limit!
With a hands-off strategy, you can continue to scale as long as you have the resources to do so.
If you haven't taken the plunge into the world of investing in real estate, now is the time. Why not start you new year off with a new investment opportunity? We'll help you get started.