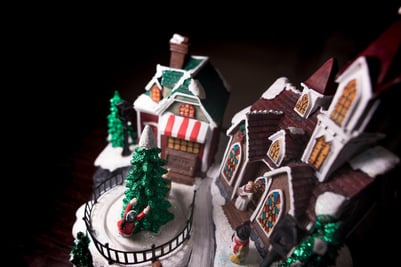 With Thanksgiving behind us, we're knee-deep into the holiday season. Christmas trees are going up, carols are on the radio, and it's hard to escape the lure of cookies, candy canes, and homemade goodies. This is the time of year when most real estate investors are tempted to coast into the New Year.
And really—we can't blame them! The holidays are a great time to focus on friends and family and the warm, generous spirit of the season.
That said, this time of year is also full of untapped opportunity. You don't need to hold off until the New Year to be productive! For engaged, motivated investors, the holidays aren't a time to put your investing career on hold.
5 Holiday Tips for Motivated Real Estate Investors
1) Balance Rest and Work
During the holidays, you know better than to put your investments on the backburner. Now is the time to spend with friends and family, but you also need to remember to push towards the finish line. Don't run out of steam at the very end! Instead of putting off investing for next year, continue onwards. Remember, everyone else will be kicking back: and that means you'll be able to swoop in and get ahead of the pack!
That said, don't work so hard that you neglect that joy of the season. Be a motivated investor: get things done! But make that time for your family and friends. This is a season, above all, to be warm and generous in heart.On that same track, we encourage all real estate investors to give back during the holiday season! If you've had a good year, what better time to pass that blessing along to a cause or nonprofit that you believe in? As you work, rest, and reflect, consider how you can spread holiday cheer.
2) Look for Your Next Deal
During the holiday season, you can find some great property deals. Most people don't try to sell during the holidays unless they really, really have to. That gives you, the buyer, some leverage. It also means that the closing process may go faster, prices might fall more in your favor, and interest rates might even be lower. Now is the time to go sniffing around for deals.
3) Mix Holidays and Marketing
Think about your networking and marketing efforts. Many of us send a Christmas card out to friends and family—why not send one out to the people you'd like to network with? A holiday-themed mail-out to business associates, partners, and other professionals that you have a vested interest in could do well in keeping your name in their minds well into the New Year!
You could even throw a holiday party for you real estate investing network—another way to connect in a warm, personal way that will improve your relationship going into the new year.
4) Amp Up Curb Appeal
Winter can always get drab. Barren trees, brown, dry grass, wilted plants, and gray skies have a way of getting everyone down. It's a good time to really punch up your curb appeal, especially if you're looking to fill a vacancy. Even if you're not, think about what little touches you can give the outside of your properties to make them more attractive during bleak winter months.
Holiday lights, a pop of color on the front door, wreaths, cold-weather-friendly plants and shrubs...there's a lot you can do to spruce up your curb appeal!
5) Turn Your Mind to the New Year
December is also the time to wind down and think about the upcoming year. Reflect on 2016: what were your successes? What do you think you could have done better, and what would you like to take with you into the new year? Instead of waiting until January to think about resolutions and new plans, why not start reflection and planning now? Get ahead of the game.
Go ahead and reflect, fine-tune, and plan for your future. The holidays are the perfect time to pause and reflect on all that we have, all that we are grateful for, and to look optimistically towards the future.
Want more tips and advice? Stay in-tune and connected with Memphis Invest while firing up your real estate investing...!