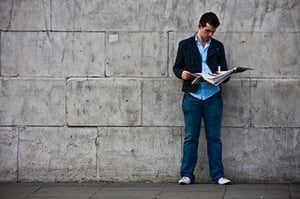 There are so many real estate investment blogs out there — and so little time! For busy investors looking to take a quick reading break, look no further than our list of recommended reading for the week. From advice and investment tips to news from Memphis, Dallas and Houston, we're highlighting the stuff you should check out.
So sit back, take a break and click away.
4 Real Estate Articles to Read This Week
BiggerPockets is always a great real estate blog for investors to dive into. With a diverse pool of contributing authors, we guarantee there'll be some great perspectives. This article by Kevin Perk is a kick in the pants for any investor finding themselves frustrated with a lack of deals in their lives. With both good reasoning and tips on how to break out of your funk, this is one to remember even if you're not struggling right now.
Despite the clickbait title, this article offers some useful information for investors on taking advantage of the "1031 exchange," a tactic that can result in savings on capital gains. Simply put, the 1031 exchange allows investors swap one asset for another. If done correctly, this swap is tax-free. This article walks through how it works — though we would recommend deeper reading on the subject if it interests you.
Well, yes. We've been talked for awhile about how the inflated prices in Houston, brought on by high demand and a consistently too-tight inventory, has been potentially problematic. Still, signs are pointing to increased balance. The breakneck pace of the real estate market is finally slowing, while construction is making slow but steady gains in replenishing inventory. Houston is hot — and will likely stay that way for awhile — but it may just even out, given enough time.
In real estate investment, customer service is the unexpected all-important priority. For both investors that act as the landlord and those who hire managers, place priority on ensuring that efforts to impress don't end when the lease is signed. These tips will ensure that your tenants stay happy on your property — and in turn, do your business well.
What article did you find most insightful? Share your view in the comments.