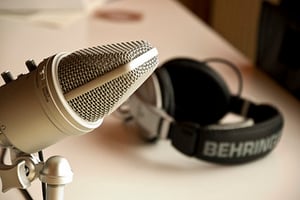 When it comes to real estate investing and big personalities, it can be hard to know who to listen to. After all, we are in a business that has its fair share of "gurus" and empty promises. Cutting through the noise to find genuine content on investing in real estate can be a big challenge.
Daily, I personally get emails from new real estate experts. Apparently, they completed a transaction and wrote a book, formed a blog a website and a podcast and are now ready to share their wealth of knowledge with the world. Do you sense a touch of sarcasm? As investors, we have to be very careful with who we listen to and what advice we take as serious. How do we start to determine who is and who is not a pretender?
One of the ways is to review the content and be on the look out for great content. What is one way to find great real estate investing content? Podcasts. There are more real estate investment podcasts than you'd think — and some are real standouts! Whether you want something to listen to during the work day or to get your through a long drive, these shows are a great place to start.
3 Top Notch Real Estate Investing Podcasts
What's there to say about the BiggerPockets Podcast? It's one of the best out there. In a market that can sometimes be oversaturated with hype and get-rich-quick schemes, it can be hard to identify the folks who offer honest content for investors to learn from. Joshua Dorkin and Brandon Turner never come off as salesmen, but educators. As active investors themselves, their ongoing podcast is up with the times.
One other reason to really love this podcast? They have featured myself and Memphis Invest twice!
So that may not be a reason to love the podcast, but if you get a chance, check out the two BiggerPockets podcasts that featured Memphis Invest - #26 and #122.
Joe's daily podcast receives high marks for being informative and accessible for investors of any experience level. His approach is no-nonsense and lacks the sensationalism sometimes found in big industry personalities. Joe excels at motivation and inspiration, including advice that's helpful not only in investing, but for life.
This is another podcast that I was featured on in the past and I can honestly say that it comes across as a very good "everyman/woman" podcast. Regardless of experience or even level of desire, this is an informative and quick listen. As an investor, you can get some good, quick tips from Joe and his guests.
Listeners of The Real Estate Loop, run by Gavin Welch, praise this podcast for being down-to-earth and practical. Not only does Welch offer generous insight into the real estate business, but he's especially valuable for new investors looking to grow their knowledge. This podcast is a motivator, and definitely worth taking the time to check out.
Again, there are a lot of real estate investing podcasts, but they are not all cut from the same cloth. Be careful who you listen to and be careful where you get your advice!
What podcast would you add to our list? Let us know your favorites in the comments.
Want more information on working with Memphis Invest?
Click below....
image credit: Patrick Breitenbach