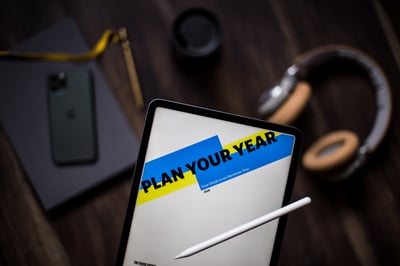 The new year (the new decade!) has a lot of exciting things in store. For our part, we're looking forward to claiming our new name: REI Nation. The same premier services, properties, and advisers you trust, but with a new name to fit our expanding business and ambition. While we have our own new years' focus and resolutions in the works, we turn the question to you as a passive real estate investor.
What should your new year's resolutions be? Passive real estate investors are in a unique position to consider resolutions that no one else even thinks about. Here are five resolutions that will increase your investment success and bring financial freedom all the closer in the new year.
5 New Year's Resolutions Passive Investors Should Make
This year, I will grow my portfolio.
Portfolio growth — that is, acquiring new income-generating properties — is necessary to wealth growth and, ultimately, meeting your goals for passive cash flow. Growing your portfolio, however, doesn't have to only be about buying more properties. Part of portfolio growth is analyzing what is already there, weeding out what doesn't work, and making room (and resources) available for those new portfolio pieces. Maybe you're overdue for a 1031 Exchange. It could be that you have all of your properties in one market when you should be in several.
Be sure to check out: How Turnkey Investors Benefit from the 1031 Exchange.
Whatever the reason, portfolio growth encompasses more than buying property. It's about being focused and intentional with what you have and what you wish to acquire. That said, having the goal of adding a new property to your portfolio in the new year is a good goal to set!
This year, I will reach out and network.
Networking always seems like a chore, but it can be profoundly beneficial for your investing future. We know that, statistically, our investors are from all over. Because investing in real estate is becoming more of a remote activity than ever before, it can be even more challenging for investors to connect with like-minded individuals.
Why is this important? You can gain knowledge, perspective, and tips — or give them to the less-experienced investors around you. There's a camaraderie that comes with investing and it can be difficult to navigate it alone. Surround yourself with people who have been there, people who understand.
Can't find anyone local? Join the BiggerPockets community. They are an online community dedicated to investment education and networking!
This year, I will explore new markets.
We all get in a rut with our comfort zones. Just as we expand our offerings to investors into new world-class markets around the country, we encourage you to dip your hand into new markets. This furthers your portfolio diversification efforts and, in turn, helps reduce risk. When you spread your investments over multiple markets, you put a buffer between yourself and individual market fluctuations.
This year, I will make a real plan with my turnkey provider.
Your turnkey provider (in this case, REI Nation) is key to the success of your investment career. This shouldn't come as a surprise, considering your turnkey partner does much of the heavy lifting, tedious day-to-day tasks, and general oversight that keeps your investment properties running like passive income-generating clockwork.
So much of your success depends on how well you communicate with your turnkey partner and adviser. We work best when we're on the same page. So work with us this year — give us a clear vision for what you want to see in your portfolio, what you want it to do for you, and how we can best accommodate your needs.
When you prioritize communication with your turnkey provider, you'll find that you can rest much, much easier.
This year, I will diversify my income streams.
Lastly, every passive investor should look to further diversify their income streams. While this may include expanding into new markets with new properties, it is not all that it means. Passive investors should be eagerly aware of other opportunities to earn passive income. Start a blog. Write a book. Develop a curriculum for online learning.
This not only enriches your own life, but it diversifies your income streams. Portfolio diversification doesn't just have to be about real estate. Your passive portfolio can cover a wide variety of interests and ventures. Don't put it off this year — instead, grow your passive wealth in new and exciting ways.
Haven't started investing? Let 2020 be your year.