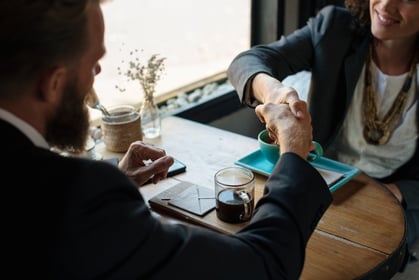 As a real estate investor, you know by now that you only have so many hours in the day to get everything done that needs doing. Because of this, you're well aware that some things can be a waste of your time and effort. Some things are better left to someone else!
For you, that may mean partnering up with a real estate agent to find and acquire your investment properties. But for real estate investors, it's not as simple as joining forces with just any Realtor. After all, investing in real estate and buying rental properties just isn't the same as buying a new home for your own private use.
When you decide it's time to let a real estate agent deal with the property search and negotiations, these are the qualities you should be looking for in your Realtor:
5 Signs Your Real Estate Agent is Investor-Friendly
Experience in Investing
Your average real estate agent is most familiar with buyers who are looking to live with and in their property for the long-term. They're not used to investors and their unique needs and demands: you're looking for your purchase to turn a profit. So what you need is a real estate agent that understands investing.
In an ideal situation, that means they have firsthand experience with real estate investment. Maybe they're currently investing themselves, have invested in the past, or they've decided to specialize in brokering deals for real estate investors.
Experience Dealing with Investors
If your agent doesn't have personal investment experience themselves, the next best thing is experience working with real estate investors. If they have a great track record with multiple investors, they're the person you want to work with.
Of course, you don't just want someone who's worked with investors: you want someone who has worked well with them. Call references and make sure to get some details. Discuss where former clients and partners believe their strengths and weaknesses lie.
Market Agility
One of the major differences between working with an investor versus an Average Joe is simply the speed of deals. Rather than your one-and-done deal that most agents are working with per client, investors can be looking to make multiple offers a day.
Your agent has to be prepared to juggle and negotiate on your behalf on more than one deal at a time. You have to be sure they're not only organized and quick on the draw, but that they have the time and dedication to actually make it happen. You need an agent who will prioritize you. If they can't, you need to know that they have someone on their team who can reliably take the reigns in their stead.
In Your Markets
The majority of real estate investors don't stick with their local real estate markets. Because of this, you're going to want to find real estate agents that are in the markets you want to be in. They're going to know what neighborhoods to target, which deals are good and which are scams, and which areas are slated for future growth.
Finding an agent like that takes time: and it's worth taking it.
Quality of Character
Most importantly, you want a Realtor who has good character. You want honesty and integrity, whether that's in dealing with you or in dealing with the sellers and buyers. If your agent isn't comfortable with the investment process, you need to know. If your agent wants to bend the rules to score a deal, you need to know.
If you have an underhanded agent, you could be held liable for their shady dealings too. Remember: they represent you! It's valuable for every investor to make sure everything is laid out on the table before they begin a new partnership—and not just with an agent.
What about Turnkey Providers?
Don't want to deal with agents? You can stick with turnkey real estate providers. Okay, you say, you're still buying property. Why wouldn't you need an agent? Here's the difference: with turnkey real estate investment, you're working with people who have a vested interest in seeing you succeed. It's about partnering with you.
Plus, with properties that have already been vetted as ideal turnkey real estate investment properties, you don't have to worry about scouting for them with an agent. The heavy lifting has already been done!
If you want to earn passive income and leverage decade of experience in the real estate industry, you can't go wrong with turnkey real estate investment with Memphis Invest.