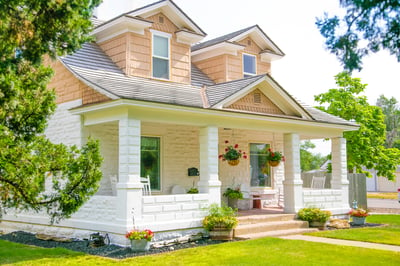 Don't get spooked by talk of a 2022 real estate market recession. Today's market looks nothing like 2008 – and neither will its recession. Whether you find yourself worried or hopeful about the future of U.S. real estate, there are a few key things to know about today's state of the market.
Are we really in a housing recession?
What signifies a real estate recession? Most would gauge it by buyer activity or prices, but what it comes down to is builder activity. Again, a recession in the housing sector doesn't point to a global, full-scale disaster as we saw in 2008. Right now, housing is in recession because of a decline in home sales and homebuilding activity.
That doesn't mean, however, that prices are heading south. They're evened out and stabilized, but it's still quite common for sellers to get the full asking price, if not more, for their properties. So, while we're in a housing recession in some ways – a trend fueled by rising homebuilding costs – in others, things remain the same.
All in all, however, there are some things every investor needs to know about the state of today's housing recession.
5 Qualities that Define the 2022 Housing Recession
#1 – Inventory is tight
We're used to it by now: inventory is severely lacking in just about every notable real estate market. Between sluggish homebuilding efforts still working to catch up to post-Great Recession real estate demand and reluctant sellers (even those that can easily ask top dollar!), inventory isn't looking to increase any time soon. Other efforts have helped balance the lopsided supply/demand relationship, but don't expect a glut of foreclosures or dropping prices due to oversupply.
The market may be shifting more in favor of buyers these days, but it's far from a buyer's paradise.
#2 – Fluctuating mortgage rates create windows of opportunity
Mortgage rates rose to the 6% range recently, discouraging cash-strapped homebuyers from pulling the trigger on their property purchases. But mortgage rates are in flux, and right now, even the smallest shift downward creates a pocket of opportunity. Prices are a bit more stable (though still at an all-time median high), and buyers can try to lock in a lower rate.
The days of a 3% mortgage might be gone, but all that means is that you've got to work smarter to get the best rate.
#3 – Demand will scale back, but prices may not
Because of tight inventory, even with demand cooling down, it's unlikely that we'll see prices outright drop in most markets. If anything, we're going to see prices continue to stabilize. What this means is that buyers and investors will have a bit more time and bargaining power where their property purchases are concerned. You'll have the breathing room that you may have lacked throughout the wild pandemic-era real estate market.
And, if you've bought wisely, your properties are going to retain their value for the foreseeable future. For investors, a recession won't result in the lessening of rental demand. Homes are still on the unaffordable side, particularly for first-time homebuyers.
#4 – In this case, a recession isn't a bad thing
"Recession" has been a dirty word for a long time. But recessions are a natural part of the economic cycle. It's all in how you handle the economic climate!
For real estate investors, as the Great Recession did, opportunities will make themselves known. Buying properties will be a bit easier but rental demand will remain. You may have to pivot your strategy, but a recession is nothing to fear.
#5 – Supply alone isn't enough to bring prices down
You'd think that the solution to record-high median home prices is in creating more inventory. And while this could help the market, inventory alone isn't the fix. That's because there's a big reason for the homebuilding slowdown: the expense of construction. Inflation has made building new homes more costly than ever, resulting in higher prices for new construction.
As a result, there's a stunning lack of starter homes on the market. Inventory can increase, but it doesn't mean it will meet the needs of those waiting to buy. If the buyers can't afford the supply, it isn't doing much for rebalancing the market.
The bottom line is this: investors can find ways to flourish in any market conditions – recessions included! Don't miss out on wealth-building opportunities now by waiting for an ideal market.
Join thousands of REI Nation investors building their wealth through turnkey rental properties!