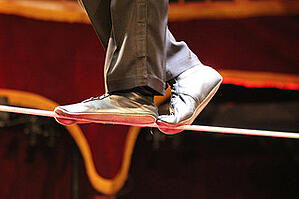 In today's age of modern technology, where instantaneous communication and an increasing number tricks and gadgets try to squeeze the most work out of us as possible, it's good to remember to step back and remember balance.
For some, work is life, while others desperately wish to get away, even for a minute.
We're all at different places in life — focusing on a career we're happy with, working while trying to follow another aspiration, focusing on family, or gearing up for retirement. For anyone at any stage, however, there's value in finding balance. Work-life balance prevents burnouts, identity crises, relationships problems and dissatisfaction. If you're struggling, here are a few habits that may help you out.
6 Habits to Create a Better Work-Life Balance
Set Not-Working Hours
As real estate investors, we have a nasty habit of not separating work hours from personal hours. In our case, we are also service providers so it is harder for our team. We have to have a way to be on as much as possible. Yet, that does not excuse us from giving our family and home life our best and 100% of our attention when we are there, so this is a critical habit to develop.
After working hours, stop working. Sounds simple, right? It's hard when we're constantly connected to our devices. Don't allow yourself to be tempted to check work emails, answer work-related correspondences or otherwise work after working hours. You need a mental break. The more you work outside of working hours, the more blurry the line can become. It's especially difficult if you're an owner or self-employed, as you have the freedom to set your own hours. Be sure to block off time where you are 100% not working.
Minimize Overtime
Plenty of people choose overtime for the extra money. There's really nothing wrong with overtime once in awhile. Too much overtime, however, can put a strain on your body and your relationships. Mitigate overtime by being productive during normal hours and staying focused on your tasks. Don't put yourself in a position where you have to play catch-up if it's within your control.
Find a Way to Decompress
We all need an outlet. Stress relievers, hobbies, pastimes and good ol' R&R. What do you enjoy? Find time to do it. Allow yourself time to relax, whether it's doing something creative — writing, painting, knitting, reading — or something as simple as catching a few episodes of a favorite show on Netflix.
Make Time for Relationships
Remember the people around you. Part of the reason for work-life balance is to allow yourself to have time with loved ones, whether it's a spouse, partner, friends or other family. Long working hours can put a strain on any relationship. Make sure you're leaving time to communicate with your loved ones every day.
Don't Let Work Define You
Psychologists refer to something called a 'phase of life issue' — more commonly known as a mid-life crisis. Many experience these, largely due to some dissatisfaction in life. When someone loses a job or a career ends, depression can set in. Why? Well, sometimes it's because we've let our work define our identity. Don't let yourself get so wrapped up in your occupation that, should that end, you don't know who you are or what you want to do.
Related Article: 4 Habits For Real Estate Investing Success
Put an End to Working Lunches
For the good of your mental health, stop taking working lunches — or worse, skipping lunches just to get more done. Even in the work day, it's important to give yourself mental breaks. We all need downtime from work — to get up and stretch, to eat our lunch in peace (or with some stimulating conversation) and just get out of work for a few minutes. The myth of multitasking doesn't help your productivity, and working through or missing meals is counterproductive to your progress and your health.
How do you best maintain work-life balance? Share your good habits in the comments.
image credit: Quinn Dombrowski