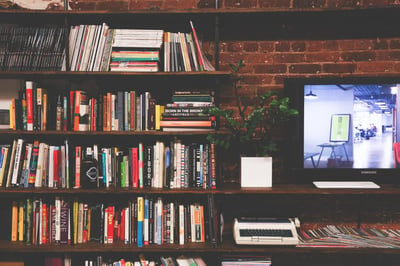 As we head into Spring, it's time to take make room on the bookshelf from new reading! You may have some of these on your shelves already, but there's no doubt some new releases you'll want to check out, too.
For this list, we're specifically covering books on retirement planning since many real estate investors look to use their investments as a way to save up for the future.
6 Highly Rated Books on Retirement Planning
While you likely won't find anything new or revolutionary here, The Smartest Retirement Book is a solid resource for those just starting out or those in need of a concise, basic resource on the principles of retirement. This one will help you implement clever, proven strategies while avoiding common scams and mistakes.
"A great book. Very concise and easy to read. The chapters are short and it has a one or two line summary at the end of each...Read this before you go see a financial advisor and you will know what they are talking about."

—Lee Hawley
What if all the financial advice you ever needed could be written on an index card? That's the premise Olen and Pollack work with: that smart personal finance doesn't have to be complicated, and that a solid financial future doesn't have to rely on gurus and complex financial secrets.
These two are looking to cut through the noise of the financial advice world and deliver what really matters. Solid, real financial advice.
"Simple advice is the advice you're most likely to follow and this book does a great job of laying out exactly that — simple steps you can take to protect your financial future and why those are good steps and how to avoid common pitfalls. Great for people who are not following the Index Card steps already and a perfect book to hand out to those younger folks in your life who need to get started."

—Andre Marquis
Most of us? We're not independently wealthy. That's why books like How to Retire with Enough Money are important. Dr. Ghilarducci, with humor and an authoritative voice, demonstrates that financial security is achievable. This is an well-illustrated and actionable guide for retirement.
While there's nothing that's particularly surprising or groundbreaking here in terms of advice, it's full of good, time-tested principles that are both great reminders and a firm foundation. Ghilarducci does present some political pleas towards the end of her book that some may find off-putting, but it doesn't detract from the meat of her financial advice.
"At the end of the day spending about three hours of your time reading 'How To Retire with Enough Money' is probably still a wise investment...especially for those who have never taken the time to consider these issues before. There are lots of books on retirement out there and I have read several of them. If nothing else this can serve as an excellent primer to get yourself up-to-speed. Recommended."

—Paul Tognetti
This book isn't about secrets being kept from you: it's about considerations your experts might not know about in the first place! This is an excellent resource for people looking to get savvy in personal finance and in managing their own money, including in retirement and day-to-day. This book is a new release, but one worth checking out.
"The title What Your Financial Advisor Isn't Telling You was a bit misleading for me, as I half expected the book to denounce the various financial planners, investment advisors, and tax experts. Instead, the book is about areas that are out of the scope of your financial advisors and that you need to make sure are being managed."

—E. Griffin
It's almost time. Getting nervous yet? This book is all about ensuring that you don't get caught with your proverbial pants down and find that you don't have enough come retirement. It's about ensuring that your retirement is everything you've been working for and how you can maximize the value in those last few years leading up to retirement.
"This book covers a lot of topics that you might not think about when your are looking at retirement. Retiring is more that just how much money you have been able to save. Using the information and tables in this book could allow you to tailor your retirement for the amount you have saved."

—Fred Durrenberger
Something a little different: this book isn't about financial planning! Happy, Wild, and Free is about a mindset: not money. It's about living life to its fullest, even before you retire! But when you do, what will you be doing? Will you have good social support? Interesting, fulfilling leisure activities? Good mental and emotional wellbeing? Find room for this one next to your books on finance.
"I just don't think the elements of this retirement insight and advice gets any better any place else. I truly believe that Zelinski is the reigning guru on retirement, and I have since I first found and read, 'The Art of Retirement.' If Zelinski didn't exist, I think we would have to have invent him. But he's saved us the trouble with his combination of fantastic books on retirement."

—George Fullmore
What's your favorite books on retirement planning? Share your recommendations in the comments.
Want Something Else to Read That is Awesome!
Read Our Three Market White Paper (Downloadable PDF...)