Who doesn't love a good book? Ever better is a good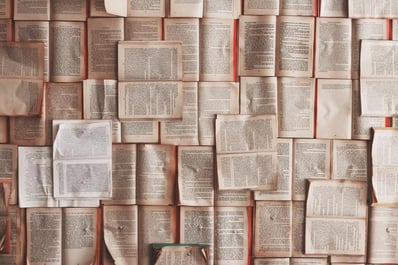 book that doesn't take up any room on your already crowded shelves, and one that you can download and read instantly! For real estate investors on the go, sometimes an e-book is a wonderful solution to getting quick, concise information.
Whether you're on a plane, a passenger on a road trip, or just relaxing at home, a Kindle is a wonderful portable e-reader to have. (No, this isn't sponsored. Kindles are just kind of cool.) What's even better is that there's a whole library of books out there, many of them free, just for real estate investors!
For both beginners and veterans in our craft, there's an e-book out there we know you'll be able to glean good information from.
Missed our first list? Here are 5 Great Kindle E-books for Real Estate Investors.
These are just a few highly rated Kindle e-books you can download right now:
7 Top Rated Real Estate Investment E-books for Kindle
We all love a little schadenfreude, but in this case, we're not here just to cringe at the misfortune of other investors. Real Estate Investing Gone Bad brings us 21 true stories of real estate investment disasters: millions of dollars lost, unbelievable emotional turmoil, and years wasted...all with the lessons we can learn from them so we never make the same mistakes!
Selected Amazon Review:
Not only is it packed with incredibly valuable information, but it is written in a very conversational fashion so that going from page 1 to the end is not only very educational and eye opening, but an enjoyable one at that! Whether you are a seasoned investor or a beginner in the field of real estate investing, this book is not to be missed. A fantastic bargain at this price!
We all know Mark Ferguson of Invest Four More, so you know you can expect quality out of this e-book. This hefty 364-page book isn't full of conjecture and theory: it's all of Mark's many experiences, and essentially a handbook based on what he's learned through his years of investing.
Selected Amazon Review:
I own some real estate and thought of knowing most of the tricks of the trade, until I picked up Mark's book. He has 2 great chapters in there on how to Finance real estate which were eye openers. Great job and I would recommend this book to everyone out there ready to buy or even thinking of buying real estate.
Two more familiar names: Brandon and Josh are the guys behind the BiggerPockets Podcast. This book is all about creative financing, including pros and cons, and how real estate investors with limited resources can get going by leveraging other people's money instead of their own. It's for anyone looking to get more for their money when it comes to investing in real estate.
Selected Amazon Review:
This book is a great starting point for anyone looking to finance real estate investment deals. Very accessible and clear writing make it an easy read, and there is a ton of great information. This book is easily worth more than any 3 day course or late night TV pitched program.
---------------------------------------
Learn more about out-of-state, passive investing from the #1 Turnkey
investment company in the country!

---------------------------------------
From Rich Dad Advisors, this one is a staple. You won't find earth-shattering, new information here if you're an established investor, but this book is one of the best published guides out there on real estate investment—particularly for buy and hold investors. It's not the definitive or the end all be all, but it's certainly worth picking up.
Selected Amazon Review:
There are a lot of "Fluff" real estate books out there where the author is making money off of you. With Ken he is an industry leader actually teaching what he ACTUALLY does for a living. Remember learning real estate is a process. Build yourself a foundation then expand on the concepts you learn in this book.
You might recognize Joe Fairless from his excellent podcast (which is the world's longest running daily real estate investment podcast). This book is full of advice that goes beyond baby steps: he dives into things like raising money for your deals, creative finance, using market data for due diligence, commonly overlooked expenses, and more! There's plenty here for investors both new and experienced.
Selected Amazon Review:
I am so impressed with Joe's ability to be wholeheartedly honest in this entire piece of work. The honesty and easy-to-understand word choice made for such an interesting and enjoyable read. I highly recommend this book, even if you had no prior interest in real estate investment. I learned so much and I feel everyone would benefit from reading this.
We all hate them. Taxes. This e-book from BiggerPockets.com, written by Amanda Han, however, will hopefully make them a little more endearing for investors. This book is full of strategies to help you maximize your deductions and stay out of trouble with Uncle Sam. It's a great resource for every investor to keep on hand long before tax season rolls around.
Selected Amazon Review:
As a former CPA and an avid fan/member of BiggerPockets.com and the content they create I thought this book this illustrates in a light, yet tangible and actionable way of delivering important tax strategies that are often overlooked by investors (both new and experienced).
When you want information fast and compact, you can't beat an e-book. What book would you recommend to other real estate investors? Share your recommendations in the comments below!
Want more content? Subscribe to our blog to get our updates!