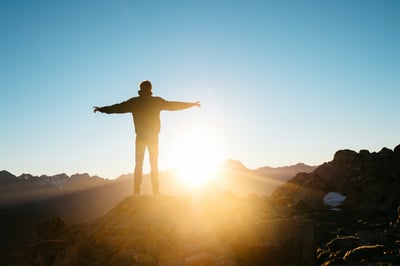 Maybe investing in real estate is a new concept for you. Growing up, maybe your parents stuck to stocks or didn't invest at all. And now that you're in the rough-and-tumble financial climate of today, rife with inflation, recession, and unpredictability, you're looking for a way to establish wealth not just for yourself, but to be the one who establishes generational wealth for your family.
That's an admirable goal, but starting a brand-new financial journey is tough when you don't have people close to you who've done it before. Investing in real estate for the first time can be nerve-wracking.
But here's the good news: it doesn't have to be.
3 Reasons You Should Be Your Family's First Real Estate Investor
#1. Break Financial Barriers
Inflation is hitting everyone hard. Right now, human existence is simply expensive. Between gas, groceries, and the other essentials, few people would tell you they haven't felt their wallet getting a bit lighter than usual. Maybe you're worried about inflation. You're worried about what it will do to your savings, or how you would handle unexpected expenses when money is already tight.
This pressure can make investing in real estate seem like an impossibility. And yes, investing in real estate does demand some up-front investment to get going. (Thankfully, you can utilize leverage from lenders!)
Owning real estate, though, can break down some major financial barriers. Other investments and certainly savings accounts will lose their financial power as inflation eats at the worth of the dollar. Real estate, however, appreciates with inflation so that you retain – and grow – your wealth as much as possible. Owning real estate can give you a much-needed financial leg up.
#2. Peace of Mind
Securing real estate assets lends owners a peace of mind that few things match. Remember, when you invest in rental properties, you're not only earning passive income through monthly rent payments, but you're also benefitting from property appreciation, growing equity, and tax advantages. As a real estate investor, you'll find a lot of comfort in knowing that your passive income helps you handle the unexpected.
You'll be able to save and invest more on top of having "safety net" income to help you should you need to retire early or for some reason are left without primary income. The knowledge that your financial eggs aren't all in one basket is a relief for sure!
#3. Facilitate Generational Wealth
If you don't come from a family already benefitting from generational wealth, investing in real estate allows you to give your children that chance. Not only will your investments help you bolster your net worth and cash flow in your lifetime, but these assets can be passed on to future generations. From there, it's a ripple effect. Your family, your children, and their children will have more disposable income to avoid debt and live with financial security – even financial freedom!
3 Keys to Success as a Beginner Investor
Of course, investing in real estate isn't necessarily easy, particularly for beginners. Start your investing career right:
#1. Know what you want & how to talk about it
What do you want out of your investments? What niches are you interested in? How much risk are you comfortable with? What acquisition rate will you aim for? What about your markets? There are so many different strategies and goals attached to investing in real estate that you do better when you know what you want and what you're trying to accomplish.
Not only that, but you should have these goals nailed down so that you can express them to your advisor. They can help you chart the course, but you need to know your destination!
#2. Coordinate with the experts
Turnkey real estate investing leverages the help of real estate experts of all kinds. They help owners identify good investments, get their properties in shape for rent, and handle securing residents – plus providing ongoing property management services.
#3 – Keep learning
Though you can lean on the experts to avoid mistakes, it doesn't excuse you from the responsibility of developing your own expertise. Soak in everything you can. Read books, listen to podcasts, and chat with your advisor. The more you know, the more you can understand, communicate, and accomplish your goals.
Ready to get started?
Join thousands of turnkey real estate investors building wealth with REI Nation!